Disney Springs | Marketplace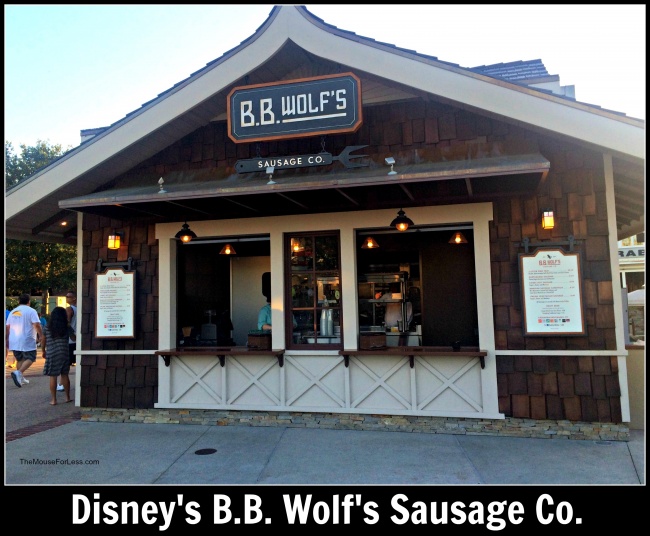 Located across from T-REX on the marketplace Causeway, B.B. Wolf's Sausage Co. Menu features artisan sausages served from a convenient kiosk.
Restaurant Info: American, Snack A la carte, $ – $14.99 and under per adult
Find out how you can save money on dining at Walt Disney World by using one of Disney's Dining Plans.
B.B. Wolf's Sausage Co. Menu
Menu Date: 02/2017
Entrées
All Sausages are served with House-made Pickles
3 Little Pigs Trio – Reuben, Bacon-wrapped with Black Bean Salsa, and Chili-Cheese – $10.39
Foot-long Bavarian Bratwurst – Braised Red Cabbage and Sweet Brown Mustard on a Pretzel Roll – $9.39
Italian Sausage – with Peppers, Onions and Marinara – $8.49
Vegetarian Sausage – Italian Style with Peppers, Onions and Marinara – $8.48
House-made Pretzel Braid – served with Cheese Fondue and Mustard – $5.99
Alcoholic Beverages
Goose Island Four Star Pilsner – $9.00
Yuengling Traditional Lager – $7.75
Beverages
Assorted Fountain Beverages – $3.29

Dasani Bottled Water – $3.00

Frozen Lemonade – $3.59

= Snack on the Disney Dining Plan
** Menu and Prices are Subject to Change Without Notice **