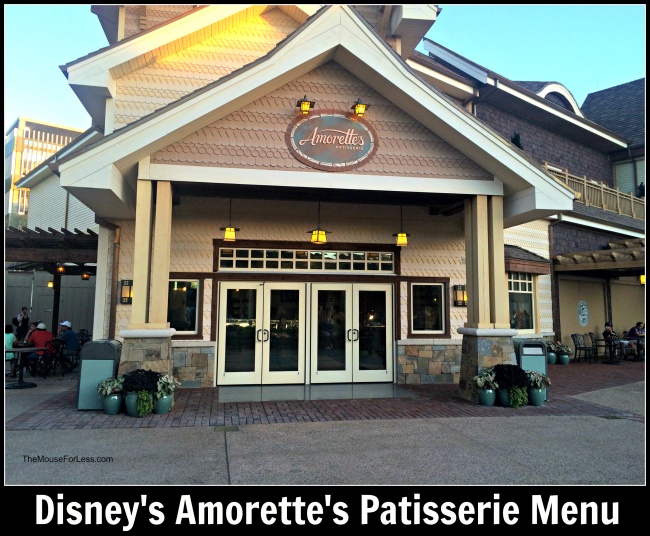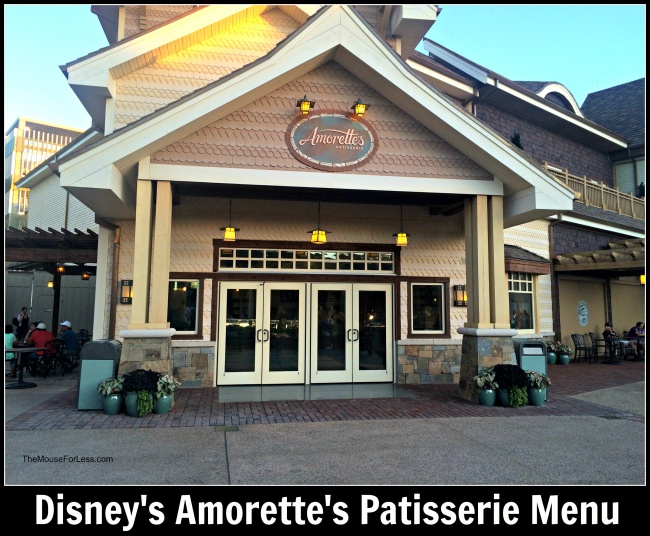 Celebrating the art of pastry making, Amorette's Patisserie is a high-end pastry shop featuring classic and contemporary pastries, custom cakes, champagne selections by the glass and handcrafted hot chocolates. Amorette's Signature Cake is beautifully decorated, with ten layers of flavors and textures. Plus, an on-stage kitchen at Amorette's Patisserie will give guests the chance to watch the pastry chefs at work. Amorette's means "little loves," a definition that highlights the works of art to be found at this Disney-owned and operated sweet shop.
Amorette's Patisserie is located in Disney Springs.  Find more Walt Disney World dining locations on our Walt Disney World menus page.
Restaurant Info: Bakery Cuisine; $ – 14.99 and under per adult
Find out how you can save money on dining at Walt Disney World by using one of Disney's Dining Plans.

Planning a Walt Disney World Vacation?
For a Free no-obligation quote, contact our sponsor
The Magic For Less Travel
. The Magic For Less Travel is an Authorized Disney Vacation Planner and has been helping guests plan magical vacations since 2002. Receive the best prices and free travel planning services. Their fee-free services will help you save time, money, and stress while planning a vacation designed around you and your needs!
Amorette's Patisserie Menu
Menu Date: 09/2022
Signature Pastries
49th and Broadway/N.Y. Cheesecake – Lemon Curd, Blueberries, and Chantilly – $9.00
Mickey Mousse – Chocolate Chiffon Cake, Dark Chocolate Mousse and White Chocolate Mousse – $9.00
Sunset on Mile Marker Zero/Key Lime Tart – Chantilly and Baked Meringue – $8.00
Cakes
50th Celebration Petit Cake
Vanilla Chiffon Cake with Celebration Blue Mousse, Blueberry Jam, and Lemon Curd – $22.00
Mickey Character Cake
Choice of 1: Chocolate Chiffon Cake, Milk Chocolate Mousse and Orange Pate De Fruit Jelly OR Lemon Chiffon Cake, White Chocolate Mousse and Strawberry Pate De Fruit Jelly | Available with 48 hours notice – $59.00
Minnie Character Cake
Choice of 1: Chocolate Chiffon Cake, Milk Chocolate Mousse and Orange Pate De Fruit Jelly OR Lemon Chiffon Cake, White Chocolate Mousse and Strawberry Pate De Fruit Jelly | Available with 48 hours notice – $59.00
Donald Character Cake
Choice of 1: Chocolate Chiffon Cake, Milk Chocolate Mousse and Orange Pate De Fruit Jelly OR Lemon Chiffon Cake, White Chocolate Mousse and Strawberry Pate De Fruit Jelly | Available with 48 hours notice – $59.00
Goofy Character Cake
Choice of 1: Chocolate Chiffon Cake, Milk Chocolate Mousse and Orange Pate De Fruit Jelly OR Lemon Chiffon Cake, White Chocolate Mousse and Strawberry Pate De Fruit Jelly | Available with 48 hours notice – $59.00
Pluto Character Cake
Choice of 1: Chocolate Chiffon Cake, Milk Chocolate Mousse and Orange Pate De Fruit Jelly OR Lemon Chiffon Cake, White Chocolate Mousse and Strawberry Pate De Fruit Jelly | Available with 48 hours notice – $59.00
Amorette's Petit Cake
Eleven layers of Red Velvet Cake, Chocolate Cake, Cherry Mousse, Chocolate Mousse, Raspberry Pate De Fruit Jelly, and Italian Buttercream – $16.00
Amorette's Signature Cake
Eleven layers of Red Velvet Cake, Chocolate Cake, Cherry Mousse, Chocolate Mousse, Raspberry Pate De Fruit Jelly, and Italian Buttercream – $75.00
Amorette's Seasonal Petit Cakes – $16.00 – $20.00
Additional Items
Macarons – 5 count – Pistachio, Espresso, Caramel Sea Salt, Chocolate or Passion Fruit – $12.00
Mickey Brownie – $5.00
Ultimate Chocolate Chip Cookie – 3 count – $10.00
Éclair – Pistachio, Lemon Meringue, Raspberry, Caramel Sea Salt or Chocolate – $7.00
Crème Brûlée – Vanilla Custard garnished with Fresh Berries and Chocolate – $7.00
Amorette's Rose – Chocolate Biscuits with Dark Chocolate Mousse and Raspberry sauce – $8.00
Sandwiches
Turkey on Focaccia – Smoked Turkey on Focaccia bread with Roasted Bell Peppers, Basil Aïoli, Shredded Lettuce, Cobb Dressing, and Fresh Mozzarella Cheese – $10.50
Vegetable Croissant – Multi-grain Croissant, Herb Cream Cheese Spread, Zucchini, Mushrooms, Roasted Onions and Tomatoes, Arugula, Spinach, and Red Quinoa – $10.50
Ham on Focaccia – smoked Ham on Focaccia bread with Black Diamond Cheddar, Three Mustard and Honey Sauce, and Watercress with Vinaigrette – $10.50
Crepes
Banana and Hazelnut Crepe – House-made Crêpe, Bananas, Salted Caramel, Hazelnut Spread, and Powdered Sugar – $7.00
Strawberry and Crème Crepe – House-made Crêpe filled with Chiffon Cake, Fresh Strawberries and Chantilly Cream – $7.00
Beverages
Lowfat Milk – $1.99
Joffrey's Freshly Brewed Coffee – regular and decaf – $3.49
Joffrey's Espresso – $2.49
Joffrey's Cappuccino – $4.29
Joffrey's Latte – $4.29
Honest Kids Super Fruit Punch – $3.29
Assorted Beverages – $4.69
Champagne and Sparkling Wine
Taittinger Brut La Française – Champagne – $18.00 Glass; $80.00 Bottle
Iron Horse Fairy Tale Celebration Cuvée – Champagne, Sonoma Valley – $18.00 Glass; $38.00 Bottle
Nino Franco Rustico – Prosecco, Veneto – $12.00 Glass; $28.00 Bottle
Banfi Rosa Regale – Sparkling Red, Piedmont – $16.00 Glass; $31.00 Bottle
Wilson Creek Almond Sparkling Wine – $11.00 Glass; $45.00 Bottle
Alcoholic Beverages
Bellini Canella – $10.00
Bellini Blood Orange Mimosa – $10.00
Amorette's Signature Beverage – Rose Regale with a Minnie Mouse Topper. Available Monday through Thursday – $19.00
Seasonal Wine Slushies – $10.00
** Amorette's Patisserie Menu and Prices are Subject to Change Without Notice **