Disney Springs | West Side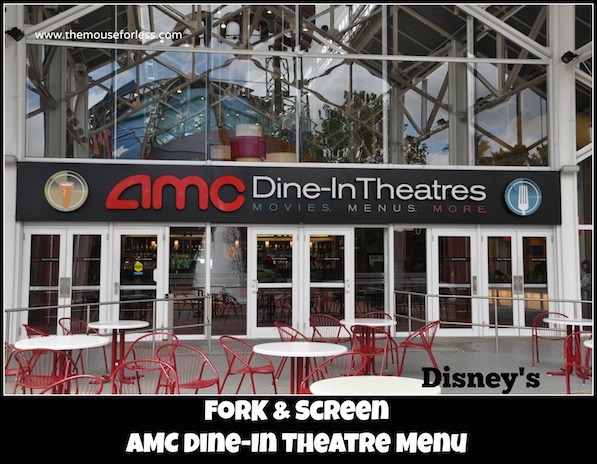 Enjoy your favorite foods and cocktails paired with great movies in an immersive big-screen theatre. AMC Downtown Disney 24 Theatres includes six Fork & Screen dine-in theatres featuring menu items from quesadillas to flatbread pizzas. Fork & Screen features reserved seating with upgraded seats, a personal call button, and seat-side service. AMC Dine-In Theater guests must be at least 18 years old or accompanied by a parent or guardian that is 21 years or older.
Restaurant Info: American, Lunch/Dinner A la carte, $ – $14.99 and under per adult
Find out how you can save money on dining at Walt Disney World by using one of Disney's Dining Plans.
AMC Dine-In Theater Menu
Menu Date: 01/2017
Snacks and Shares
Big Bite Sampler – Boneless Wings, Loaded Tots, Pretzel Bites, and Buttermilk Biscuits served with Ranch, Cheddar Cheese and Honey-Dijon Dipping Sauces – $12.00
Ultimate Nachos – Warm Tortilla Chips topped with Cheddar Cheese Sauce, Jalapeños, Black Beans, fresh Pico de Gallo, Cilantro, Guacamole, and Cool Lime Crema – $10.00
Loaded Tots – House-made Cheddar Cheese Sauce, Bacon, Scallions, and Herbed Ranch Dressing – $8.00
Wedge Lettuce Cups – Iceberg Lettuce, Cherry Tomatoes, Bacon, Egg, Onion, fresh Chives, and Blue Cheese Dressing – $8.00
Crispy Shrimp Sushi Roll – Hand-battered Tempura Shrimp, Cucumber, Avocado, Japanese Mayo, and Sweet-n-Salty Glaze served with Wasabi, Pickled Ginger and Soy Sauce – $10.00
Buttermilk Biscuit Poppers – Fresh Baked Garlic Cheddar Biscuits with House-made Honey Butter, Pimento Cheese and Bacon Jam – $8.00
Boneless Wings – Hand-battered all white meat Chicken served with Ranch and Honey-Dijon dipping sauces – $10.00
Crispy Brussels Sprouts – served with Parmesan Cheese, Chile Salt and House Spice Blend – $8.00
Pretzel Bites – Fresh Baked and served with Cheddar Cheese and Honey-Dijon Dipping Sauces – $8.00
Crab and Avocado Sushi Roll – Crab and Surimi, Cucumber, Avocado, Japanese Mayo, and Sriracha Mayo served with Wasabi, Pickled Ginger and Soy Sauce – $10.00
Veggie Sushi Roll – Crisp Red Bell Peppers, Roasted Carrots and Asparagus wrapped in Sushi Rice and served with Pickled Ginger, Wasabi and Unagi Sauce – $10.00
House Fries – House Seasoning blend, Parmesan Cheese and fresh Herbs served with House-made Ranch Dressing – $8.00
Flatbreads
Caprese – Roasted Tomatoes, Parmesan, Mozzarella Cheeses, and fresh Basil Chiffonade – $12.00
Philly Steak – Thin-sliced Rib-Eye Steak, Caramelized Onions, Roasted Bell Peppers, and rich Cheddar Cheese Sauce – $12.00
Shrimp Carbonara – seasoned Jumbo Shrimp, fresh Arugula, Bacon, Parmesan Cheese, and Alfredo Sauce – $12.00
Favorites
Fish & Chips – Cold water cod dipped in beer batter and fried to a delicious crisp. Served with classic cut fries and house-made tartar sauce – $16.00
Crispy Shrimp – Hand-battered Jumbo Shrimp with Cocktail Sauce and Tartar Sauce, served with Brussels Sprouts Slaw, Garlic Cheddar Buttermilk Biscuits and Fries – $16.00
Southern-Style Chicken Tenders – Hand-battered Chicken Tenders with Ranch and Honey-Dijon Dipping Sauces served with Red Slaw, Garlic Cheddar Buttermilk Biscuits and Fries – $16.00
Quesadillas – Grilled Chicken, Three Cheeses, Poblano Peppers, Onion, Guacamole and Sour Cream, served with Tortilla Chips and Pico de Gallo – $16.00
Taco Trio – Grilled Chicken, Three Cheeses, Poblano Peppers, Onion, Guacamole and Sour Cream, served with Tortilla Chips and Pico de Gallo – $16.00
Burgers
The Royal – Bacon, Brie Cheese, Caramelized Onions, Baby Arugula, Sweet Fig Jam, and House-made Royal Sauce served on a Toasted Brioche Bun with a Side of Fries – $12.00
The Ranchero – Pepper Jack Cheese, Roasted Poblano Peppers, Jalapeños, Caramelized Onions, Chipotle Ketchup, Lettuce, Tomato, and House-made Royal Sauce served on a Toasted Brioche Bun with a Side of Fries – $12.00
The Cali Chicken – Grilled Chicken Breast, Baby Arugula, Tomato, Onion, Avocado, Lime Crema and Herbed Goat Cheese Spread served on a Toasted Brioche Bun with a Side of Fries – $12.00
The Bacon 'n' Ranch – Bacon, Monterey Jack cheese, Lettuce, Tomato, House-made Ranch Dressing and House-made Royal Sauce served on a Toasted Brioche Bun with a Side of Fries – $12.00
The Classic – American Cheese, Tomato, Iceberg Lettuce, Ketchup, and House-made Royal Sauce served on a Toasted Brioche Bun with a Side of Fries – $12.00
The Quinoa Veggie – Mushroom, Spinach, Quinoa and Brown Rice Burger topped with Provolone Cheese, Baby Arugula, Tomato, Avocado, Red Onion, Ketchup and House-made Royal Sauce served on a Toasted Brioche Bun with a Side of Fruit – $12.00
Bowls
Teriyaki Steak – Teriyaki-marinated Steak, Shredded Red Cabbage, Roasted Pineapple, Cucumber, and Cashews served over steamed Sushi Rice with a drizzle of Wasabi Aioli – $12.00
Grilled Chicken Quinoa – Grilled Chicken, Rainbow Quinoa, Roasted Asparagus, Tomato, Toasted Almonds, Feta Cheese, Lemon Vinaigrette and fresh Basil – $12.00
Gumbo Mac – Roasted Shrimp, Smoked Andouille Sausage, Aged Jack Cheese Sauce, Sweet Bell Peppers and Creole Spice – $12.00
Southwest Chicken – Herb-marinated Chicken, Black Beans, Three Cheese Blend, Jalapeños, fresh Pico de Gallo, and House-made Guacamole served over Brown Rice, topped with Lime Crema Sauce and served with a side of Tortilla Chips – $12.00
Traditional Mac – Jumbo Elbow Macaroni with a rich House-made Cheddar Cheese Sauce, Applewood Smoked Bacon and Crispy Hand-battered Chicken Tenders – $12.00
Salads and Wraps
Chicken Caesar Salad – Crisp romaine lettuce topped with grilled chicken breast, house-made caesar dressing and grated parmesan cheese – $12.00
Chicken Caesar Salad Wrap – Crisp romaine lettuce topped with grilled chicken breast, house-made caesar dressing and grated parmesan cheese – $12.00
Chopped Cobb Salad – Grilled or Hand-battered Crispy Chicken over Romaine Lettuce with Avocado, Bacon, Egg, Diced Tomato, Blue Cheese and House-made Ranch Dressing – $12.00
Chopped Cobb Wrap – Grilled or Hand-battered Crispy Chicken over Romaine Lettuce with Avocado, Bacon, Egg, Diced Tomato, Blue Cheese and House-made Ranch Dressing – $12.00
Kid's Meals
All kid's meals served with fruit cup, fries and your choice of a soft drink or 2% milk
Crispy Chicken Tenders – $8.00
Mac and Cheese – $8.00
Cheeseburger – $8.00
Fish and Chips – $8.00
Sweets
Doughnuts – Cinnamon Sugar, Salted Caramel and Chocolate Dipping Sauces – $8.00
Milkshakes
OREO – topped with a giant OREO® Cookie and Whipped Cream – $8.00
Vanilla – topped with a Premium Ice Cream Sandwich and Whipped Cream – $8.00
Chocolate – layered with Chocolate Shell and topped with a decadent Chocolate Brownie, Whipped Cream and Shaved Chocolate – $8.00
Cake Stacks
Chocolate Brownie – layers of rich Chocolate Brownies, Chocolate Whipped Cream and crushed OREO® Cookies served in a jar – $6.00
Strawberry Shortcake – layers of Sponge Cake, Strawberry Sauce, Whipped Topping, and fresh Strawberry Slices served in a jar – $6.00
Birthday Cake – layers of Sponge Cake, Creamy Vanilla Icing and Rainbow Sprinkles served in a jar – $6.00
Movie Treats
Popcorn – with free refills – $8.09
Assorted Candy – Regular $3.79, Large $4.29
** Menu and Prices are Subject to Change Without Notice **