Resort Restaurants | All Star Resort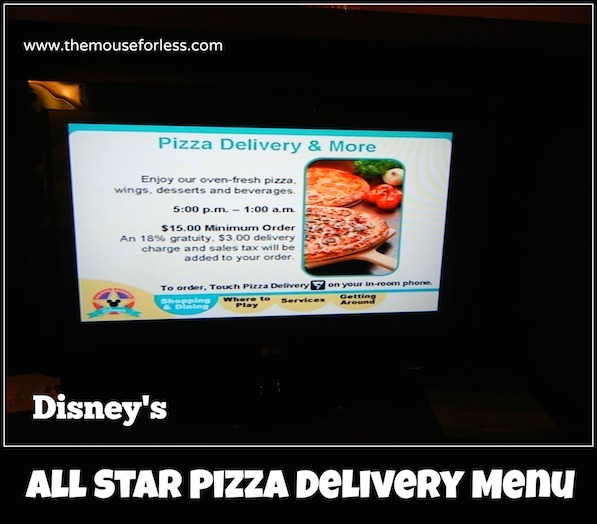 Enjoy oven fresh pizza, wings desserts and beverages delivered to your All-Star Resort room.
Restaurant Info: American, Dinner/Snack, $
All-Star Pizza Delivery Menu
Menu Date: 05/2017
Serving all 3 All Star Resorts from 5 p.m. to 1 a.m. Entrees served until midnight. $15.00 minimum order. 18% Gratuity, $3.00 Delivery Charge, and 7% Sales tax added to all Delivery Orders. Two Adult Table Service credits are required to purchase one Large Pizza, two Desserts and one 2-liter Bottle of Soda.
Starters
Boneless Chicken Wings – $9.29
Half Dozen Breadsticks – with Marinara – $5.99
Pizza Selections
Large Cheese Pizza – with a Caesar salad – $16.99
Large Pepperoni Pizza – with a Caesar salad – $18.49
Large Mighty Meaty Pizza – Pepperoni, Ham, Pork and Ground Beef with a Caesar salad – $20.99
Large Solid Veggie Pizza – Peppers, Onions, Tomatoes and Mushroom Pizza with a Caesar salad – $20.99
Large Simply Supreme Pizza – Pepperoni, Onions, Black Olives, Tomatoes, Peppers and Mushroom Pizza with a Caesar salad – $20.99
Entrees
Chicken Caesar Salad – $8.99
Desserts
Cheesecake – $4.29
Chocolate Cake – $4.29
Rice Crispy Treat – $4.49
Fruit Cup – $3.79
Chocolate Chip Cookie – $3.29
Beverages
20 ounce Bottled Soda – Coke, Sprite or Diet Coke – $3.29
1.5 Liter Dasani Water – $4.00
20 ounce Bottled Water – $3.00
Bud Light, Coors Light, or Corona – $6.75
Angry Orchard Crisp Apple Hard Cider – $8.00
Wine – Chardonnay, Merlot – $7.50

= Snack on the Disney Dining Plan
** Menu and Prices are Subject to Change Without Notice **