Resort Restaurants | Disney's Grand Floridian Resort & Spa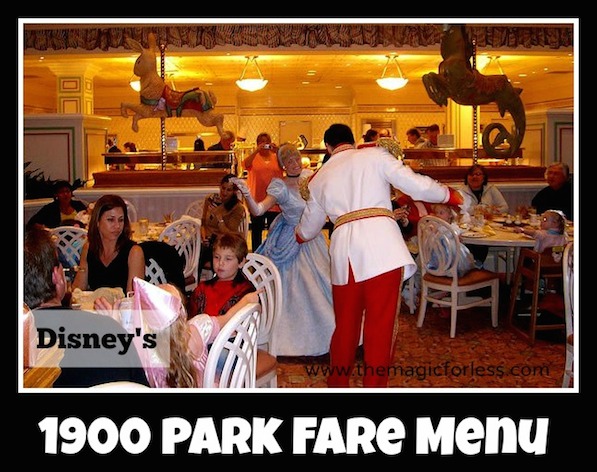 Breakfast Menu Dinner Menu 1900 Park Fare Reviews
Guests at 1900 Park Fare will dine with a Princess, a magical English nanny or Characters from the rabbit hole at this enchanting restaurant.
Restaurant Info: American, Breakfast/Dinner, Buffet Character Dining, $$-$$$
Find out how you can save money on dining at Walt Disney World by using one of Disney's Dining Plans.
Special Notice: A Grand Brunch at 1900 Park Fare will be offered to accommodate guests visiting the resort this holiday season. This unique dining experience offers both breakfast and dinner items from 12:45 p.m. until 3:00 p.m. Nov. 22–28 and December 20–January 2. The price for brunch is $23.99 per adult and $12.99 per child.
The Grand Bunch will not include character appearances. The menu will featured carved herb-roasted new york strip loin, made-to-order omelets and eggs, carved floribbean jerk turkey breast, breakfast burrito bar, vanilla french toast, peel-n-eat shrimp, mickey waffles, bread pudding and more.
Supercalifragilistic Breakfast Menu
Menu Date: 07/2015
Booking Information
Daily from 8:00 a.m. – 11:40 a.m.
Adult Price: $28.75
Child Price (ages 3 – 9): $15.97
Prices vary by season and include tax, but not gratuity.
A standard beverage is included with your meal
Possible Character Appearances: Alice in Wonderland, The Mad Hatter, Mary Poppins
Buffet Options
Fresh Fruits and Breads:
Honeydew
Cantaloupe
Watermelon
Strawberries
Pineapple
Grapes
Croissants
Assorted Muffins
Assorted Jams
French Bread
Multigrain Bread
Raisin Bread
Carving Station:
Hickory-smoked Ham – with an Orange-Maple Ham Glaze
Chef's Favorites:
Floridian Strawberry Soup – with Fresh Strawberries & Whipped Cream
Cheese Blintz – with Strawberry and Whipped Cream Toppings
Smoked Salmon Lox – with Capers, Diced Red Onions, and Chopped Hard-boiled Eggs
Lobster Benedict – with Hollandaise Sauce
Chef's Choice Hash
Traditional Breakfast Favorites:
Pancakes – with Bananas Foster or Old-fashion Syrup
Plain and Onion Bagels
Biscuits and Sausage Gravy
Sausage
Bacon
Maple French Toast
Assorted Breakfast Pastries
Scrambled Eggs
Oatmeal
Cheese Grits
Children Friendly Favorites:
Cheesy Scrambled Eggs
Mickey Waffles – with Old-fashioned Syrup
Potato Puffs
Sausage
Bacon
Assorted Breakfast Pastries
Sweets and Treats:
Bread Pudding – with Vanilla Sauce
Sticky Cinnamon Buns
Non-Alcoholic beverages included with Breakfast Buffet
Available for an Additional Charge
Tinker Bell and Friends or Buzz Lightyear Punch – Minute Maid Light Lemonade Punch served in a souvenir Fairies or Toy Story 3 Cup with a glowing Tinker Bell or Buzz Lightyear Clip-on Light – $6.99
Mega-Berry Smoothie – Raspberry Purée and Nonfat Yogurt blended with Odwalla Berries GoMega (an excellent source of Omega-3) – $4.99
Espresso – $3.39
Frozen Cappuccino – blended and topped with Whipped Cream – $4.99
Cappuccino – $4.69
Grand Mimosa – Sparkling Wine with a splash of Grand Marnier and Orange Juice – $9.00
Flavored Mimosa – Sparkling Wine with Raspberry, Red Passion Fruit, Wildberry, or Mango – $9.75
Kir Royale – Sparkling Wine and Chambord – $9.00
Florida Sunshine – A blend of Skyy Vodka, Peach Schnapps, Chambord, and Cranberry Juice with a splash of Orange Juice – $10.25
Bloody Mary – Absolut Vodka and Bloody Mary Mix – $8.50
Cinderella's Happily Ever After Dinner Menu:
Menu Date: 07/2015
Booking Information
Daily from 4:30 – 8:50 p.m.
Adult Price: $44.72
Child Price (ages 3 – 9): $21.29
Prices vary by season and include tax, but not gratuity.
A standard beverage is included with your meal
Possible Character Appearances: Cinderella, Prince Charming, Lady Tremaine (Cinderella's step-mother), Drizella, and Anastasia (stepsisters)
Buffet Options
Fresh Salads:
Heirloom Tomato Salad
Seasonal Fruit Salad
Tarpon Springs Salad
Spinach and Strawberry Salad
Cornbread Salad
Mixed Green – Kale, Spinach, Arugla
Assorted Toppings
Tossed Caesar with Shaved Parmesan Salad
Garlicky Foccaccia Croutons
Carving Station:
Herb-crusted Striploin – with Chimichurri
Jerked Turkey Breast – with Mango Mostrada
Chef's Favorites:
Floridian Strawberry Soup – with Fresh Strawberries and Whipped Cream
Key Lime-Ginger Grilled Chicken
Grilled Verlaso Salmon – with Avocado Salsa
Fried Sustainable Mississippi Catfish – with Remoulade
Mongolian Beef Stir Fry
Savory Dishes:
Jasmine Rice
Peel-n-Eat Shrimp
Succotash
Mashed Potatoes
Roast Pork Loin
Japanese-style Green Beans with Edamame
Maki Sushi Rolls
Chicken Marsala
Chef's Paella
Creamy Corn and Conch Chowder
Soup of the Moment
Little Princes and Princesses:
Macaroni & Cheese
Ravioli
Pizza
Chicken Nuggets
Corn
Broccoli
Assorted Desserts:
Selections baked in-house to include – Bite-size Cheesecake, Fruit Tart, and Chocolate Mousse
Non-Alcoholic beverages included with Dinner Buffet
Available for an Additional Charge
Tinker Bell and Friends or Buzz Lightyear Punch – Minute Maid Light Lemonade Punch served in a souvenir Fairies or Toy Story 3 Cup with a glowing Tinker Bell or Buzz Lightyear Clip-on Light – $6.99
Mega-Berry Smoothie – Raspberry Purée and Nonfat Yogurt blended with Odwalla Berries GoMega (an excellent source of Omega-3) – $4.99
Espresso – $3.39
Frozen Cappuccino – blended and topped with Whipped Cream – $4.99
Cappuccino – $4.69
** Menu and Prices are Subject to Change Without Notice **