Resort Restaurants | Disney's Grand Floridian Resort & Spa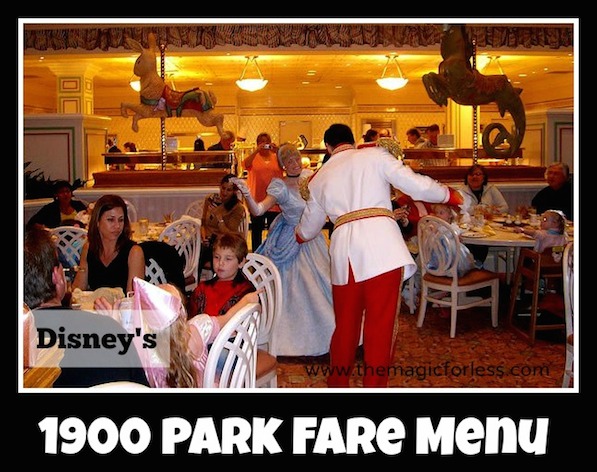 Breakfast Menu Dinner Menu 1900 Park Fare Reviews
Guests at 1900 Park Fare will dine with a Princess, a magical English nanny or Characters from the rabbit hole at this enchanting restaurant.
Restaurant Info: American, Breakfast/Dinner, Buffet Character Dining, $$-$$$
Find out how you can save money on dining at Walt Disney World by using one of Disney's Dining Plans.
1900 Park Fare – Supercalifragilistic Breakfast Menu
Menu Date: 11/2015
Booking Information
Daily from 8:00 a.m. – 11:40 a.m.
Adult Price: $28.75
Child Price (ages 3 – 9): $15.97
Prices vary by season and include tax, but not gratuity.
A standard beverage is included with your meal
Possible Character Appearances: Alice in Wonderland, The Mad Hatter, Mary Poppins
Buffet Options
Fresh Fruits and Breads:
Grapefruit
Honeydew
Cantaloupe
Watermelon
Strawberries
Pineapple
Grapes
Croissants
Assorted Muffins
Assorted Jams
French Bread
Multigrain Bread
Raisin Bread
Flour Tortillas
Sticky Buns
Assorted Donut Holes
Carving Station:
Hickory-smoked Ham – with a Brown Sugar-Maple-Honey Glaze
Chef's Favorites:
Floridian Strawberry Soup – with Fresh Strawberries
Cheese Blintz – with Strawberry, warmed Blueberry, or Whipped Cream Toppings
Smoked Salmon Lox – with Capers, Diced Red Onions, and Chopped Hard-boiled Eggs
Classic Eggs Benedict – with Sauce Hollandaise
House-made Corned Beef Hash
Made-to-Order Omelets and Eggs
Yogurt Bar
Traditional Breakfast Favorites:
Pancakes – with Bananas Foster or Old-fashion Syrup
Plain and Onion Bagels
Hash Browns
Biscuits and Sausage Gravy
Potatoes O'Brien
Stewed Tomatoes
Sausage
Bacon
Maple French Toast
Assorted Breakfast Pastries
Scrambled Eggs
Cheese Grits
Jasmine Rice
Oatmeal
Crushed Avocado
Children Friendly Favorites:
Cheesy Scrambled Eggs
Mickey Waffles – with Old-fashioned Syrup
Potato Puffs
Sausage
Bacon
Assorted Breakfast Pastries
Sweets and Treats:
Bread Pudding – with Vanilla Sauce
Sticky Cinnamon Buns
Non-Alcoholic beverages included with Breakfast Buffet
Available for an Additional Charge
Tinker Bell and Friends or Buzz Lightyear Punch – Minute Maid Light Lemonade Punch served in a souvenir Fairies or Toy Story 3 Cup with a glowing Tinker Bell or Buzz Lightyear Clip-on Light – $6.99
Mega-Berry Smoothie – Raspberry Purée and Nonfat Yogurt blended with Odwalla Berries GoMega (an excellent source of Omega-3) – $4.99
Espresso – $3.39
Frozen Cappuccino – blended and topped with Whipped Cream – $4.99
Cappuccino – $4.69
Grand Mimosa – Sparkling Wine with a splash of Grand Marnier and Orange Juice – $9.00
Flavored Mimosa – Sparkling Wine with Raspberry, Red Passion Fruit, Wildberry, or Mango – $9.75
Kir Royale – Sparkling Wine and Chambord – $9.00
Florida Sunshine – A blend of Skyy Vodka, Peach Schnapps, Chambord, and Cranberry Juice with a splash of Orange Juice – $10.25
Bloody Mary – Absolut Vodka and Bloody Mary Mix – $8.50
1900 Park Fare – Cinderella's Happily Ever After Dinner Menu:
Menu Date: 11/2015
Booking Information
Daily from 4:30 – 8:50 p.m.
Adult Price: $44.72
Child Price (ages 3 – 9): $21.29
Prices vary by season and include tax, but not gratuity.
A standard beverage is included with your meal
Possible Character Appearances: Cinderella, Prince Charming, Lady Tremaine (Cinderella's step-mother), Drizella, and Anastasia (stepsisters)
Buffet Options
Fresh Salads:
Heirloom Tomato Salad
Seasonal Fruit Salad
Tarpon Springs Salad
Spinach and Strawberry Salad
Cornbread Salad
Mixed Green – Kale, Spinach, Arugla
Assorted Toppings
Tossed Caesar with Shaved Parmesan Salad
Garlicky Foccaccia Croutons
Carving Station:
Herb-crusted Striploin – with Chimichurri
Jerked Turkey Breast – with Mango Mostrada
Chef's Favorites:
Floridian Strawberry Soup – with Fresh Strawberries and Whipped Cream
Key Lime-Ginger Grilled Chicken
Grilled Verlaso Salmon – with Avocado Salsa
Fried Sustainable Mississippi Catfish – with Remoulade
Mongolian Beef Stir Fry
Savory Dishes:
Jasmine Rice
Peel-n-Eat Shrimp
Mashed Potatoes
Mojo Roast Pork Loin
Maki Sushi Rolls
Mongolian Beef
Butternut Squash Ravioli
Creamy Corn and Conch Chowder
Tomato Bisque
Vegetable Medley
Chef's Paella
Japanese-style Green Beans with Edamame
Little Princes and Princesses:
Macaroni & Cheese
Cheese Ravioli
Hot Dog
Pizza
Chicken Tenders
Corn
Broccoli
Taco Bar and Toppings
Assorted Desserts:
Selections baked in-house to include – Bite-size Cheesecake, Fruit Tart, and Chocolate Mousse
Non-Alcoholic beverages included with Dinner Buffet
Available for an Additional Charge
Tinker Bell and Friends or Buzz Lightyear Punch – Minute Maid Light Lemonade Punch served in a souvenir Fairies or Toy Story 3 Cup with a glowing Tinker Bell or Buzz Lightyear Clip-on Light – $6.99
Mega-Berry Smoothie – Raspberry Purée and Nonfat Yogurt blended with Odwalla Berries GoMega (an excellent source of Omega-3) – $4.99
Espresso – $3.39
Frozen Cappuccino – blended and topped with Whipped Cream – $4.99
Cappuccino – $4.69
** Menu and Prices are Subject to Change Without Notice **