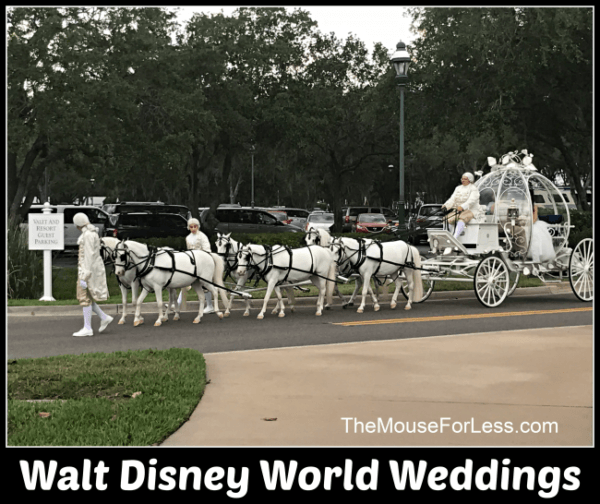 Traditionally recognized as a top-ranked wedding and honeymoon destination, Walt Disney World Resort is now a wedding destination with approximately 1,600 couples tying the knot each year. Beyond Disney's Wedding Pavilion, nuptials at Walt Disney World Resort also take place in outdoor garden settings, gazebos and courtyards, as well as indoor resort locations. All told, more than 30,000 couples have married at Walt Disney World Resort.
How much will it cost? 2012 wedding prices started at $4,750 for Disney's Fairy Tale Weddings' Escape Collection package which includes ceremony, cake, limo, bouquet, photography and music. Disney's customizable Wishes Collection starts at $12,000.
TheMouseForLess Tip: Check out the new Disney Wedding's Facebook app that allows you to invite your friends and family, whether they're on Facebook or not, to stay up-to-date on your wedding details. You can upload photos, send out virtual save-the-date cards and even inform your guests about Theme Park tickets and Resort Accommodations and more.
Magic and Matrimony Join Together at Disney's Wedding Pavilion
Couples looking to put an extra touch of magic and romance into their wedding vows can make that dream come true at Walt Disney World Resort.
Disney's Grand Floridian Resort & Spa is the storybook setting for couples to pledge their love at Walt Disney World Resort. Just south of the Grand Floridian is the non-denominational Disney Wedding Pavilion. Built on an exclusive island surrounded by Seven Seas Lagoon, the elegant pavilion is a glass-enclosed enclave fashioned after a grand Victorian summer house with a picturesque backdrop of Cinderella Castle.
Franck's, a re-creation of Franck's studio from the hit Touchstone movie "Father of the Bride", showcases all of Disney's wedding offerings. The planning studio is elegantly styled with French provincial furniture and classical music plays quietly in the background. Franck's has Disney wedding experts who custom-design each event. Brides-to-be can select all the elements that comprise a storybook wedding: music, entertainment, photography, candelabras, centerpieces, sample specialty linens, fresh floral arrangements, world-class cuisine, cakes and guest books.
The pavilion also provides planning rooms and private dressing rooms for the bridal party. Wedding-related merchandise is available for purchase a short stroll away at Disney's Grand Floridian Resort & Spa. A variety of fantasy receptions can be planned at one of Disney's luxurious resorts — Disney's Grand Floridian Resort & Spa, Disney's BoardWalk, Disney's Yacht Club Resort and Disney's Animal Kingdom Lodge. The sky is the limit with themes from an Animal Kingdom Safari reception to an ultimate Cinderella ball where the bride arrives in Cinderella's glass carriage drawn by white ponies.
Fun-filled memories await couples and their guests at Disney's Animal Kingdom, Magic Kingdom, Epcot and Disney's Hollywood Studios. In the evening, couples can choose from exciting dinner shows and romantic candlelit dinners or a night of fun at Downtown Disney. Family members also can enjoy the excitement of staying at a Walt Disney World hotel with specially priced accommodations.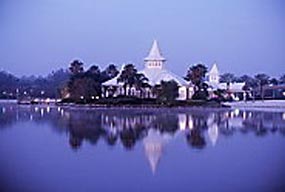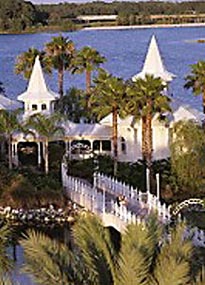 Disney Adds Extra Touch With Themed In-Park Weddings
While more than 1,600 couples march to matrimony every year at Walt Disney World Resort, ceremonies traditionally have taken place in venues outside the theme parks — indoor and outdoor settings including gazebos, gardens, Disney's Wedding Pavilion and elegant resort locations.
The sky is the limit for couples looking to stage unique, memorable weddings through Disney's popular Theme Park Weddings — and all in the privacy of a park setting open only to the couple and their guests. Weddings at Walt Disney World Resort's most famous venues are limited only by the imagination of the couples. Here are several possibilities:
Magic Kingdom
The romance of the fairy tale is captured as a bride, dressed in a specially designed Cinderella gown, arrives in a horse-drawn carriage. A fairy tale major domo carries the wedding rings in a glass slipper, a trumpeter heralds the bride's entrance with favorite Disney fanfare and an elegant string quartet sets the scene. Couples exchange vows at the Rose Garden with Cinderella Castle as the backdrop.
Epcot
Couples can choose from several venues around World Showcase — The American Adventure, United Kingdom, France or Italy — for an international festival featuring specialized food and entertainment. At The Seas with Nemo & Friends, a 5.7-million-gallon tank featuring more than 200 varieties of sea life is the backdrop for couples.
Disney's Hollywood Studios
Screaming fans and autograph hounds set the scene. The bride arrives in a star motorcade down Hollywood Boulevard for an official handprint ceremony at the Chinese Theater. A reception follows in Mickey and Minnie's Runaway Railroad attraction. The evening can end with fireworks featuring a personalized pyro show. Couples can even "take the plunge" — literally and figuratively — on The Twilight Zone Tower of Terror.
Disney's Animal Kingdom
Weddings are exotic at Disney's Animal Kingdom theme park. Couples can take their guests on an adventure into the wild with a safari-themed reception. Imagine African music, food and décor to inspire a beautiful African celebration.
Disney wedding specialists incorporate all the elements that go into creating a fairy tale wedding — floral, ceremony, entertainment, cuisine, audiovisuals, photography, accommodations and theme park tickets.
For more information on Disney's Fairy Tale Weddings, visit disneyweddings.com or contact a Disney Specialized Travel Agency.
TheMouseForLess Tip: For those who use Twitter, sign up to receive Disney Wedding tweets here.
TheMouseForLess Tip: To receive tips and updates on your phone from the experts at Disney's Fairy Tale Weddings & Honeymoons, Text BRIDE to DISNEY (347639).
Amazing Cakes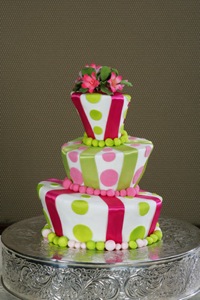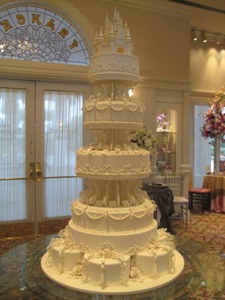 Disney-themed wedding cakes can come in a variety of styles, from classic to whimsical. Above is a sampling of offers available through Disney's Fairy Tale Weddings. The Mad Hatter Cake comes in a variety of color combinations, to add a touch of whimsical to a wedding, or as part of a Mad Hatter Tea Party Brunch! More traditional brides can take their fairy tale to new heights with the Castle Cake, a 6 tier cake complete with an edible replica of Cinderella Castle on top. This is a cake fit for a princess, and large enough to feed her prince and entire royal court!
Walt Disney World Resort for Couples Renewing Wedding Vows
Lovers can say "I do" all over again at one of the most romantic places on earth, making that happily-ever-after a reinforced reality.
With vow renewals introduced by Disney's Fairy Tale Weddings, couples can declare true love on a palm-fringed hillside or pledge vows in Victorian splendor with Cinderella Castle in the background. Couples can enhance the special day with a ride in Cinderella's glass coach, a private fireworks show, or even a visit from Disney characters.
Walt Disney World Resort offers customized of vow renewals, from an intimate escape for two to an elaborate event involving the entire family. Imagine festivities include a private party at The Haunted Mansion in Magic Kingdom, the famous "Hoop-Dee-Doo Musical Revue," a VIP viewing of "Epcot Forever" and a '50s themed party to commemorate the anniversary milestone. Culminate the event with a traditional candlelight ceremony at Disney's Wedding Pavilion.
Disney's Fairy Tale Weddings Fast Facts

Now more than 1,600 couples tie the knot each year at Walt Disney World Resort. Since September 1991, Disney's Fairy Tale Weddings has hosted some 30,000 weddings.

Couples have traveled from every state in America and from international locations such as Japan, Saudi Arabia, United Kingdom, Germany and the Netherlands to get married at Walt Disney World Resort.

Some brides and grooms choose non-traditional methods of transportation to arrive to the ceremony — such as on horseback, Cinderella's glass coach, a horse-drawn carriage or vintage automobile.

According to wedding industry experts, Walt Disney World Resort is recognized as a top-ranked honeymoon destination and destination weddings venue.

The Wedding Pavilion can host up to six weddings per day, and up to 12 weddings can occur each day at various locations onWalt Disney World property.

Wedding prices begin at $4,500 for an Escape Wedding Collection gathering for two. Wishes Wedding Collection ceremonies start at $10,000 for 20 guests or more. An average wedding at Disney is approximately $20,000 for 50 people.

The first wedding at Disney's Wedding Pavilion was televised live June 18, 1995, on Lifetime Television as part of its "Weddings of a Lifetime" series.

A Magic Kingdom wedding for the 10th anniversary of "The Oprah Winfrey Show" was a star-studded affair, with performances by Celine Dion, Peabo Bryson and Regina Belle.

At least twice during the 15-year history of the Walt Disney World Marathon, couples have stopped mid-race to get married in front of Cinderella Castle in Magic Kingdom.

A couple took the plunge, literally, on The Twilight Zone™ Tower of Terror at Disney's Hollywood Studios while they tied the knot.

Disney's Honeymoon Registry, which launched Feb. 14, 2007, is a complimentary online service that allows couples to create a gift registry for components of an all-inclusive honeymoon to Walt Disney World Resort in Florida, aboard a Disney Cruise Line ship, or at select Disney Vacation Club Resorts.