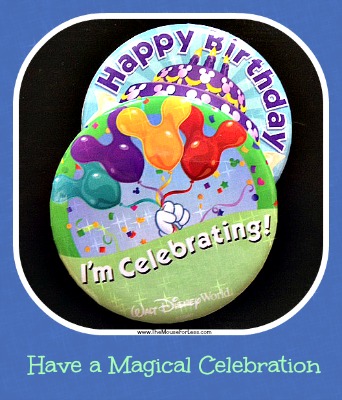 Walt Disney World is the perfect place to celebrate any occasion. Guests can focus their celebration on favorite characters, favorite attractions and favorite stories to create a custom celebration at their resort, at Walt Disney World Restaurants or at the theme parks.   We have shared some of our favorite Walt Disney World Celebration Options but maybe they will open the door to your creativity and you can take it a step further.
Resort Celebrations   Restaurant Celebrations   Park Celebrations
Walt Disney World Celebration Options at the Resorts
Whether you want to mark a birthday, send special congratulation wishes, or just give your family a magical "vacation welcome," the Walt Disney World Celebration Options can start right in your resort room. If you will be celebrating a special occasion at Walt Disney World, be sure to note it on your room reservation! You never know when a little magic may happen!

Let Disney specialists create the perfect setting by decorating your Resort Room with surprise presents, magical treats, banners, confetti, personalized signs, and more. Call (407) WDW-GIFT or visit the Walt Disney World Florist web site to customize the picture-perfect look for your stay or have the perfect occasion present or floral arrangement waiting in the room for your arrival. You can also have your gift delivered to any of the Walt Disney World theme parks. Disney World Florist party planners can also provide you with themed party packs of plates, cups, napkins, decorations especially created for kids, romance, or even a beer party themed package. During the holiday season, you can even have Walt Disney World Florist deliver a Christmas tree with decorations to your room! The Walt Disney World Celebration Options are endless.

Save money and decorate your resort room yourself! Or, let everyone know you're celebrating by decorating you're resort room window. For a child's birthday post a sign in the window with streamers and an arrangement of his or her favorite stuffed animals on the window sill. The possibilities are endless! Resort window decorations are common at Walt Disney World during Christmastime.

Special celebration cakes can be order from the Cake Hotline at 407-827-CAKE (2253) to be delivered to any resort room where Private Dining is offered. Choose from a variety of cakes and shapes, personalized for your special occasion. Special cakes must be ordered 48 hours in advance.

For resorts that do not offer Private Dining, Boardwalk Bakery has a pick up option. Special cakes must be ordered 48 hours in advance. Standard 6-inch cakes, like those available at most Walt Disney World restaurants, can be purchased without prior notice. If you're staying at a resort that gets its cakes from Boardwalk Bakery, you can pick up a custom cake at the resort food court or restaurant by placing the order with the resort via the Cake Hotline. Just call 407-827-CAKE (2253) and ask if cakes can be picked up at your resort.

Professional Portrait Sessions: Preserve and personalize your fond Walt Disney World memories by scheduling a special 30-minute session with a Disney Fine Arts Photographer. Often special packages are available for Walt Disney World Celebration Options such as Mother's Day, Valentine's Day and Easter. Call (407) 934-4004 to book a session at a select Resort location or visit our Portrait Session page for more info.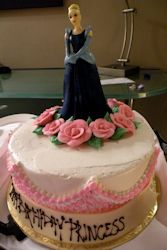 Walt Disney World Celebration Options at the Restaurants
If you will be celebrating a special occasion while dining at Walt Disney World, be sure to note it on your dining reservation (and also on you room or vacation package reservation)! You never know when a little magic may happen! Disney table service restaurants have been known to treat those celebrating a birthday or anniversary to a free celebratory cupcake after their meal. In some cases, you may even find confetti sprinkled on your table when you arrive. Many locations even have their own special design of cupcake, including Tusker House, Chef Mickeys, 'Ohana, and Akershus Royal Banquet Hall.

Celebrate Today! Cake: Be spontaneous! Have an instant celebration with Disney's 6-inch cake — available in both chocolate and vanilla. No notice is necessary; you can order upon arrival at most Disney table-service restaurants for approximately $21. Candles are available upon request.  This is one of a few fun spontaneous Walt Disney World Celebration Options.

Disney Custom Bakery Cakes: Choose from a regular cake, a Mickey Mouse-shaped cake, or a custom cake with enhanced decoration. Available at most table-service restaurants. Call the Cake Hotline at 407-827-CAKE (2253) 48 hours in advance for more information and to order.

BabyCakes NYC (formerly at Downtown Disney) takes cake orders that can be delivered to any Walt Disney World restaurant in which you already have Advance Dining Reservations. BabyCakes caters to special diets and allergies, including refined sugar-free, gluten-free, wheat-free, casein-free, soy-free, egg-free, Kosher and vegan items. Guests can order a two-layer, 6-inch cake that will serve 8-10 people for about $29. To order, call the bakery at 407-938-9044 at least one week in advance. You will need to give them your restaurant confirmation number, date, and reservation time.
Walt Disney World Celebration Options at the Parks

If you're in the Parks celebrating a special occasion and would like everyone to know what you're celebrating, stop by guest relations to pick up a complimentary Celebration button and wear it proudly throughout the day. Guests have reported extra attention from park cast members and at Disney restaurants and live shows while wearing celebration buttons. You never know when a little magic may happen!
Celebration buttons are available at most Guest Service locations in the parks, at Disney resort front desks and at some restaurants. City Hall in the Magic Kingdom has a great selection of occasion buttons, including birthday, family reunion, anniversary, first visit, just engaged, and happily ever after. You can even get a general "I'm Celebrating" button with a blank that allows you to fill in almost anything. Whether you're celebrating a high school graduation to being cancer free, celebration buttons are a great way to share your event. All indoor merchandise locations at Magic Kingdom have a variety of celebration buttons available.




Birthday Hats: Nothing puts the fun in a birthday celebration like Disney's super-silly Birthday Hat that's shaped like a cake. The candles adorning the cake light up and flash, adding to the festivities. Hats are available at the World of Disney Store at Downtown Disney Marketplace area, as well as other merchandise locations across the Walt Disney World Disney Resort.

Personalized Souvenirs: You can personalized mouse ears, character T-shirts, pins and more for your personal celebration or make matching sets for the whole family! At Downtown Disney Marketplace, you can customize tee shirts at "Design a Tee." Create your personalized tee by choosing from over 300 pieces of Disney art and adding up to four lines of text. Or, personalize mouse ear hats at the "Create Your Own Ears Hat" boutique located in Disney's Wonderful World of Memories. Purchase a basic hat in a selection of colors and from there you can add a variety of snap-on ears, plus letters, stickers, character patches and more. Personalized mouse ears can also be purchased at The Chapeau on Main Street U.S.A. in the Magic Kingdom and at Mouse Gear at the Epcot park.
A favorite Disney souvenir to commemorate occasions are personalized Christmas ornaments. They can be found at Disney's Days of Christmas at Downtown Disney Marketplace, Ye Olde Christmas Shoppe in the Magic Kingdom, It's a Wonderful Shop at Disney's Hollywood Studios, or at several World Showcase locations throughout Epcot.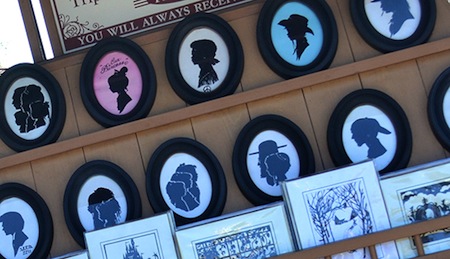 For a unique personalized and dated souvenir, consider having a framed silhouette portrait done by one of Disney's artist. In the Magic Kingdom, you can find artists at in Liberty Square near the Christmas shop and on Main Street U.S.A. in the open area between Uptown Jewelers and the Market House. Artists are also available at in the France Pavilion at Epcot, just outside of Chefs de France. At the Downtown Disney Marketplace, silhouette artists are located Silhouette Portraits. Silhouettes typically run about $12 for single portraits, $20 for doubles, $24 for triples and $27 for a family of four. A frame, if you desire one, will start at about $12.

Cinderella's Royal Table character meals in the Magic Kingdom offer the "Her Royal Highness" package for birthday celebrations. The package includes a balloon table centerpiece featuring six Disney Princesses, a tiara adorned with crystals to officially crown the birthday girl "princess for the day," a 6-inch round cake (vanilla or chocolate) personalized with a favorite Disney Princesses (Ariel, Aurora, Belle, Cinderella or Tiana available). For more information or to reserve, call 407-824-4477 or email wdw.crt.special.events@disney.com.

Bibbidi Bobbidi Boutique: Little girls become royal princesses at this glamorous boutique. Fairy Godmothers-in-training apply your selections for hairstyle, make-up and a flowing princess gown. The picture-perfect transformation is perfect for any celebration! Located in the Magic Kingdom and at Downtown Disney. Call (407) WDW-PLAY in advance to reserve.

Throw a Birthday Party: Goofy's Candy Co. in Downtown Disney offers a special child's party room for up to 15 guests ages 3 and up. There are two themes available: the Disney Perfectly Princess and Goofy's Scien-terrific Birthday Bash! Both 1.5 hour parties include 2 hosts, organize themed-games and activities, themed balloons, a birthday present for the guest of honor and invitations and thank-you notes for guests.
For the Perfectly Princess Birthday Party, guests receive a treat of their choice to decorate, a Goofy Glacier build-a-cup and glacier of their choice, autographed photos of Cinderella and a light-up Coach necklace, and the guest of Honor receives a princess tiara, sash and boxed glass slipper and special balloon.
Goofy's Scien-terrific Birthday Bash includes a treat to decorate, a Goofy Glacier build-a-cup and glacier of choice, autographed photos of Goofy and light-up glasses for the guests and Goofy Gumball machine with one pound of candy and special balloon for the guest of honor.
For reservations and current prices call 407-WDW-BDAY.