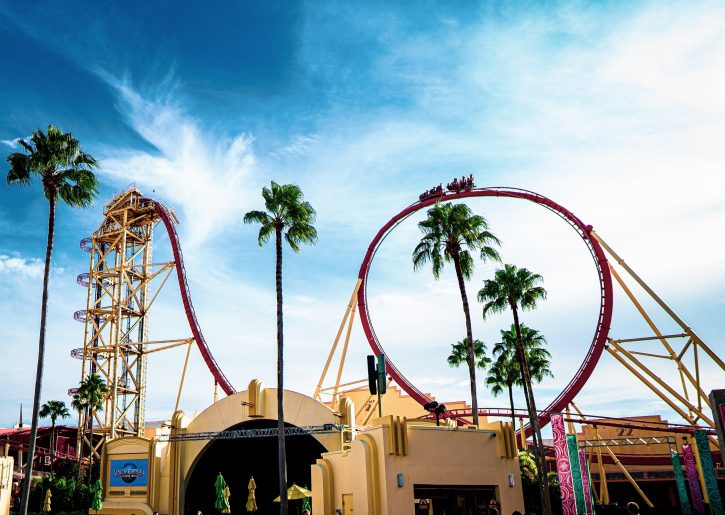 Hollywood Rip Ride Rockit is one of Universal Studios Florida most thrilling roller coasters. When you strap yourself in you also pick the song you want playing throughout the ride. After a 90-degree angle climb, you'll be sure to scream the whole way down on the first drop as you reach 65mph!
Ride Information  Ride Restrictions  Location  Fun Facts  The Mouse For Less Tips

Planning a Universal Vacation?
Ride Information
Opening Day: August 19, 2009
Ride Type: Roller coaster
Age Recommendation: 10+ (must be able to meet height requirements)
Ride Duration: 1 Minute 45 Seconds
Typical Wait Time: 25 – 75 minutes (can be more depending on crowd size)
Single Rider Line: Yes
Express Pass: Yes, for more details click here
Child Swap: Yes
Type of Restraint: Lap bar, shoulder harness, & seat belt (test seat available at beginning of the line).
Wheelchair Accessible: Guests in wheelchair have to be able to transfer to the seat.
Ride Photo Available for Purchase: Yes, also available is a video of your ride with the music you chose.
Ride Restrictions
Safety Harness: For those who cannot fit into the seat with all safety restraints properly in place will not be allowed to ride. This is for everyone's safety.
Height Requirement: 51″ or more
Loose Items: All items in any pockets or extra baggage must be stored in the complimentary locker area for the duration of the ride.
Location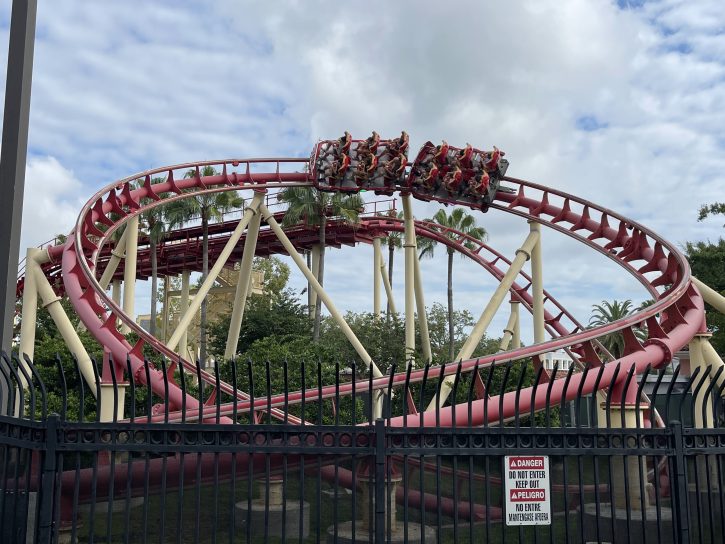 Nearby Attractions: Despicable Me Minion Mayhem, Transformers: The Ride 3-D, & Race Through New York with Jimmy Fallon.
Nearby Dining: Minion Cafe & Finnegan's Bar & Grill
Did You Know?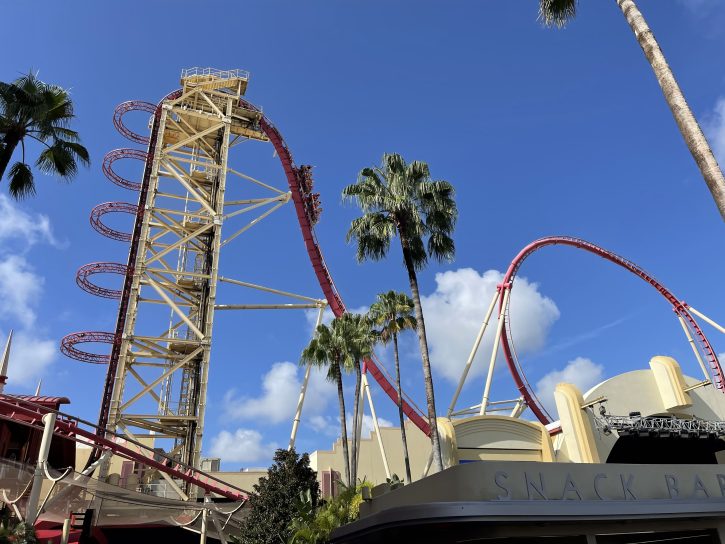 Rip Ride Rockit is one of the tallest roller coasters in the Orlando area, peaking 17 stories above Universal Studios!
This Universal Orlando Resort roller coaster was the first of its kind to have a non-inverted loop.
While there are a vast number of songs to choose from for your ride, there is also a hidden list of songs you can pick from by typing in a specific number entry.
The Mouse For Less Tips
Sometimes the single rider line can be a little slower so be sure to check wait times before you choose which line to get in.
If you choose one of the hidden songs you can still receive a ride photo, but it will not record a video. If you specifically want a video of your ride, choose from the original list of songs.
The coaster vehicle features stadium seating so no matter what row you're in you will have a fantastic view.