Universal Orlando Resort Restaurants | Loews Portofino Bay Hotel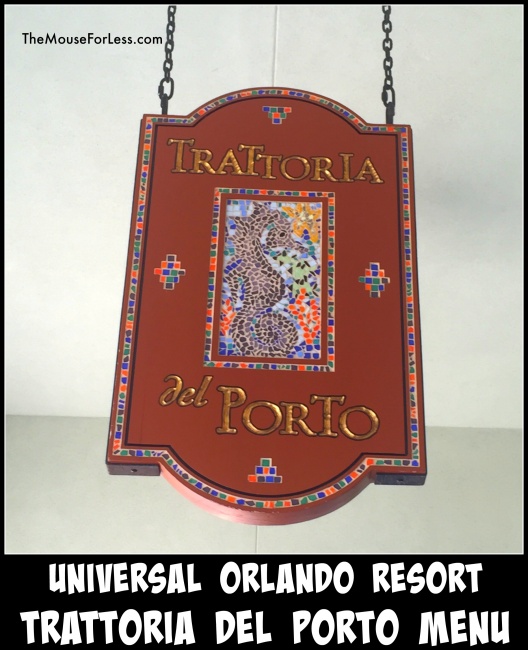 Located at Loews Portofino Bay Hotel, this restaurant offers a brasserie-style menu for lunch and dinner, and a breakfast buffet on select mornings. Reservations are recommended.
Restaurant Info: Italian Casual/Breakfast, Lunch, Dinner/$$$$
Breakfast Menu Kids' Breakfast Menu
Lunch Menu Dinner Menu Kids' Dinner Dessert Menu
Trattoria del Porto Breakfast Menu
Menu Date: 05/2016
Featuring an array of breakfast items and unlimited refills on coffee and juice.
Daily from 7:00am – 11:00am
Breakfast Buffet – Pricing for breakfast buffets is available by calling 407-503-1200. Prices are exclusive of tax or gratuity.
Hot Off the "Press"
Starbucks Regular or Decaf Coffee/Tea – $4
Starbucks Cappuccino – $5
Starbucks Single Espresso – $4
Starbucks Double Espresso – $5
The Juice Bar
Custom combination of any (3) of the following selections: Fresh orange, grapefruit, cranberry, tomato, pineapple, apple, pomegranate – $5
Juices & Drinks
Individual Juices – $4
Fresh Orange or Grapefruit Juice – $4
Fiji Water – Small – $4, Large – $7
Red Bull (Regular or Sugar Free) – $5
Soft Drinks, Iced Tea, or Lemonade – $3
Whole, Skim, Chocolate, or Soy Milk – $3
Rise and Shine
Mimosas – $9.25
Bloody Marys – $10.50
From the Bakery
White, Wheat, Rye, Seven Grain, English Muffin – $3
Low Fat, Gluten Free Muffin – $3
New York Style Bagel with Cream Cheese – $4
Breakfast Pastry – $4
Continental Breakfast – Coffee, juice, breakfast pastries, fresh fruit – $14
Griddle
Buttermilk Pancakes – $12
Belgian Waffle – $12
Cinnamon French Toast – $12
On Top or Mix In: Banana, strawberries, blueberries, fresh mixed berries, chocolate chips, whipped cream, pecans or raisins – $3
Classic Eggs Benedict
Poached eggs, Canadian bacon, English muffin, lemon hollandaise – $14
Organic Egg Fritatta
Bourisn cheese, potato, sausage, onions – $14
Eggs Beneditto
Poached eggs, prosciutto, arugula, ciabatta, tomato hollandaise – $15
Sundried Tomato Wrap
Scrambled Eggs, onions, peppers, Italian sausage, mozzarella – $13
Farm Fresh Eggs
Served with signature hash brown and toast.  Egg whites or egg substitute available upon request
Custom Omelets
Choose three: tomato, mushrooms, peppers, onions, bacon, ham, sausage, cheddar, fontina or mozzarella – $14
Steak & Eggs
Grilled New York strip steak, poached eggs, asparagus,pepperonata hollandaise – $17
Two Eggs
Choice of apple wood smoked bacon, country sausage, or grilled ham – $12
Sides
Hash brown, biscuit and sausage gravy, apple wood smoked bacon, pork sausage, or chicken sausage  – $4
Trattoria Smoothies
Tropical Fruit
Mango puree, banana, blueberries, strawberries – $6
Power Breakfast Smoothie
Nonfat yogurt, acai, soy milk, blueberries, banana, protein burst, organic agave syrup – $7
Fruit & Cereal
Granola Yogurt Parfait – $7
Assorted Berries – $7
Cottage cheese or fresh yogurt – $4
Dry Cereal – $4
Sliced Bananas or berries – $6
Organic Kashi Cereal – $7
Fruit Plate
Choice of yogurt or cottage cheese, and banana nut bread – $12
Banana Split
Berries, vanilla bean yogurt, granola sprinkles – $8
Steel Cut Oatmeal
Raisins-Cinnamon-Brown sugar – $6
Healthy Alternatives
Poached Eggs
Oven roasted tomato, wilted arugula, pepperonata coulis – $15
L.E.O.
Smoked gravLox, egg white omelet, melted Onions, capers – $15
House Smoked Salmon
Whole wheat bagel, low fat cream cheese, capers, diced red onion, tomato, egg – $15
Trattoria del Porto Kids' Breakfast Menu
Menu Date: 05/2016
Breakfast Entrees
Trattoria Golden Waffles
Fresh berries
Portofino Pancakes
With fresh strawberries
The Harbor Scramble
Eggs-n-cheese with bacon, potatoes, & toast (whole wheat & seven grain bread available)
Del Porto French Toast
Powdered sugar and maple syrup (sugar free syrup also available)
Bambino's Snack Cereals
Rice krispies, fruit loops, frosted flakes, cocoa puffs
Healthy Cereal also available: Raisin bran, special K, cheerios
All cereals served with your choice of regular, skim or 2% milk
Loews Loves Healthy Kids
Strawberry and Banana Puree
Fun Fruits
Strawberries, Grapes, Watermelon and Pineapple
Low-fat Vanilla Yogurt
Irish Steel Cut Oatmeal
with Raisins and Cinnamon
Granola Parfait
Assorted Berries, yogurt, toasted coconut
Breakfast Specialties
Breakfast Quesadilla
Scrambled eggs, cheese, choice of sausage or bacon (chicken sausage available)
Kids Omelet
Choose three: tomato, mushrooms, peppers, onions, bacon, ham, sausage, spinach, cheddar, fontina, or mozzarella
Loews Healthy Drinks
Purple Nurple
Grape juice, pomegranate juice & club soda
Super Power Smoothie
Non-fat yogurt, soy milk, blueberries, banana, agave syrup
Champion Power Drinks
Orange or apple juice
Whole, skim or chocolate milk, soda, hot chocolate
Fresh Berries and Banana Smoothie
Small Fiji Bottled Water
Trattoria del Porto Lunch Menu
Menu Date: 05/2016
Soup
Tomato Basil Bisque – $8
Chicken Noodle Soup – $6
Small Plates & Salads
6 or 12 Buffalo Jumbo Wings
Celery, Carrots, Ranch Dressing – $10 or $14
Classic Caesar Salad
Chopped Romaine Heart, Focaccia Croutons, Aged Parmesan Cheese – $9
Margherita Flatbread
Fresh Mozzarella Cheese, Cherry Tomatoes, Basil – $12
Spinach Salad
Tender Spinach, 7 Minute Egg, Roasted Red Peppers, Crispy Tortillas, Bacon Tomato Ranch Dressing – $13
Sandwiches
Trattoria Burger
Onion, Lettuce, Tomato, Bacon, Choice of Cheese: American, Cheddar, Swiss, Provolone, Blue – $15
Harbor Side Salmon Sandwich
Blackened Salmon, Buttermilk Dressing, Baby Arugula, Tomatoes, Red Onion, Toasted Ciabatta Bun – $15
Spicy Black Bean & Quinoa Burger
Mixed Greens, Local Tomatoes, Avocado, Garlic Aioli – $15
Citrus Marinated Chicken Sandwich
Leaf Lettuce, Tomatoes, Pepper Jack Cheese, Sriracha Aioli, Toasted Bun – $15
Roasted Turkey Club
Multi Grain Bread, Apple Wood Smoked Bacon, Lettuce, Tomato, Mayo – $15
Big Plates
Spaghetti & Meatballs
Slow simmer Marinara sauce, Fresh Basil, Aged Parmesan Cheese
Classic Chicken Alfredo
Grilled Chicken Breast, Fettuccini, Creamy Garlic Cream
Dessert
Oreo Cheesecake
Chocolate Sauce, Fresh Berries – $7
Vanilla Bean Crème Brulee
Orange Almond Financier, Fresh Fruit – $7
House Gelato Cup
Choice of: Chocolate, Strawberry, Vanilla, Dulce de Leche, Pistachio – $7
Wines by the Glass
Prosecco Astoria Lounge Cuvee, Veneto – $12
Riesling Saint M, Germany – $11
Chardonnay William Hill, Washington State – $9
Pinot Noir Lyric by Etude, California – $16
Zinfandel Layer Cake, Italy – $13
Cabernet Sauvignon 14 Hands, Washington State – $9
Merlot 14 Hands, Washington State – $9
Beer by the Bottle
Peroni, Birra Moretti, Stella Artois, Sam Adams Boston Lager – $6.50
Trattoria del Porto Dinner Menu
Menu Date: 05/2016
Chicken Noodle Soup – $6
Roasted Tomato Soup – $7
Chicken Wings
Tossed in our own sweet and spicy buffalo sauce served with celery, carrots, house made blue cheese dressing. 6 pieces – $10 OR 12 pieces — $15
Chicken Pesto Flatbread
Slow roasted chicken breast, pesto spread, mozzarella cheese, cherry tomatoes, herb marinated artichokes – $14
Rueben Turnover
Braised corned beef, sauerkraut, Gruyere cheese, thousand island dipping sauce – $14
Roasted Cauliflower Dip
Creamy white cheddar, slow roasted cauliflower topped with crispy bacon, served with garlic crostini – $12
Salads
Add Grilled Chicken – $5
Add 4 Jumbo Blackened Shrimp — $10
Classic Caesar Salad
Chopped romaine, focaccia croutons, parmigiano reggiano – $13
Tomato Mozzarella Stack V
Tomatoes, baby arugula, red onion, herb oil, balsamic reduction – $16
Spinach Salad V
Soft poached egg, roasted peppers, bacon tomato ranch dressing, shoestring potatoes – $13
Not Your Classic House V
7 leaf greens, cherry tomatoes, shaved fennel, oranges, herb marinated feta cheese, toasted almond, citrus vinaigrette – $13
Pasta Cucina
Enjoy our Interactive Kitchen Experience. Be your own chef with a variety of Pastas, Savory Sauces, and fresh ingredients cooked to your specifications. The Pasta Cucina experience is accompanied by our fresh greens salad bar, Garlic Bread Sticks, and our daily soup selection.
Adults — $25.99 Children — $12
Sandwiches
All Sandwiches are served with choice of house salad, fruit, or fries
Portofino Burger
8oz angus burger, creamy garlic aioli, aged cheddar, tomatoes, baby greens, shoestring potatoes, served on a buttery bun – $16  add bacon – $2
Harbor Side Salmon Sandwich
Blackened salmon, buttermilk dressing, baby arugula, tomatoes, red onions, served on a toasted ciabatta bun – $18
Spicy Black Bean & Quinoa Burger V
Mixed greens, tomatoes, avocado, garlic aioli served on a brioche bun – $16
Grilled Chicken Sandwich
Citrus marinated chicken breast, leaf lettuce, tomatoes, aged cheddar cheese, applewood bacon, sriracha aioli – $18
Chef's Specialty
Charbroiled Flat Iron Steak
Haystack truffle parmesan fries, grilled broccolini, braised cipolini onion, barolo reduction – $29
Grilled 12oz Rib Eye
Duck fat roasted potatoes, fine herbs, hen of the wood mushrooms, buttered asparagus, red wine jus – $32
Shrimp & Grits
White corn polenta, jumbo shrimp, applewood bacon, bbq mostarda – $29
Pan Seared Atlantic Salmon
Fingerling Potatoes, pickled mushrooms, Wilted spinach, honey whole grain mustard vinaigrette – $27
Pan Roasted Chicken Breast
White corn and goat cheese polenta, Seasonal vegetables, thyme jus – $24
Grilled Swordfish
Braised leeks, spring peas, wild mushrooms, sweet potatoes, meyer lemon vinaigrette – $28
V – vegetarian options
Trattoria del Porto Kids' Dinner Menu
Menu Date: 12/2015
Entrees
Quesadilla
Cheddar Cheese, Grilled Chicken
Hot Diggity Dog
All Beef
Spaghetti & Meatballs
Tomato Sauce, Butter Sauce or Cheese Sauce (Whole Wheat Penne Pasta Available)
Kids Pizza
Cheese, Pepperoni or Vegetables
Chicken Tender Strips
Grilled or Fried
Peanut Butter & Jelly
7-grain bread
Cheeseburger
Kids are Just Little Adults
Kid's Steak
4oz Filet
Fettuccini Alfredo
Grilled Chicken, Parmesan Cream Sauce
Pasta Cucina
Enjoy an interactive kitchen experience where you are the chef. Choose from a variety of pastas, savory sauces and fresh ingredients. Served with garlic breadsticks. Offered on select nights.
Sides
ZTF French Fries
Zero trans fat
Fresh Fruit Cup
Farm Fresh Garden Greens
Carrots and Celery Sticks
Ranch Dipping Sauce
Strawberry Banana Puree
Fun Drinks
Purple Nurple
Grape Juice, Pomegranate Juice
Kiddie Sangria Punch
Lemonade, Cranberry, Orange Juice, Fresh Lime
Champion Power Drinks
Orange or Apple Juice
Whole, Skim or Chocolate Milk
Sodas
Hot Chocolate
Small Fiji Bottled Water
Kids' Desserts
Build your own Sundae
One scoop of vanilla ice cream, oreo cookie crumbs, rainbow sprinkles, and chocolate syrup
Chocolate Chip Cookie
Brownies
Trattoria del Porto Dessert Menu
Menu Date: 05/2016
Vanilla Bean Crème Brulee
Fresh Fruit, Orange Almond Financier – $8
Warm Chocolate Molten Cake
Strawberry Compote, Vanilla Bean Gelato – $11
Key Lime Tart
Graham Cracker Crust, Raspberry Compote – $8
Trio Cake Sampler
Red Velvet, Cream Cheese Icing Devil Food Chocolate Cake, Chocolate Mousse Filling New York Style Cheese Cake, Cinnamon Graham Crust – $11
Peanut Butter Pie
Warm Chocolate Sauce – $8
Gelato
Three Scoops of Your Choice: Vanilla, Chocolate, Strawberry, Dulce de Leche, Pistachio – $9
Sorbetto
Three Scoops of Your Choice: Lemon, Mango, Raspberry – $7
** Menu and Prices are Subject to Change Without Notice **