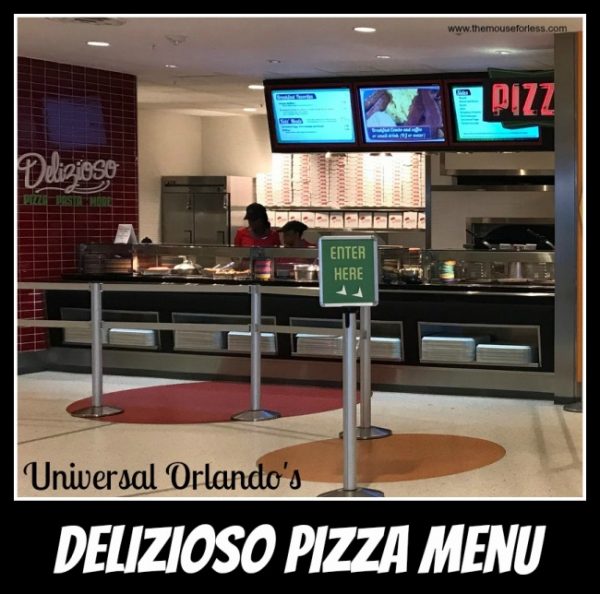 Guests at Universal's Cabana Bay Beach Resort can enjoy a fresh, hot pizza delivered straight to them whenever the family gets hungry. The Delizioso Pizza menu offers a variety of pizzas and traditional sides to satisfy your appetite. Delizioso Pizza can be found as part of the Bayliner Diner; however, delivery is available to your room, cabana, or hanging out at the pool during hours of operation.
Delizioso Pizza is located in the Cabana Bay Beach Resort.  Find more Universal Orlando dining locations on our Universal Orlando Resort menus page.
Hours of Operation
Pick Up Hours: noon – 9:45 pm
Delivery Hours: 6:00 pm – midnight

Planning a Universal Vacation?
Delizioso Pizza Menu – Lunch & Dinner
Menu Date 12/2022
Starters
Mixed Garden Salad
With Tomatoes, Cucumbers, Onions, and Carrots – $5.49
Caesar Salad – $5.49
4 Breadsticks
with Marinara Sauce – $5.99
Cheese & Grapes
With crackers – $6.50
Pizzas
10″ Pepperoni Pizza
with tomato sauce and mozzarella topped with pepperoni – $13.99
10″ Classic Cheese Pizza
topped with tomato sauce and mozzarella cheese – $12.99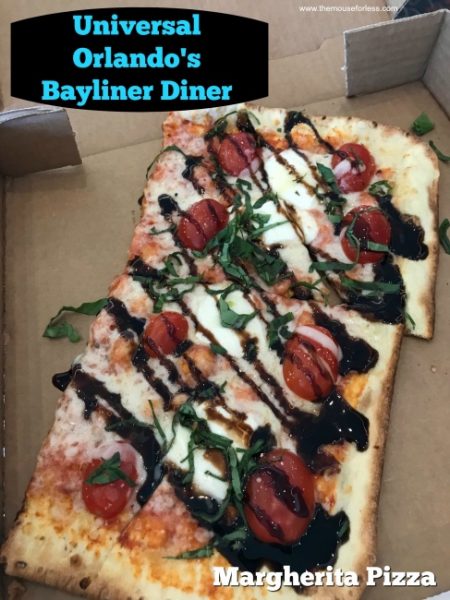 10″ Margherita Pizza
topped with tomato sauce, mozzarella, basil and Roma tomatoes – $12.99
7″ Kids Cheese Pizza – $6.50
Mediterranean White Pizza
with Artichokes, Red Peppers, Olives, and Feta Cheese – $14.99
BBQ Chicken & Bacon Pizza
with Red Onions and Cheddar Cheese – $14.99
The Works Pizza
with Tomato Sauce, Mozzarella, Pepperoni, Ham, Meatballs, Peppers, Onions, and Mushrooms – $15.99
Additional Toppings
Mushrooms – $1.00
Peppers – $1.00
Meatballs – $1.00
Pepperoni – $1.00
Ham – $1.00
Desserts
Fresh Fruit Salad – $4.50
Cinnamon Sticks
with cream cheese frosting – $4.50
Cheesecake – $4.50
Chocolate Cake – $4.50
Drinks
2 Liter Coca Cola, Diet Coke or Sprite – $6.00
20 oz. Coca Cola, Diet Coke, Sprite, or Fanta – $4.00
1 Liter Dasani Still Water – $5.00
1 Liter Fiji Water – $6.80
500ml Fiji Water – $4.30
Libations
Domestic Beer
Budweiser, Bud Light, Miller Light, Coors Light
$6.80 each/$36.30 six-pack
Import & Craft Beer
Heineken, Corona Extra
$7.30 each/$36.30 six-pack
House Wines
Chianti, Merlot, Cabernet Sauvignon, Pinot Noir, Chardonnay, Pinot Grigio, Moscato, Sauvignon Blanc, Rose
$22.49 Bottle
Pizza Combo
1 Starter, Any 10″ Pizza, 1 Dessert, & 2 sodas (20oz) – $24.99
***Delizioso Pizza Menu Items and Prices are Subject to Change***