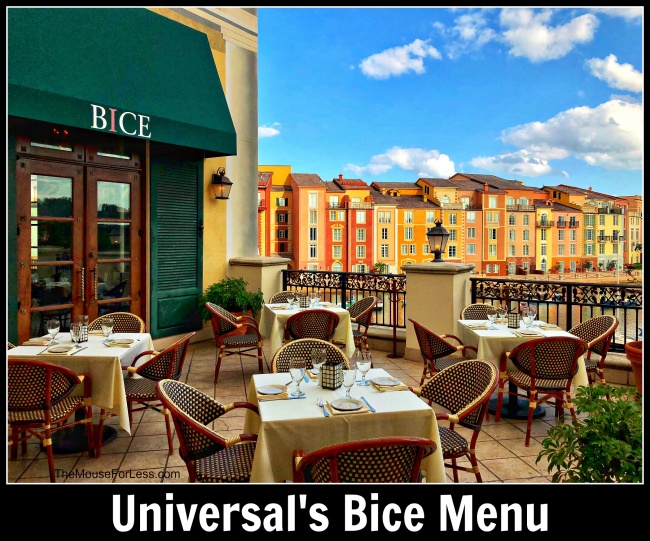 At Bice Ristorante, an exquisite culinary voyage right to the heart of Italy awaits you amid a decor which combines Old World elegance and modern chic. Bice Ristorante offers Northern Italian cuisine and superb service in an elegant atmosphere. Resort or business casual attire is recommended to dine at Bice Ristorante.
Bice Ristorante is located in the Loews Portofino Bay Hotel.  Find more Universal Orlando dining locations on our Universal Orlando Resort menus page.
Open daily: 5:30 pm – 10:00 pm

Planning a Universal Vacation?
Bice Ristorante Dinner Menu
Menu Date 01/2023
Antipasti (Appetizers)
Antipasto all'Italiana di Salumi, Formaggi (serve two)
Selection of assorted cured Meats, imported Cheeses and Olives – $26
Prosciutto di Parma e Burrata
16 Months aged Parma Prosciutto,Mozzarella Burrata, Fig Preserve – $24
Carpaccio di manzo 
Beef Tenderloin Carpaccio, pickled Onions,crispy Capers, Truffle Aioli – $23
La Caprese Classica
Fresh burrata Mozzarella, Vine ripened Tomatoes, Basil Pesto – $19
Tartar di Tonno 
Sushi Grade Ahi Tuna Tartare,Avocado, Wasabi cream, Capers,Microgreens – $24
Fritto Misto (serves two)
Crispy flash fried Calamari, Shrimp, Zucchini, Mushrooms, Spicy Marinara – $26
Bruschetta
Glilled Ciabatta Bread,Fresh Tomatoes,Basil,EVOO,Balsamic Glaze – $18
Wagyu Beef Tartare
Diced Raw Wagyu Beef,Capers,Chives,Shallots,Cognac Zabaione – $24
Polpo Grigliato
Grilled Octopus, Potatoes & Olives Salad, Herbs Vinaigrette – $24
Insalata (Salads)
Insalatina Mista
Romaine, Arugula, Frisee Salad, Grape Tomatoes, Carrots, Aged Balsamic Vinegar – $15
Insalata di Spinaci
Spinach Salad, Goat Cheese, Pancetta,Red Berries Citronette –  $15
Insalata di Cesare
Romaine Heart Lettuce, Homemade Croutons,Caesar dressing – $15
Add Anchovies – $5
Add Grilled Chicken – $10
Add Grilled Salmon – $12
Add Grilled Shrimp – $13
Add 7 oz. Lobster Tail – $30.00
La Pasta Fatta In Casa (Handcrafted Pasta)
Cappellaccio
"Little Hat" shaped Ravioli, braised Beef Short Rib, Spinach,fresh Mushroom & Marsala Cream sauce – $33
Gnocchi di Patate alla Sorrentina 
Potato Gnocchetti, diced Tomato Sauce, Mozzarella, Basil – $31
Pappardelle al Telefono
Pappardelle,Mozzarella,, fresh Basil, Tomato Cream Sauce – $27
Tagliatelle alla Bolognese
Tagliatelle, slow braised Bolognese ragu',Marinara – $28
Pappardelle al telefono
Homemade Pappardelle with mozzarella cheese, fresh basil, in a tomato cream sauce – $30
Tagliatelle alla Bolognese
Tagliatelle, slow braised Bolognese Ragu',Marinara – $30
Lasagna Classica Bolognese
Lasagna,slow Braised Bolognese ragu', Parmesan, Béchamel,Marinara sauce – $28
Chitarra allo Scoglio
Spaghetti,Mussels, Clams, Scallops,Shrimp, fresh Tomatoes, Saffron – $33
Tagliatelle al Prosciutto
Tagliatelle, Parma Prosciutto, Fresh Tomatoes, Cream and Basil – $30
Pappardelli de Funghi
Homemade Pappardelle, Trumpet Mushrooms,Demi-Glaze,Parmigiano Reggiano – $31.00
Fettuccini verdi al Granchio e Cappesante
Green Fettuccine,Crab Meat,Scallops,Lemon & Cream Sauce – $34.00
La Pasta Tradizionale (Traditional Pasta)
Penne all'Arrabbiata
De Cecco Penne Spicy Marinara,Garlic, fresh chopped Parsley – $26
Linguine alle Vongole
De Cecco Linguine, Clams,White Wine Garlic sauce,fresh Parsley & sun-dried Tomatoes – $31
Penne alla Boscaiola
De Cecco Penne, Italian Sausage,Mushrooms, Green Peas,Port Demi Cream – $29
Risotto of the Day – MKT
Zuppa (Soups)
Daily Soup from the Chef – $14.00
Pesce (Fish)
Branzino Mediterraneo
Pan seared 8 oz. Filet of Mediterranean Branzino, Roasted Root Vegetables,Salsa Verde – MKT
Salmone al Pistacchio
Pistacchio crusted Atlantic Salmon, seasonal Vegetables,aged Balsamic Glaze – $40
Cernia
Pan Fried 8 oz. Black Grouper,Herbs & Panko Crumbs crust, Livornese Sauce, sauteed Baby Spinach – $46
Carne (Meat)
Cotoletta di Vitello alla Milanese
Pan fried.14oz Breaded Veal Chop,Arugula and Cherry Tomato Salad,Balsamic Vinaigrette – $52
Ossobuco di Vitello con Risotto alla Milanese 
Braised Veal Shank "Ossobuco",Saffron & Parmesan Risotto – $52
Tagliata di Manzo
12 oz. N.Y. Strip sliced, Arugula & fresh Tomato Salad,roasted Potatoes – $43
Costata di Manzo alla Griglia
21 oz. Ribeye Steak, Cannellini Beans Salad – $67
Ossobuco di Vintello con Risotto alla Milanese
Braised Veal Shank "Ossobuco",Saffron & Parmesan Risotto – $52
Tagliata di Manzo
12 oz. N.Y. Strip sliced, Arugula & fresh Tomato Salad,roasted Potatoes,Red Wine Sauce – $43
Scaloppine di Vitello "Piccata" 
Sauteed Veal Scaloppini,Lemon Capers and White Wine Sauce,Potato Au Gratin, sautéed Asparagus – $42
Carre' di Agnello
Roasted Rack of Lamb, Garlic sautéed Fresh Mushrooms, Mashed Potatoes ,Port Wine Demi Glaze – $44
Filetto di Manzo alla Rossini
9 oz."Prime Chairman" Beef Tenderloin Filet, Foie Gras,Truffle Mashed Potatoes, seasonal Vegetables,
Peppercorn Sauce – $50
Pollo al Marsala
Organic Bone-in Chicken Breast, Polenta,Broccoli, Marsala & Mushrooms sauce – $41
Add any Vegetable or Potato Sides – $10.00
Add 7 oz. Lobster Tail – $30.00
Dolci (Desserts)
Tiramisù della Bice
Homemade Classic Tiramisu – $14
Torta al Cioccolato con Gelato alla Vaniglia
*Flourless Chocolate Cake,Vanilla gelato – $14
Torta al Formaggio
Wild Berry Cheesecake – $14
Crema Cotta alla Vaniglia 
Vanilla Crème Brûlée – $14
Cannoli alla Siciliana
Ricotta and Chocolate Chips Cannoli,Orange Zest, Pistacchios – $14
Homemade Gelato (ask your waiter for daily flavors) – $12
Homemade Sorbet (ask your waiter for daily flavors)  – $12
Sweet Treats
Espresso Martini
Belvedere Vodka,Godiva Chocolate Liqueur,Espresso Vergnano,Raw Sugar Rim – $17
Chocolate Martini
Van Gogh Dutch Caramel Vodka,Godiva Chocolate Liqueur, Bayley's. Chocolate Chips – $17
Caffe' Romano
White sambuca, Kahlua,Light Cream,Coffee Beans – $17
Mezzanotte (Midnight)
Black Sambuca, Chamboard, Amaretto, Light Cream, Berries – $17
Bice Childrens' Menu
Pasta alla Marinara, Alfredo, or Bolognese
Spaghetti, Penne, or 4 Cheese Tortellini with Marinara, Alfredo, or Bolognese Sauce – $14
Cotoletta di Pollo con Pure di Patate
Breaded Chicken Parmigiana with Mashed Potatoes – $17
Petto di Pollo alla Griglia
Grilled Chicken Breast with French Fries – $17
Bistecca alla Griglia con Pure di Patate
8 oz. Grilled NY Strip Served with Mashed Potatoes – $25
Beverages
Soda & Iced Tea – One refill-  $4

Virgin Surprise (Pineapple Juice, Gernadine, Sliced Orange – $5

Milk & Chocolate Milk – $4

Juices (Apple, Pineapple, Cranberry, Orange, Grapefruit) – $4
** Bice Ristorante Menu and Prices are Subject to Change Without Notice **