Cape May Cafe
Disney's Beach Club Resort
Casual Dining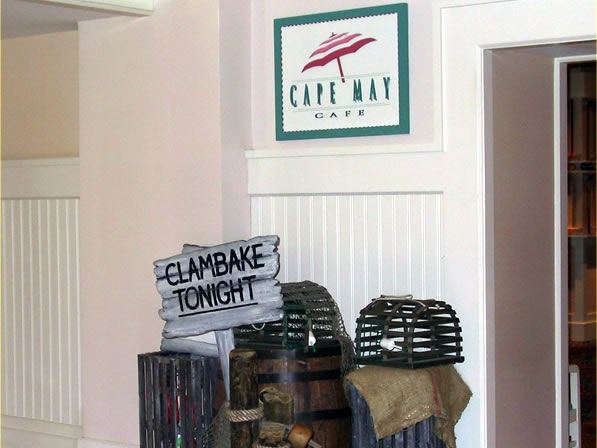 Reviews

Go full steam ahead to this clambake for a steamy assortment of fresh shellfish and seaside favorites.
Restaurant Info: American, Dinner Buffet, $$
Seasonal Price Information: Prices will increase approximately $4 during peak seasons.
Dinner Menu
Menu Date: 4/2013
All American Buffet and New England Style Clambake
Nightly: 5:30 p.m. - 9:30 p.m.
Adult Price Range: $38.33 - $42.59
Child Price Range (ages 3 - 9): $18.10 - $20.23
Prices vary by season and include tax, but not gratuity.
One Table Service credit is required per person for those on the Disney Dining Plan.
Menu varies slightly daily; some possible selections include:
Soups
New England Clam Chowder
Soup of the Day
Carving Station
Hand-carved Flank Steak with Red Wine Demi-glace and Horseradish Cream
Hand-carved Pork Loin
Cold Offerings
Fresh Fruit Salad
Cape May House Salad
Casear Salad
Broccoli Slaw
Cape May Potato Salad
Marinated Olives
Chilled Peel-n-Eat Shrimp
Citrus Couscous Salad
Chicken Arugula Pasta Salad with Mushroom Vinaigrette
Tomato Cucumber Mozzarella Salad
Quinoa Shrimp Salad with Hearts of Palm
Panzanella Salad
Green Mussels with Spicy Seaweed Salad
Hot Offerings
Barbeque Pork Ribs
Basil Mashed Potatoes
Sautéed Cabbage with Rainbow Chard and Bacon
Steamed Red Potatoes
Marinated Roast Chicken
Steamed Corn on the Cob
Vegetable Pasta
Specialty Pizza and Marinated Beef Tips with a Spicy Tomato Sauce
Seafood Selections
Snow Crab Legs
Mussels
Steamed Clams
Baked Seasonal Fish
Tortellini with Lobster Sauce
Seafood Pot Pie
and Fried Cod
Batter-Fried Calamari
Children's Buffet
Macaroni and Cheese
Chicken Nuggets
Sauteed Green Beans and Carrots
Dessert Buffet
Seasonal Cheesecake
Key Lime Tart
Seasonal Cakes
Assorted Cookies
Cupcakes
Fudge Brownies
Peanut Butter Bars
A standard, non-alcoholic beverage is included with meal
** Menu and Prices are Subject to Change Without Notice **