1900 Park Fare Menu
Disney's Grand Floridian Resort & Spa
Character Dining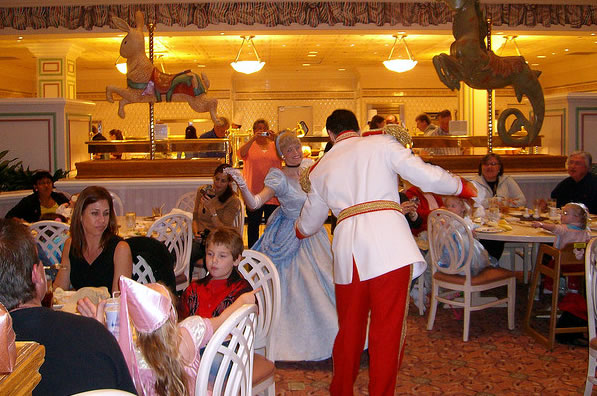 Menu Date: 07/2013

1900 Park Fare Reviews

Guests at 1900 Park Fare will dine with a Princess, a magical English nanny or Characters from the rabbit hole at this enchanting restaurant.
Restaurant Info: American, Breakfast/Dinner Buffet, $$
Peak Price Information: Prices will increase approximately $4 during peak seasons.
Menu
Supercalifragilistic Breakfast:
Daily from 8:00 a.m. – 11:10 a.m.
Cost: $22.35-$26.61 Adult; $12.77-$14.90 Child (3-9)
Prices vary by season and include tax, but not gratuity.
A standard beverage is included with your meal
Characters (subject to change): Alice in Wonderland, The Mad Hatter, Mary Poppins, Winnie the Pooh and Tigger
Assorted Yogurts and Toppings: Strawberry Yogurt, Blueberry Yogurt, Plain Yogurt, Sliced Strawberries and Strawberry Soup
Bagel Station with Assorted Cheese Spreads: Plain Bagels, Onion Bagels, Whipped Cream Cheese, Smoked Salmon Cream Cheese, and Boursin Herb Cream Cheese
Breakfast Favorites: Scrambled Eggs, Egg Whites Scrambled, Lobster Eggs Benedict, Homemade Crepes, Mickey Waffles, Pancakes, French Toast, Smoked Salmon with sliced tomatoes and red onions, Roast Beef Hash, Bacon, Sausage, Oatmeal, Grits, Cheese Blintz, Assorted Breakfast Cereals, Strawberry Soup, and Assorted Fresh Fruit
** Menu and Prices are Subject to Change Without Notice **
---
Cinderella's Happily Ever After Dinner:
Daily from 4:30 – 8:30 p.m.
Cost: $38.33-$42.59 Adult; $19.16-$21.29 Child (3-9)
Prices vary by season and include tax, but not gratuity.
A standard beverage is included with your meal
Characters: Cinderella, Prince Charming, Lady Tremaine (Cinderella's step-mother), Drizella, and Anastasia (stepsisters)
Salad Bar: Caesar Salad, Mixed Greens, Edamame Salad, Grilled Vegetable Salad, Toboulle, Potato Salad, Watermelon Salad, Marinated Cucumber Salad, Asian Noodle Salad, Watercress Salad, Caprese Salad Skewers, Cantaloupe, Watermelon, Pineapple, Grapes, Ranch Dressing, Mango Vinaigrette, Chili Cilantro Dressing, House Dressing, Ciabatta Croutons
Carving Station: Smoked Beef Strip Loin
Park Fare Favorites: Assorted Sushi Rolls, Potatoe Pea Samosa, Moroccan Couscous, Pork Potstickers, Lemon Scented Almond Rice, Asian BBQ Ribs, Grand Seafood Boil, Peel & Eat Farm Raised Shrimp, Seafood Stew, Chicken Gumbo, Southern Red Beans & Rice, Orzo Pasta, Chili Rubbed Salmon, Tajine Beef, Chicken Kabobs, Grilled Flatbread, Spicy Durban Chicken, Pita Chips & Sun Dried Tomato Hummus, Floridian Strawberry Soup, Fresh Fruit Salad
Stir Fry Station: Create Your Own Stir Fry
Kids Station: Baked Chicken Legs, Butter Corn, Macaroni & Cheese, Green Beans, Mickey Pasta with Marinara, Ciabatta Bread Pizza, Mashed Potatoes
Assorted Desserts and Ice Cream Cheesecake, Carrot Cake, Key Lime, Fruit Tart, Chocolate Mousse, Brownies, Cookies, Apple Crisp, Bread Pudding with Vanilla Sauce and Gummy Bears
Non-Alcoholic beverages included with Breakfast and Dinner buffets; Prices listed does not include sales tax or gratuity.
** Menu and Prices are Subject to Change Without Notice **