Home > Disneyland > Menus > Club 33
Club 33
New Orleans Square
Members Only Dining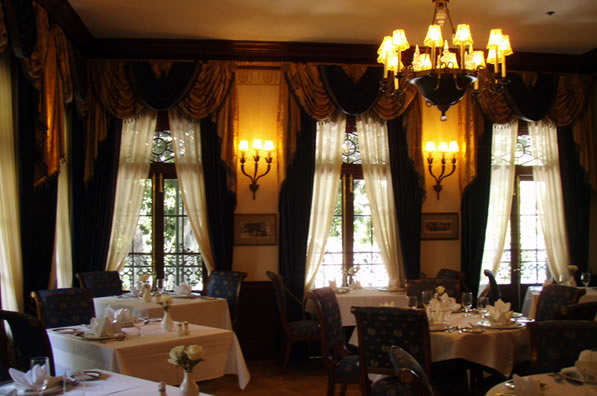 Menu Date: 07/2012

TheMouseForLess Reviews

Club 33 is the only Restaurant within Disney that offers alcoholic beverages. Envisioned by Walt Disney, who drew inspiration from the executive lounges at the 1964 New York World's Fair, Club 33 opened in 1967 and has since held a place of mystery and legend among Disneyland park guests.
Restaurant Info: American, Healthy Selections, Vegetarian, Lunch/Dinner, $$$$$ - More than $60 per person

Menu
**Note**
Club 33 Menu changes often to cater to their exclusive club members. Following is a sample from visits but current menu is likely to be different
Dinner Menu
Club 33 maintains a minimum food charge of $72.00 dollars per person
Appetizer
California Corn Bisque - $15
White & Green Asparagus Tasting - $27
Organic Little Gem Lettuce Salad - $12
Seared Day Boat Scallop with King Crab Soubise - $25
American Kobe Carpaccio - $32
Trio of Artisan Caviar - $50
Entree
Anaheim Gold Braised Short Rib - $45
Satsuma Marinated Duck Breast - $44
Columbia River King Salmon - $44
Filet of Pan Roasted Chateubriand - $53
Globe Artichoke and Goat Cheese Terrine - $39
Twice Cooked Chicken Ballotine - $44
Farmed Raised Texas Blackened Redfish - $46
Moroccan Spiced Lam Top Sirloin - $48
Regional Artisan Cheese - $17.00
Executive Chef: Marcel St. Peirre - General Manager: Jeff Causlus
Vintner - Prix Fixe five course meal
(07/12) - $90.00, Wine Pairing additional $50.00
First Course
Heirloom Tomato &n Feta Cheese, Maple Pecan Scone, Champagne Vinaigrette
Deep sea, Sauvignon Blanc, Monterey County 2008
Second Course
Cold Water Caledonia Blue Prawn, Lemon Verbena Bisque, Crisp Scallop
Cuvaison, Chardonnay, Napa Valley Carneros 2009
Third Course
Grilled Hanger Steak, Sweet Corn Brioche Popover, Sparrow Lane Cider Cream
Summerland, Cabernet Cauvignon, Paso Robles 2010
Fourth Course
Regional Artisan Cheese Tasting
Eagle's Rock, Piedra Del Aguila, Malbec, Argentina 2009
Fifth Course
Peach Creme Fraiche Semifreddo, Blueberry Soup, Lime Pound Cake
Pasorina, Moscato, Paso Robles 2010

Lunch Menu
Lunch Menu - Prix Fixe
Beverages Sold Separately. Note: This is the only location within Disneyland that serves alcoholic beverages.

Starter
Buffet included:
Salad station
Cold cuts Assortments
Pickled Assortments
Shrimps
Crab claws
Lobster Tails
Fresh Fruits Assortments
Grilled Vegetable Assortments
Pate Assortments
Cheese Assortments
Summer - Entree (07/12)
Farm Raised Blackened Texas Redfish
Pan Seared Chateaubriand, Yukon Potato Puree, Cabernet Demi-Glace
Certified Organic Free Range Chicken, Truffled Macaroni & Cheese
Columbia River King Salmon, Tropical Forbidden Black Rice
Grilled Lamb Top Sirloin, Moroccan Spiced Heirloom Bean Ragout
Fresh Pasta Three by Three
Desserts
Buffet may included:
Strawberry Rhubarb Shortcake
Valrhona Chocolate Pots de Creme & Raspberry Coulis
Lemon Merigue "Pie"
Mini-Valrhona Chocolate Truffle Pound Cake
The Black Pearl Valrhona Chocolate Velvet Cake
Decadent Macaroon
Moist Almond Cake, Roasted Bananas and Pabana Mousse
Club 33 New York Style Cheesecake
Cherries Jubilee Sauce
Espresso Sauce
Spring - Entree (03/11)
New Zealand Grouper, Senate Bean Ragout, Hickory Tomato
Pan Seared Chateaubriand, Parsnip Potato Puree, Cabernet Demi-Glace
Certified Organic Free Range Chicken, Truffled Macaroni & Cheese
Farmed King Salmon, Kohlrabi Risotto, Buttered Rutabaga
Colorado Lamb Chops, Creamy Corn Polenta, Gorgonzola Reduction
Campanelle Pasta Three by Three
Summer - Entree (08/10)
New York Strip Steak, Rainer Cherry Brioche
Citrus Marinated Duck Breast, Pear Croquette, Bell Pepper Gazpacho
Line Caught Massachusetts Cod, Stone Fruit Chutney, Pancetta Bacon
Pacific King Salmon, Carrot Mango Jus, French Stewed Lentil
Filet of Chateaubriand, Aromatic Shallot Sabayon
Summer Vegetable Terrine, Fingerling Potato, Cypress Grove Chevre
Certified Organic Free Range Chicken, Muscat Apricot Glaze
Colorado Rack of Lamb, Heirloom Tomato Salad
Spring - Entree (02/09)
Prime Flat Iron Steak, Truffled Potato Puree, Merlot Demi Glace
Pan Roasted Chicken, Mac & Cheese Croquette, Pickled Sweet Carrot
Norwegian Salmon, Portobello Mushroom, Tarragon Buerre Blanc
Colorado Lamb Chop, Cherry Port Reduction, Apricot Couscous
Fresh Pasta Three By Three
Autumn - Entree (10/07)
Kurobuta Pork Chop, Braised Greens, Blackberry - Barbeque Sauce
New York Strip Loin, Oven Roasted Potato, Forest Mushroom Ragout
Alaskan Halibut, Meyer Lemon Fettuccini, Lobster Thermidor
Braised Lamb Osso Bucco, Celery Root Puree, Rustic Vegetables
Lumache Fresh Pasta Three By Three
Summer - Entree (06/05)
New York Strip Loin, Oven Roasted Potato, Forest Mushroom Ragout
Kurobuta Pork, Braised Greens, Sage Blackberry-Barbecue Sauce
Alaskan Halibut, Buckwheat Fettuccini, Lobster Thermidor
Lamb Osso Bucco, Smoked Chanterelle, Lingonberry Bread Pudding
Cheese Tortellini Three By Three
Spring - Entree (04/04)
English Mustard Basted Petit Filet, Wild Ramp Jus
Lamb Top Sirloin, Chanterelle Mushroom Ragout
Contessa Shrimp Scampi, baby Argula, Capellini
Pancetta Wrapped Poussin, Calvados, Celery Root Puree
Lumache Fresh Pasta Three by Three
| | | | | |
| --- | --- | --- | --- | --- |
| | | | | |
| | | | | |
| --- | --- | --- | --- | --- |
| | | | | |
| | | | | |
| --- | --- | --- | --- | --- |
| | | | | |
| | | | | |
| --- | --- | --- | --- | --- |
| | | | | |
| | | | | |
| --- | --- | --- | --- | --- |
| | | | | |
| | | | | |
| --- | --- | --- | --- | --- |
| | | | | |
** Menu and Prices are Subject to Change Without Notice **