Examples of Snacks available on the Disney Dinning Plan
Walt Disney World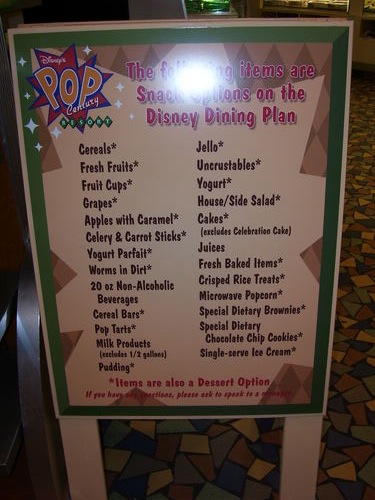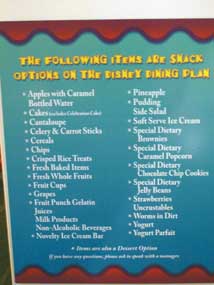 Purchasing Disney's Dining Plan offers guests the option of one table service meal, one quick service meal, and one snack per day. Snacks in the theme parks can include such items as snack-cart ice cream, box of popcorn, medium soft drink or a bottle of water at select counter-service and snack-cart locations. Disney is very flexible, however, about what guests choose as snacks, and many items under $5 are fair game as long as they are sold as "single serving" items. Look for the purple DDP snack symbol to identify items that may be available.
The following snack option pocket guides are available to download and take with you to the parks.
The following list of Disney Dining Plan Snack Options, found posted at the Caribbean Beach Resort and Pop Century food courts, is typical of those found in many Disney resort food courts, fast food restaurants, and Grap 'n' Go market areas:
Apples with Caramel
Bottled Water
Cakes
Cantaloupe
Celery & Carrot Sticks
Cereals
Cereal Bars
Chips
Crisped Rice Treats
Fresh Baked Items
Fresh Whole Fruits
Fruit Cups
Grapes
Fruit Punch Gelatin
Juices
Jello
Milk Products
Microwave Popcorn
Non-Alcoholic Beverages
Novelty Ice Cream Bar
20 oz. Non-Alcoholic Beverage
Pineapple
Pop Tarts
Pudding
Side Salad
Single Serve Ice Cream
Sundae (assorted)
Soft Serve Ice Cream
Special Dietary Brownies
Special Dietary Caramel Popcorn
Special Dietary Chocolate Chip Cookies
Special Dietary Jelly Beans
Strawberries
Uncrustables
Worms in Dirt
Yogurt
Yogurt Parfait
---
We asked TheMouseForLess Readers to let us know their favorite snacks purchased with the DDP Snack Credit. Here's what they had to say:

• Mickey Mouse Ice Cream Bar ~ Kelly, Saundra
• Dole Whip (MK) ~ Marie, Lisa, Kelly
• Pineapple Dole Whip Float (Aloha Isle, MK) ~ Glenna, Amy
• Sweet Bread (Kringla Bakeri, Norway, Epcot) ~ Glenna
• Soft Pretzel (Germany, Epcot) ~ Brenda
• Zebra Domes (Mara, Animal Kingdom Lodge ~ Sierra
• Chocolate Covered Banana (Disney Studios) ~ Frank
• Kaki Gori (Flavored Ice Cone, Japan, Epcot)
• Minnie's Strawberry Bar (many park locations) ~ Maria
• Mickey Ice Cream Sandwich (many park locations) ~ Jaimee
• Chocolate Crossiant (CSR) ~ Becky
• Crepes (France, Epcot) ~ Stacey
• Funnel Cake (Sleepy Hollow, MK) ~ Becky
• Carmel Ginger Ice Cream (China, Epcot) ~ Binnie
• Shakes & Stuffed Pretzels (Animal Kingdom) ~ Mary W
• Make-Your-Own Fudge Cookie, Marshmallow Treats and Gingerbread Cookies (Goofy's Candy Co., DTD) ~Mary W

Jan posted the following:
• Fruit Salad (Main St. Bakery, MK)
• The Chocolatears (chocolate covered caramels), Cashew or Peach Pattie; Almond Turtle with Chocolate Mickey (Main Street Confectionary)
• Cappuccino Float; Lemonade Slush (Enchanted Cove in Fantasyland, MK)
• Frozen Lemonade (Westward Ho, MK)
• Pretzel; Frozen drinks (Scuttles Landing, MK)
• Fudge Brownie Sundae; Strawberry Shortcake Sundae; Regular Sundae; Float (Mrs Potts, MK)
• Citrus Swirl; Floats (Sunshine Tree Terrace, MK)
• Floats, Sundaes, Fruit Smoothies (Auntie Gravity's, MK)
• Baked Potato with Cheese (Liberty Square Market, MK)
• Funnel Cake; Floats (Sleepy Hollow)
• Single Scoop (waffle cone allowed); Shakes (Fountainview, Epcot)
• All Crepes (France Crepe Kiosk, Epcot)
• Pretzel; Black Forest Cake; Cheesecake (Germany Sommerfest, Epcot
• Soup, Cold Salads, Fruits (Sunshine Seasons, Land Pavallion, Epcot)
• Egg Rolls, Chicken Fried Rice, Mango Mini Pie (Anandupur, AK)
• Hot Fudge Sundae, Milk Shake, Float, Ice Cream Cookie Sandwich (Dino bit Snacks, AK)
• Chocolate Cake or Milk Shake (Tamu Tamu, AK)
• Cheesecake; StrawberryParfait (Backlot Express, DHS)
• Chips and Cheese; Pretzel; Frozen Drinks (Herbies, DHS)
• Pretzels; Frozen Drink (Min & Bills Dockside, DHS)
• Cakes, latte/cappuccino/mocha, Fruit Tart; Brownie; Cheesecake (Starring Rolls, DHS)

• Doh Bar(deep fried snickers) (Cookes of Dublin, DTD) ~ Michele in NY
• Waffle Ice Cream Cone (Fife and Drum, Epcot) ~ Michele in NY
• Soup (All Star resorts and Mara in AKL) ~ Michele in NY

• Single serving sampler items sold during Epcot's International Food and Wine Festival
• Items under $5 at Ghirardelli's Chocolate Shop at Downtown Disney, including chocolates, soda fountain items and even the popular Decadent Drinking Chocolate.