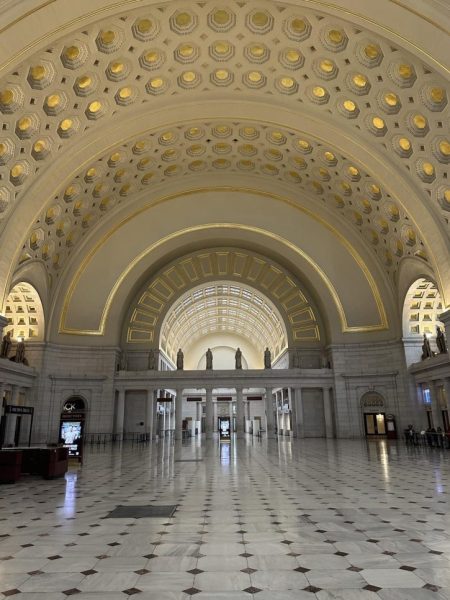 Traveling by train can be a great way to get to Orlando for a vacation, especially if you have the time. Train travel is a unique option that many don't necessarily consider.
Relax with Amtrak Auto Train Tips for Best Fares Current Discounts Tips from Readers
Relax with Amtrak
Amtrak can be a good train travel option for those living in the Eastern portion of the US who don't enjoy flying. Typical amenities include a Dining car and Lounge car. While Amtrak transverses the country, travel time increases significantly outside of the East Coast Corridor.
Travel from the West will require connecting routes and the cost of sleeping compartments over coach fares can be pricey. Using Amtrak from California can take half of a week or more each way.   On the other hand, travel from New York City to Orlando takes slightly less than one full day.
Each passenger can bring two carry-on items and check up to 4 bags – 2 free of charge and 2 for $20 each.
Published fares can be reduced further with the following standard Amtrak passenger discounts:
AAA members (10%)
Seniors (10% for those 62 & older; not valid on the Auto Train)
Military (10% on most fares for active duty US military personnel, their spouses & dependents)
NARP (10% on many fares for National Association of Railroad Passengers members)
Veterans Advantage (15% discount)
Student Advantage (15% discount)
ISIC (15% with International Student ID card)
Children 2 through 15 years old ride half-price; under 2 rides free
Disabled passengers, plus one companion receive a 15% discount
Amtrak's Silver Service trains (Silver Meteor and the Silver Star) serve Orlando (ORL) and Kissimmee (KIS) daily, originating in New York from the north and Miami from the south. Silver Service trains include Viewliner Sleeping and Dining Car accommodations, along with Coach Class seating.  Passengers can board from connecting trains at points along the Silver Service routes. Travelers can use Amtrak's Interactive Route Atlas to plot custom routes to see the various options Amtrak offers between any two stations. In addition, travelers can specify stations and dates to see all available connecting fares and travel times.
Arriving in Florida
Both the Orlando (ORL) and Kissimmee Amtrak Stations are less than a half hour drive from Walt Disney World. Taxi stands and Hertz Rental Car (accessible by shuttle pickup) are located at the Orlando station. While the Kissimmee station is located closer to WDW, it has no on-site transportation options. Be sure to bring along the number for Yellow Cab (407-422-2222) or make other pick up arrangements.
An estimated taxi fare from the Amtrak Orlando or Kissimmee Amtrak stations to most Walt Disney World resorts can be calculated using a fare calculator. Just pick the nearest landmark to your hotel from the drop-down menu.  Another option is to contact Mears Transportation for pickup information for the Orlando station only. Amtrak shuttles are priced similar to Mears' airport shuttle transportation.
Amtrak Station Information
Kissimmee (KIS)
Address: 111 East Dakin Ave.; Kissimmee, FL 34741
Phone: 1-800-872-7245
Hours: Monday-Sunday: 9:30 am- 7:00 pm
Station Details: Staffed with enclosed waiting area; No WiFi.
Transportation: No car rental available; LYNX bus stop one-tenth of a mile from the station (allow an 1-1/2 travel time to WDW); you can also pre-arrange private car service pick-up or call a taxi.
Distance from Walt Disney World's Epcot Resort Area: 13.7 miles
Approximate Driving Time: 26 minutes
Orlando (ORL)
Address: 1400 Sligh Blvd.; Orlando, FL 32806
Phone: 1-800-872-7245
Hours: Monday-Sunday: 7:30 am – 8:15 pm
Station Details: Staffed with enclosed waiting area; No WiFi.
Transportation: Hertz car rental at station; taxis available at station; check the LYNX  schedule for transportation to Disney Springs where you can catch free Disney bus transportation to resorts (allow 2+ hours travel time to WDW).  In addition, you can also pre-arrange private car service pick-up.
Distance from Walt Disney World's Epcot Resort Area: 19.3 miles
Approximate Driving Time: 27 minutes
Other Considerations
First, railroad travel became congested with the rising cost of fuel and more companies transporting goods by train. Delays are particularly notable in the summer months when heat restrictions require trains to travel at a slower rate.  Therefore, time tables are not always maintained. Second, Amtrak is notorious for arriving off schedule. Third, other cons concerning train travel are lack of leg room in coach, difficulties sleeping in partially upright seats, and disturbances caused by passengers moving in and out of train cars at odd hours.
While the Orlando Amtrak station offers onsite taxi and rental car options, it is reported to be located in an Industrial park bordering on a less safe neighborhood than the Kissimmee station. Also, the outside area is not well-lit in the evening. The Kissimmee station does not offer handicap accessible restrooms. Here are a few practical tips to consider when taking the train:
Never leave luggage unguarded on the train or in the station.
A bicycle lock can be a great way to secure bags to luggage racks on overnight trains.
Purchase a money belt for valuables if you will be sleeping on the train.
Trains can be noisy. Bring along earplugs to get a good night's sleep.
Take the Car Along on the Auto Train
The Auto Train is Amtrak's nonstop train service between Lorton, Virginia (near Washington, DC) and Sanford, Florida (near Orlando, Florida) for travelers who want to take their vehicle with them. The Auto Train is the only route in the Amtrak system that transports vehicles. If you don't mind sacrificing day on either side of your trip, the Auto Train can often be a better deal than combination airfare and rental car.
Meals are included in the price of all Auto Train tickets, no matter which class you travel in. Meals are in the Dining Car, and include special meals for the kids. Passengers can also take in a movie or mingle with fellow travelers in the Lounge Car. In the morning, a continental breakfast is served. The entire trip from Lorton to Sanford takes 17 hours 29 minutes if there are no delays.
Types of Passenger Cars and Luggage
There are several levels of fares offered on the Auto Train which are similar to those offered on regular Amtrak trains, including coach, roomier superliner lower level coach seats, roomette, one bedroom, family bedroom and suites. You must also pay a fare for your vehicle.
Auto Train does not offer checked baggage service. You may pack baggage inside your automobile; however, you may not access your vehicle in route. Amtrak allows two carry-on bags per passenger. To travel on the Auto Train you must reserve space for a vehicle, and vehicle check-in must occur at least one hour prior to travel. There are additional charges for oversized vehicles such as SUVs and trucks. Only those transporting a vehicle can book fares on the Auto Train. Learn more about the Auto Train on Amtrak's web site.
Amtrak Sanford Station (SFA) Information
Address: 600 South Persimmon Avenue.; Sanford, FL 32771
Phone: 1-800-872-7245
Hours: Monday-Sunday: 8:00 am- 4:00 pm
Station Details: Unstaffed with enclosed waiting area; complimentary WiFi.
Transportation: In most cases transportation won't be an issue since you will have your car.  However, Hertz car rental is available.  You cannot rent a car upon arrival, but you can pre-arrange to have a rental car at this station for pick up.
Distance from Walt Disney World's Epcot Resort Area: 42.7 miles
Approximate Driving Time: 52 minutes
Smoking is not be permitted anywhere on the Auto Train, including the lounge car, food service car and coach and sleeping cars. Passengers will be permitted to get off the train and smoke in Florence, S.C., when the train stops for servicing.
Tips for Getting the Best Amtrak Fares
Reserve Seats Early
Amtrak uses four to Five levels of pricing and initiates sales approximately eleven months prior to travel dates on a percentage of coach seats and sleeper accommodations. As the seats set aside for sale are reserved, Amtrak's automated management system moves the remaining seats to the next highest fare. This could causes fares to increase as they get closer to departure dates. The sooner you purchase a ticket, the better chance you have of getting a good price, this is especially true during peak travel times or holidays. You can also use AmSnag to help you locate the lowest fares within a range of dates (the search does not take into account any applicable discounts, codes or promotions).
Share Sleeping Accommodations
Amtrak sells fares and sleeping accommodations separately, meaning each person will pay one price for a fare plus a fee for the use of the sleeper. The room cost however is only charged once just like hotel rooms, whether it is occupied to maximum capacity or not. If you're traveling together and don't mind sharing sleeping quarters, reserving one roomette which sleeps two passengers will come out cheaper than two fares with roomettes included.
Take Meals Into Account
When deciding on what type of fare to purchase, take into consideration that meals are included in the fare with sleeping accommodations while coach passengers are charged to dine (except for the Auto Train). Reservations are often required to dine and can go quickly; be sure to make them early. While riding first class does get your meals comped, you will still need to leave a tip. The difference between paying for meals verses not may make upgraded fares more attractive. If you will not be paying for meals, consider packing a cooler with sandwiches and snacks to save money.
Use Amtrak's Refund Policy For Maximum Flexibility
Amtrak has a 100% refundable policy of coach seats 24 hours prior to travel and a 15 day refund policy on sleeper accommodations, as long as no ticket has been printed. Although tickets can be picked up in advance at manned stations and at Amtrak's Quik-Trak ticketing machines, a 10% refund service charge can be avoided by having the ticket physically issued closer to departure dates. Waiting to have tickets printed will give you maximum flexibility to change if cheaper fares are located after reserving.
Keep Trying For Sold-out Dates and Upgrades
If the fare and train you are interested in is sold out, and other dates won't work, there are a few things you can try. Try reserving the ticket again the following day as close to 4:00 am ET as possible. Amtrak updates its system overnight with cancellation information. The same advice goes for upgrades. If sleeper accommodations weren't available when reserving and you settled for coach, keep calling. It may also be possible to upgrade even after you've boarded. It never hurts to ask.
Current Train Travel to Orlando Discounts and Deals
Amtrak offers new promotions often, and the current deals can be found on their homepage.
Generally, most Amtrak codes require a 3-day advance purchase, apply to adult, child and senior fares only, and may not be combined with other discounts. Discounts are also subject blackout dates. Most promotion codes can be used online, by phone (1-800-USA-RAIL), at staffed stations or with Quik-Trak machines.
Auto Train Deals
Discounts for the Auto Train are very limited. In recent years, however, they have offered a few promotions, including Amtrak's "Winter Sale" promotion (January) for travel in the first 3 or 4 months of the year. This discount is typically, 20% off on coach seating on the Auto Train and does not include vehicle and sleeping accommodations. For travel in the summer months, Amtrak has run discounted kids fares in the past for booking in April and May for June, July and August travel. The rest of time, the best fares can be obtained using one of the standard discounts such as 50% off for kids ages 2-15, AAA, NARP, Senior, Military, etc. Discounts will be posted here when available.
Earn Guest Reward Points
Amtrak Rewards gives points for every fare purchased, even popular regional and Metro routes. Points can be redeemed for special discounts on future train fares, rental cars, airline miles, or hotel points such as Hilton Honor points and Starwood rewards. The Swan and Dolphin hotels at Walt Disney World are both Starwood hotels and a "level 4" free night is redeemable with Amtrak points.
Check Amtrak's Deals page for the latest discounts.
Tips for Train Travel to Orlando From TheMouseForLess Readers
We asked members of the Mouse For Less Facebook group for tips on train travel.
Toni B: Auto train eliminates going in and out of airports.  You pack your car and only bring pillow, blanket, snacks and laptop.
Sandra G: I pack an overnight bag, so we don't have to root through the main luggage, with personal care items, medications, a change of clothes, books, electronics with chargers, and a small flashlight. I also pack a snack bag.  Similarly, for coach, pack a small pillow, sweater and/or blanket throw along with snacks and entertainment devices. If you tend toward motion sickness, take something about an hour before departure as the train bumps and sways.
Raelene V: If you are in coach bring headphones or earplugs as some fellow passengers are not considerate about noise.