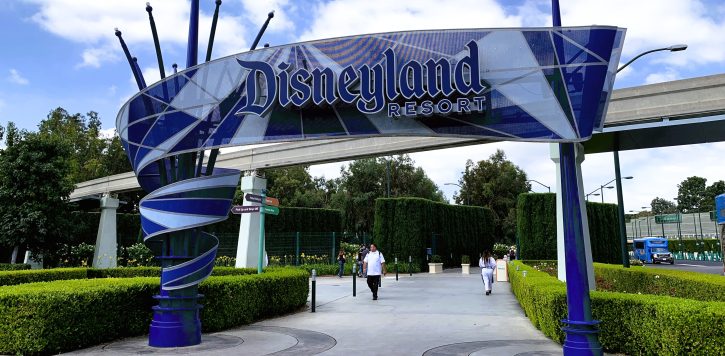 There is a variety of options for Disneyland transportation, so no matter your party size there is always a way to make it to the Happiest Place on Earth! Whether you are traveling to Disneyland Resort or to and from the Southern California local attraction areas the following transportation options below are available to anyone, some of them free of charge, and others require a small fee.
Walk Shuttle ART Taxi Car Rental Monorail Airports
Disneyland Transportation
Walk
Many people who frequent Walt Disney World may be surprised to find that there is no need to hop on a bus, boat, or monorail in order to get from park to park at the Disneyland Resort. The two theme parks, Disneyland and Disney California Adventure Park, are right across the Esplanade from each other and are just a quick hop from the gate of one to the gate of the other. The parks are also a fairly easy walk from all three of the onsite resort hotels and several of the offsite hotels, too. The "blessing of size" at Walt Disney World may not exist at Disneyland, but there is a benefit to the smaller park; nearly everything is within walking distance.
Disney Shuttles
Disneyland transportation is free when you park at either Mickey & Friends Parking Structure, Pixar Pals Parking Structure or Toy Story Parking Lot.  Shuttle service is offered at the Toy Story Parking Lot to transport guests from the lot to the park entrance. This shuttle service is a great option for those who are exploring all the area has to offer and is free of charge.
Disneyland Transportation by Hotel Shuttles
Some of the offsite hotels offer complimentary local Disneyland transportation.  These shuttles drop riders off at the Disneyland Resort's East Shuttle Area, which is located just outside the parks, near Harbor Boulevard.  Check with the hotel for drop-off and pick-up times.
ART (Anaheim Resort Transportation)
Many of the offsite hotels participate in the Anaheim Resort Transportation system (ART). For a fee, ART provides transportation all over the Anaheim Resort area, as well as to shopping, sporting venues, and Knott's Berry Farm. The ART system is easy to use and fairly reasonable in price. It's also great for those who didn't drive their own car or rent a car or for those who would rather leave their car parked at the hotel, rather than parking their car at the Disneyland Resort. The ART buses drop riders off at the bus drop-off near the East Esplanade and could be located using the ART route map provided below.
Taxi/Uber/Lyft
Another option for transportation from your hotel to Disneyland or other nearby attractions would be to travel by taxi, Uber, or Lyft. Taxis may cost more than riding the Anaheim Resort Transportation system (ART), but it will also be much quicker where you will have less time waiting for your ride. You could also use app-based ride-sharing services such as Uber or Lyft which may cost significantly less than a taxi would for a similar distance.
Car Rental
If you are interested in renting a car after you reach Disneyland, there are rental car agencies nearby. There is even an Alamo rental office conveniently on the edge of Downtown Disney. Renting a car provides you with more freedom for traveling around the area and is a great option if you want to explore other destinations that are not adjacent to Disneyland. However, don't forget to add the cost of Disneyland parking when calculating the total transportation cost for your trip. If you would like to access Disneyland parking rates, we have you covered!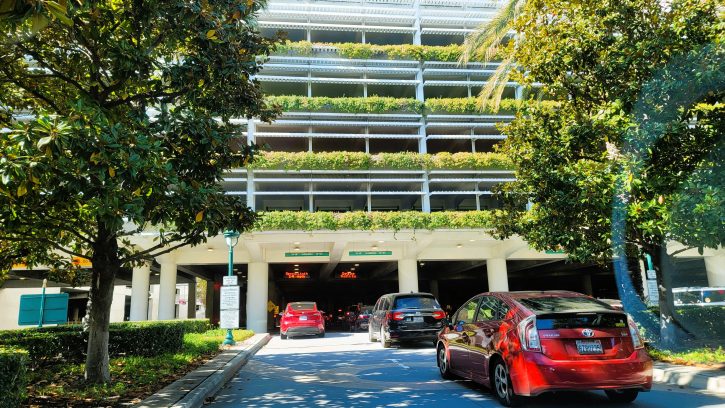 Disneyland Monorail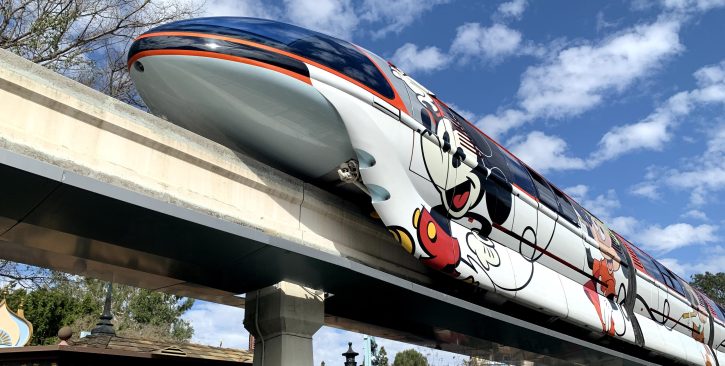 The Disneyland monorail is a transportation service from the monorail station in the Downtown Disney area to the monorail station in Tomorrowland of Disneyland above the Finding Nemo Submarine Voyage. When utilizing this service you will enter the park from Tomorrowland rather than the front of the park. Monorail transportation is included with your Disneyland park ticket. As the monorail's destination is the inside of Disneyland, you must have a park ticket to ride the monorail. Disneyland is within a short walking distance of Downtown Disney, but riding the monorail has a charm unto itself, and many children consider it an attraction worth visiting. The 2.5 mile monorail loop travels in the air around Disneyland and Disney's California Adventure providing riders with views of both parks. The monorails travel at around 30 mph and the total trip time from one station to the other is about 13 minutes.
Disneyland transportation from Local Airports
There are a few California airports close to Disneyland Resort that offer transportation so you can start your fun ASAP! The 2 closest Airports are John Wayne Airport (SNA) which is 15 miles away, and Long Beach Airport (LGB) which is 13 miles away. Both airports offer Taxi, Shuttle, and Limousine services while John Wayne Airport (SNA) offers Disneyland Resort Express as an additional service. Upon exiting baggage claim, guests will approach the ground transportation center and locate the Disneyland Resort Express pick up area. Reservations are not required for this service, but there is a fee.  For cheaper flights, many visitors fly in to Los Angeles International Airport (LAX), which is 33 miles away.  Although the flights are usually cheaper flying in to LAX, be aware that the distance from Disneyland will also mean higher transportation cost and longer travel time.
Want to learn tips and tricks for finding discount airfare? We'll help you out!  Airfare Discount Information
Travel Activities
Want to keep the kids busy while traveling? Here are some Car Travel Activities for Kids!