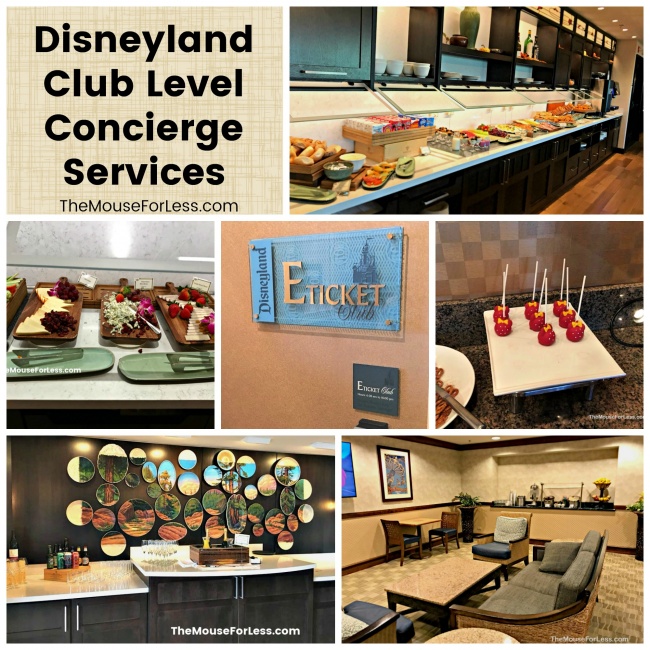 Benefits of Club Level      Food    Resort Specific Offerings
Disney Club Level Concierge services at any hotel offer additional services and access to a knowledgeable and attentive staff. Concierge services at Disney resorts are no exception. Rooms with access to concierge services come at a cost, but it is a luxury with benefits. Concierge level rooms are offered at all the Disney Deluxe resorts. Disney typically refers to these rooms as "club level" rooms to avoid confusion since there is a lobby concierge desk at each Disney resort.
The Benefits of Disney Concierge Services
Guests who will be staying in Disney Club Level Concierge rooms have access to the concierge staff to assist with planning before their arrival. The concierge Itinerary Planning Office can help to secure dinner show tickets, arrange dining, and will assist with recreation reservations. They can also help with any other pre-arrival arrangements you may want to make. Be sure to mention if you are celebrating a special event—the concierge staff can be full of suggestions and surprises. The staff is also available once guests arrive and can sometimes help obtain even difficult Advanced Dining Reservations on short notice. Guests complete a Personal Itinerary Planner form after booking and return it to the Itinerary Planning Office to assist in making appropriate reservations.
Disney Club Level Concierge rooms usually offer additional amenities including robes to use during your stay, additional toiletries, turndown services, USA Today newspaper, and more. A refrigerator or coffee maker with coffee and tea assortment are available in each room. Concierge guests are also offered a separate check-in area or procedure-usually at or near the lounge.
One of the largest benefits of staying in a concierge or club level room is secured key card access to the resort's concierge lounge. The lounge will have a variety of food and drink offerings throughout the day. The offerings and times vary according to the resort, but a brief overview is provided below. Most of the lounges are also a very comfortable spot to relax and include tables with chairs, comfortable couches and chairs, and a large screen TV with DVD.
If you are interested in booking a stay at one of the Walt Disney World Resorts with club level service, we suggest you contact The Magic For Less Travel, an Authorized Disney Vacation Planner. Their expert planners can help you plan a vacation that includes a resort stay that meets your needs.  The Magic for Less Travel also offers exclusive promotions and complimentary services that will enhance your vacation.
Food Offerings
The general Disney Club Level Concierge schedule below is followed by most of the concierge lounges at Disney. Times are approximated and vary according to the resort. Of course, this schedule is always subject to change and offerings can vary. Check with the concierge staff for more details and accurate listing.
6:30 a.m. – Coffee is available
7:00 – 10:30 a.m. Continental Breakfast with juice, coffee, tea, cereals, fruit, breakfast pastries and breads
11:00 a.m. – 4:00 p.m. Snacks and/or tea with sodas, iced tea, lemonade, coffee, tea, and snack foods like crackers, pretzels, cookies and nuts.
5:00 – 7:00p.m. Hot appetizers, children's corner, cruidites, cheese tray, beverages, wine and beer.
8:00 – 10:00 p.m. Desserts and cordials with a selection of cordials and desserts from the resort's restaurants.
All Day (7:00 a.m. – 10:00 p.m.) Whole fresh fruit and beverages
Resort Club Levels
Make your Disney vacation planning
more magical
. Book your vacation with an Authorized Disney Vacation Planner and save time, money and stress.
The Magic For Less Travel
offers guest-driven, concierge planning services
free of charge
so you can focus on the fun.