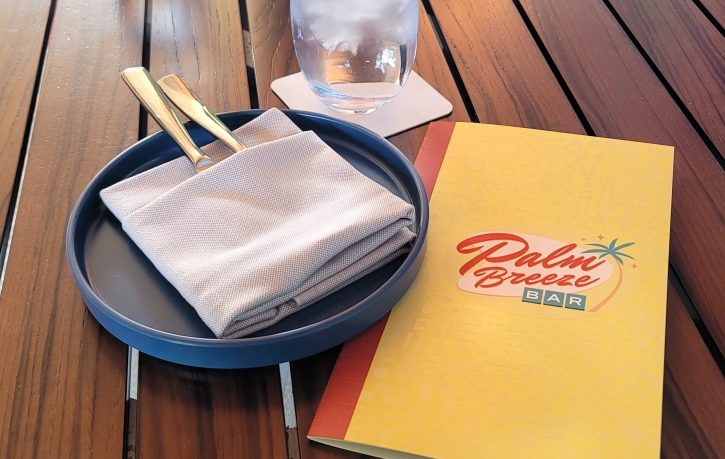 Enjoy shareable appetizers, artisan personal pizzas, salads, sandwiches, desserts and a variety of drinks in an outdoor space inspired by the art of Mary Blair.
Palm Breeze Bar is located in the Villas at Disneyland Hotel.  Find more Disneyland dining locations on our Disneyland Resorts menus page.
Restaurant Info: American, Healthy. Quick Service, $15.00 – $34.99 per person, Mobile Orders Available

Planning a Disneyland Vacation?
For a Free no-obligation quote, contact our sponsor
The Magic For Less Travel
. The Magic For Less Travel is an Authorized Disney Vacation Planner and has been helping guests plan magical vacations since 2002. Receive the best prices and free travel planning services. Their fee-free services will help you save time, money, and stress while planning a vacation designed around you and your needs!
Palm Breeze Bar Menu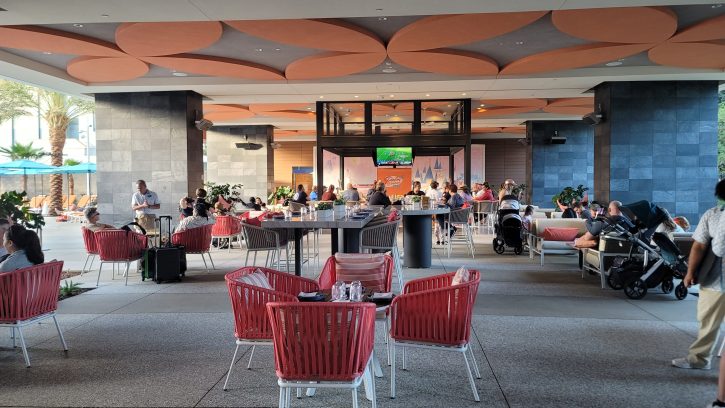 Menu Date: 2023
Shareable
Coctel de Mariscos – $29.00
Fresh Market Fish, Gulf Shrimp, Snow Crab Claw, Avocado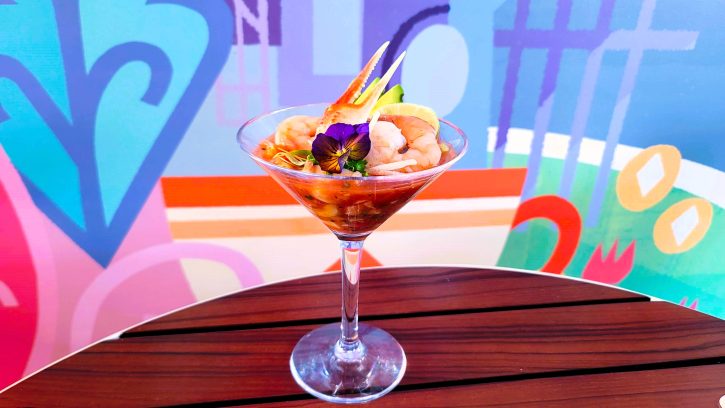 Ahi Tuna Tataki – $29.00
Aji Amarillo Ponzu, Persillade, crispy Wonton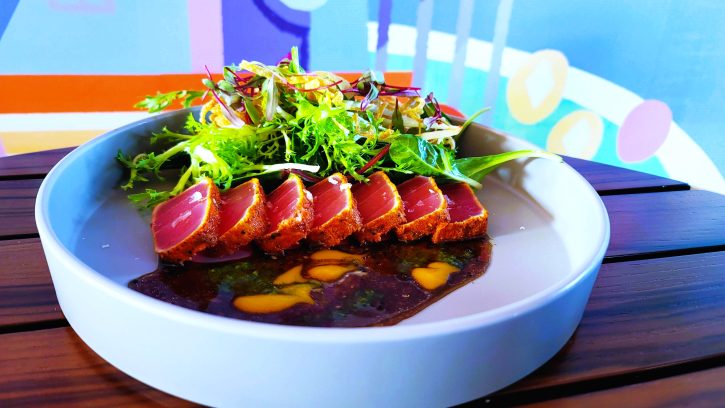 Cheese Fry Poutine – $19.00
Demi-Glace, Cheese Sauce, Chive Sour Cream, Pimento
Cocktail Chicken Wings – $22.00
Bourbon Barbecue Glaze, Chile Aïoli
Salads
Heirloom Beet Salad – $19.00
Roasted & marinated Beets, Baby Kale, Persian Cucumber, whipped Stracciatella Mozzarella, candied Walnut, Herb Vinaigrette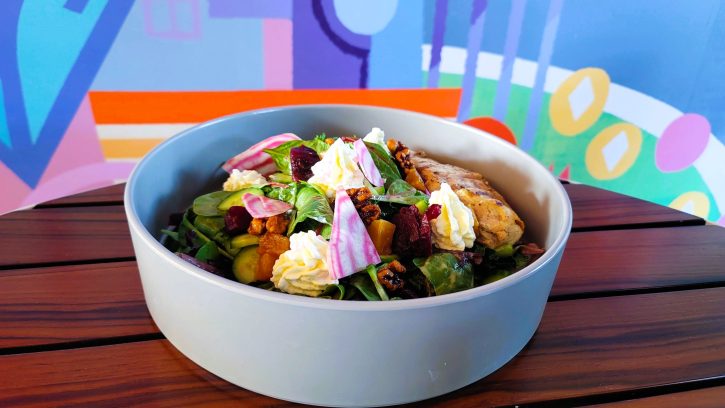 Grilled Prime Flat Iron Steak Breast Heirloom Beet Salad – $35.00
Grilled Prime Flat Iron Steak, roasted & marinated Beets, Baby Kale, Persian Cucumber, whipped Stracciatella Mozzarella, candied Walnut, Herb Vinaigrette
Salmon Filet Breast Heirloom Beet Salad – $28.00
Salmon Filet, roasted & marinated Beets, Baby Kale, Persian Cucumber, whipped Stracciatella Mozzarella, candied Walnut, Herb Vinaigrette
Grilled Chicken Breast Heirloom Beet Salad – $27.00
Grilled Chicken Breast, roasted & marinated Beets, Baby Kale, Persian Cucumber, whipped Stracciatella Mozzarella, candied Walnut, Herb Vinaigrette
Southwest Salad – $22.00
Little Gem, Avocado, Black Beans, charred Corn, Heirloom Tomato, Cheddar Cheese, Jack Cheese, Cilantro Dressing
Grilled Prime Flat Iron Steak Southwest Salad – $38.00
Grilled Prime Flat Iron Steak, Little Gem, Avocado, Black Beans, charred Corn, Heirloom Tomato, Cheddar Cheese, Jack Cheese, Cilantro Dressing
Salmon Filet Southwest Salad – $31.00
Salmon Filet, Little Gem, Avocado, Black Beans, charred Corn, Heirloom Tomato, Cheddar Cheese, Jack Cheese, Cilantro Dressing
Grilled Chicken Breast Southwest Salad – $30.00
Grilled Chicken Breast, Little Gem, Avocado, Black Beans, charred Corn, Heirloom Tomato, Cheddar Cheese, Jack Cheese, Cilantro Dressing
Plant-Based
Avocado & Lime Hummus Dip – $18.00
Crudité Vegetables, Espelette, crispy Pita
Garden Pizza – $24.00
Cheese, Romesco Sauce, Soy Chorizo, Cilantro-Mint Chimichurri, shaved Asparagus, Crimini Mushroom, Sun-dried Tomato
Sandwiches
Jumbo Lump Crab Roll – $29.00
Tarragon & Lemon Aïoli, Fresh Dill, Brioche. Served with French Fries, House Potato Chips, or Fresh Fruit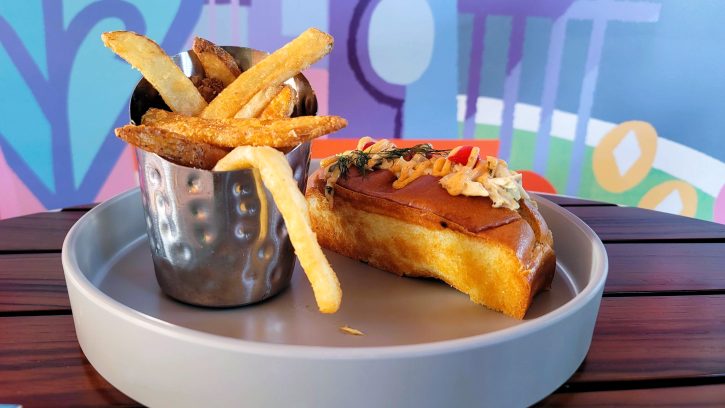 Palm Breeze Burger – $26.00
Sun-dried Tomato & Basil Pesto, Burrata, Arugula. Served with French Fries, House Potato Chips, or Fresh Fruit
Spicy Crisp Chicken Sandwich – $23.00
Zesty Slaw, spicy Aïoli, Bread & Butter Pickles. Served with French Fries, House Potato Chips, or Fresh Fruit
Artisan Personal Pizzas
Charcuterie Pizza – $24.00
Artisan Cured Prosciutto, Pepperoni, Sausage, Sun-dried Tomato
Four Cheese California Pizza – $21.00
Mozzarella, Cheddar, Jack, Chevre, marinated Tomato, Fresh Basil
Disney Check Meals
Power Pack  – $7.00
Yogurt Smoothie, Mandarin Orange, Whole Grain Fish Crackers. Meets Disney Nutrition Guidelines for Complete Meals without substitutions
Kid's Menu
Cheesy Grilled Cheese – $11.00
American Cheese, toasted Brioche, seasoned French Fries or Fresh Fruit
Cheeseburger Sliders – $11.00
American Cheese, seasoned French Fries or Fresh Fruit
Grilled Chicken Breast – $11.00
Brown Rice, Fruit or Seasonal Vegetables
Desserts
Molten Chocolate Cake – $15.00
Hot Fudge, Whipped Cream, slivered Almonds
Beignets – $15.00
Passionfruit, Chocolate, Mixed Berry
Chocolate Chip Cookie Sandwich – $15.00
Chocolate Chip Cookies, Vanilla Ice Cream
Grove Grown Inspirations
Tropical Shandy – $15.00
Flor De Caña Rum, Pineapple Shrub, Lime Juice, Smog City Mango Pango Ale
Signature Breezy Marg – $20.00
Codigo Reposado Tequila, Charred Meyer Lemon Juice, Cointreau, Agave Nectar, garnished with Charred Meyer Lemon Wheel
Seasonal G & T – $18.00
Sip Smith Gin, St-Germain Elderflower, Black Pepper-Rosemary Syrup, Charred Meyer Lemon Juice, Elderflower Tonic Water
Basil Grapefruit Sour – $17.00
Del Maguey Mezcal, Grapefruit Juice, Lemon Juice, Grapefruit Syrup, Egg White (or Egg White substitute), Thai Basil, garnished with Thai Basil
Strawberry Thyme Fizz – $17.00
Tito's Handmade Vodka, Cynar, Strawberry-Thyme Syrup, Lemon Juice, Prosecco
Chilled Delights
Chilly Mango – $16.00
Don Julio Blanco Tequila, Frozen Mango Purée, Chamoy, Chili-Lime Seasoning
Fifty–Five–Fifty – $16.00
Selva Coconut Rum, Frozen Coconut Purée, Peach Juice, Mint
Stirred and Strong
Blue Bee's Knees – $17.00
The Botanist Gin, Lemon Juice, Organic Honey, Blueberry Wine
Oaxacan Old Fashioned – $24.00
Ilegal Mezcal, Agave Nectar, Grapefruit Bitters
Nouveau Negroni – $20.00
Sip Smith Gin, Gran Classico, Montenegro Amaro, Cocchi Storico, Orange Bitters, garnished with Orange Twist
Orange Bourbon Punch – $22.00
Angel's Envy Bourbon, Lemon, Simple Syrup, Strong Brew Orange Tea
Marcie '55 – $22.00
Buffalo Trace Bourbon, Malahat Cabernet Rested Rum, Averna Amaro, Fernet Branca, Plum and Burlesque Bitters, Lemon Essence
Curiously Delightful Cocktails
Pineapple Cooler – $9.00
Pineapple Shrub, Orange Juice, Grenadine
Citrus Ginger Ale – $9.00
Orange Juice, Lemon Juice, Grenadine, Ginger Beer
Virgin Fifty–Five–Fifty – $10.00
Frozen Coconut Purée, Peach Juice, Mint
Virgin Chilly Mango – $10.00
Frozen Mango Purée, Mint, Chamoy, Chile-Lime Seasoning
Assorted Beer and Wine also available
                                                                         ** Palm Breeze Bar Menu and Prices are Subject to Change Without Notice **