Disneyland Resort Hotels | Disney's Grand Californian Hotel and Spa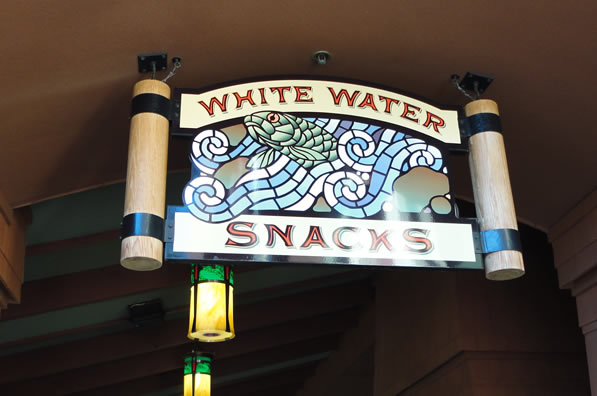 Breakfast Menu  All Day Menu Kids' Menu Reviews
Designed after a campground pavilion, this family quick-service eatery serves entree salads, deli sandwiches, grilled chicken, pizzas, hamburgers, hot dogs and specialty coffees. Breakfast items include burritos, Mickey Mouse waffles, bagels, muffins and sweet rolls.
Restaurant Info: American, Vegetarian, Lunch/Dinner, $ – Less than $14.99 Per Person
Breakfast Menu
Menu Date: 1/2016
Buttermilk Biscuit Sandwich, fried eggs, smoked bacon and Cheddar cheese – $7.49
California Breakfast Burrito scrambled eggs, diced tomato, Cheddar cheese, bacon and red bliss potatoes – $7.49
French Toast Sticks with maple syrup and lightly sprinkled with powdered sugar – $7.99
American Breakfast with eggs, smoked bacon, red bliss potatoes and toast – $7.99
"Mickey" Wafflewith maple syrup and lightly sprinkled with powder sugar – $6.49
Oatmealwith berries and brown sugar – $5.49
Kellogg's Cereal – $1.99
Kellogg's Cereal with small milk – $3.39
Kashi Cereal – $2.59
Kashi Cereal with small milk – $3.99
All Day Menu – Served after 11:00 a.m.
Hot Dog with chili, Cheddar cheese, onions and French fries – $7.49
Personal Pizza with fresh mozzarella or pepperoni served with fresh garden salad – $7.99/Cheese, $7.99/Pepperoni
Classic Angus 1/3 lb Cheeseburger with seasonal fruit or french fries – $9.99
Char-Broiled Chicken Sandwich with grilled Ortega chili and homemade guacamole – $10.49
Veggie Burger served with seasonal fruit or french fries – $8.99
Chicken or Shredded Beef Nachos with guacamole, sour cream, jalapenos and salsa – $10.49
Baked Goods
Banana Nut Muffin – $2.79
Bran Muffin – $3.49
Fruit Danish – $3.79
Blueberry Muffin – $3.49
Chocolate Chip Muffin – $3.49
Cookie – $3.49
Crispy Treat – $4.19
Brownie – $3.49
Seasonal Cupcake – $5.99
Cinnamon Roll – $5.49
Pie of the Day – $4.99
Bagel – 2.59
"Mickey" Cookie – $3.99
"Mickey" Crispy – $3.99
Chocolate Chip Cookie – $3.49
Oatmeal Raisin Cookie – $3.49
Butter Croisant – $3.49
Fruit/Veggies
Fruit bowl – $3.49

Frozen Treats
Frozen Lemonade – $3.89
Frozen Strawberry Lemonade – $3.89
Nestle Mickey Premium Ice Cream Bar – $4.49
Nestle Toll House Ice Cream Sandwich – $4.49
Dreyer's Strawberry Whole Fruit Fruit Bar – $4.19
Beverages
Minute Maid Juice Box – $1.99
Lemonade – $4.49
Fruit Punch – $2.79
Tomato Juice – $2.79
V8 Juice – $2.49
Nesquik – $1.99/$2.99
Milk – $1.99/$2.69
Tea – $3.99
Fountain Beverages – $3.29/$3.69
Simply Limeade – $4.49
Simply Orange – $4.49
Hot Beverages
Hot Chocolate – $2.99
Hot Tea – $2.99
Coffee – $2.99
Bottled Beverages
Bottled Soda – $3.29
Bottled Water – $2.99
Honest Tea – $3.99
Perrier – $3.19
Powerade – $3.29
Vitamin Water – $3.99
Monster Energy – $4.79
Souvenir Mug -$6.99
Beer
Budweiser/Bud Light – $6.75
Coors Light – $6.00
Corona Extra – $6.50
Karl Strauss Amber Lager – $7.00
Large Bag of Chips – $3.19
Fuji Apple Crisps – $3.19
Whole Fruit – $1.99
Pretzel with Cheese – $4.68
Candy – $1.99
Souvenir Coffee Mug – $6.99
Kids' Menu
Chicken Breast Nuggets – $6.99
Hamburger – $6.99
Turkey Sandwich – $6.49
Grilled Cheese Sandwich – $6.49
** Menu and Prices are Subject to Change Without Notice **