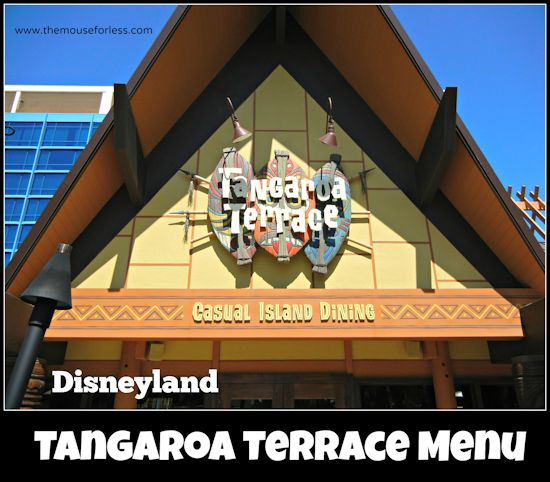 Stop by this convenient coffee shop that is a great way to begin your Disney day in the parks. Tangaroa Terrace Menu offers a quick service retreat complete with lit torches and music from the South Seas. Named for the most magical of gods from the Enchanted Tiki Room, the restaurant is located between the Monorail Pool and D-Ticket pools. Dine inside or al fresco to nightly live music.
Tangaroa Terrace is located in the Disneyland Hotel.  Find more Disneyland dining locations on our Disneyland Resorts menus page.
Restaurant Info: American. Quick Service, Less than $14.99 per person, Mobile Orders Available
Annual Passport Discounts: Signature Passport, Premium, Signature Plus Passport: 15%
Annual Passport Discounts: Deluxe, Southern California Select, Southern California Passport: 10%
Breakfast Menu  Kids' Breakfast Menu    Lunch and Dinner Menu  Kids' Lunch and Dinner Menu

Planning a Disneyland Vacation?
For a Free no-obligation quote, contact our sponsor
The Magic For Less Travel
. The Magic For Less Travel is an Authorized Disney Vacation Planner and has been helping guests plan magical vacations since 2002. Receive the best prices and free travel planning services. Their fee-free services will help you save time, money, and stress while planning a vacation designed around you and your needs!
Tangaroa Terrace Menu  – Breakfast
  Menu Date: 11/2022
Entrees
American Breakfast –
Scrambled Egg, Bacon, and Sweet Potato Hash, served with Pineapple Wedge – $15.00
Tangaroa Toast
Brick Toast, Bananas Foster, Whipped Cream, and Toasted Coconut, served with Bacon – $15.00
Loco Moco Burrito –
Steamed Rice, Chopped Beef Patty, Fried Egg, Gravy, and Crunchy Onions served with Salsa Roja – $15.00
Avocado Toast –
Toasted Hawaiian Bread, Smashed Avocado, Soft Boiled Egg, Furikaki Hollandaise, thinly sliced Portuguese Sausage, Fried Nori, Edible Flowers – $15.00
Thick& Fluffy Japanese Pancakes – Fluffy Vanilla Pancakes topped with tropical fruit blend with Starfruit  and Guava Syrup served with Bacon – $14.00
Short Rib Steak & Eggs – Scrambled Eggs, Marinated Short Ribs and Sweet Potato Medley, served with a Pineapple Wedge – $21.00
Plant-Based
Acai Chia Breakfast Bowl
Acai Puree blend with Bananas, Strawberry and Coconut Milk, Chia Seed Pudding, topped with Granola, Cocoa Nibs, and Berries – $12.00
Grab 'n' Go
Banana – $2.00
Granny Smith Apple – $1.99
Chocolate Bar Croissant – $4.00
Butter Croissant – $3.75
Blueberry Muffin – $4.00
Double Chocolate Muffin – $4.00
Pineapple Upside -Down Cake – $6.00
Oatmeal Raisin Cookie – $3.69
Chocolate Chip Cookie – $4.00
Double Decadence Brownie – $3.50
Cinnamon Roll – $5.50
Whoopie Pie – $5.00
Lemon Pound Cake  -$4.00
Chia Granola Parfait – $7.00
Banh Mi – $13.00
Fresh Pineapple
Fruit Cup – $8.00
Fresh Watermelon
Fruit Cup – $8.00
Kashi Cereal  – $5.00
Froot Loops Cereal – $4.00
Corn Flakes Cereal – $4.00
Frozen Banana – $4.59
Kettle Brand Potato Chips Sea Salt and Vinegar  – $3.50
Kettle Brand Original Potato Chips – $3.50
Haagen – Dazs Ice Cream Cup – $3.150
Soft Frozen Strawberry Lemonade Cup  – $4.25
Powerade Lemon Lime – $5.00
Powerade Fruit Punch – $5.00
Assorted Beverages
Coca-Cola Freestyle
assorted Coca-Cola offerings – $5.00
DASANI® Bottled Water – $4.50
Lowfat Milk – $2.00
Nestlé® NESQUIK® Chocolate Milk – Small – $2.00
Nestlé® NESQUIK® Chocolate Milk – Large – $3.50
Coffee – Regular – $4.00
Coffee – Decaffeinated – $4.00
Simply® Orange – $5.00
Simply Lemonade® – $5.00
Smartwater® – $4.50
Vitaminwater® – $5.00
Monster™ Energy – $5.50
Monster™ Energy Zero Ultra – $5.50
Coffee Express
Espresso – Single
Regular or Decaffeinated – $3.00
Espresso – Double
Regular or Decaffeinated – $3.75
Caffe Americano
Single – $4.25
Double – $4.75
Caffe Latte
Single – $4.75
Double – $5.75
Cappuccino
Single – $4.75
Double – $5.25
Iced Latte – $5.75
Iced Cappuccino – $5.25
Coffee
Regular or Decaffeinated
Regular – $3.50
Large – $34.00
Cafe au Lait
Regular – $4.00
Large – $4.50
Hot Tea
Regular – $3.00
Large – $34.25
Hot Chocolate
Regular – $3.50
Large – $4.25
Flavor Shot
Vanilla, Hazelnut, or Sugar-free Vanilla – $.75
DOLE WHIP
Pineapple DOLE WHIP Soft-serve – $6.50
DOLE WHIP Float – $7.00
                                                                          Tangaroa Terrace – Kids' Breakfast Menu
                                                                                                             Menu Date: 11/2022
Kids' Disney Check Meals
Junior Scramble
Scrambled Eggs, Sweet Potato Hash, Pineapple Wedge, Choice of Bacon or Turkey Bacon and choice of small Low-fat Milk or small Dasani Water – $8.00
Power Pack
Dannon Danimals Smoothie, Cuties Mandarin Orange, Sliced Apples and Whole-Grain "Fish" Crackers with choice of Small Lowfat Milk or Small Dasani Water. Meets Disney Nutrition Guidelines for Complete Meals without substitutions – $6.00
Kids' Meals
Kids' Mickey-shaped Tangaroa Toast
Brick Toast with Bananas Foster Whipped Cream, and Toasted Coconut and Pineapple Wedge, served with Bacon or Turkey Bacon and choice of small Low-fat Milk or small Dasani water – $8.00
Kid's Thick and Fluffy Pancake – One Fluffy Pancake with Maple Syrup served with Bacon or Turkey Bacon and choice of small Low-fat Milk or small Dasani water – $8.00
                                                                            *Soy, nut, milk, egg, and fish allergy-friendly options available.*
                                                                          Tangaroa Terrace Menu — Lunch and Dinner
                                                                                                                         Menu Date: 11/2022
Entrees
Angus 1/2 lb Hawaiian Cheeseburger
with Grilled Pineapple, Applewood-smoked Bacon, Havarti Cheese, Butter Lettuce, Tomato, Onions, and a Sweet & Spicy spread, served with Sweet Potato Fries – $18.00
Hawaiian Platter
Furikake seasoned Thai Jasmine Rice and Macaroni Salad, served with choice of Roasted Pork Belly or Poached Chicken Breast – $19.00
Tonkotsu Ramen
Rich Pork-based Broth, Wavy Noodles, Pork Belly slices, fresh Green Onion, Wood Ear Mushroom, Black Garlic Oil, and soft boiled flavored Egg – $19.00
Little Gem Salad
Little Gem leaves, candied Macadamia Nuts, Avocado, Queso Fresco, Pog Vinaigrette
with Grilled Salmon – $20.00
with Poached Chicken – $17.00
Sweet-and-Spicy Chicken Wings
served with Togarashi Aioli – $17.00
Poke Bowl
Sushi Rice, Togarashi Aioli, crispy Onios, smashed Avocado, sliced Cucumber, Masago Fish Roe, and Crab Salad, served with choice of Ahi Tuna, Salmon, or Marinated Tofu – $18.00
Plant-Based
Rongo Salad
Edamame, Green Papaya, Iceberg Lettuce, Cherry Tomatoes, Goose Berries, crispy Shallots, Sesame Seeds, and Marinated Tofu, tossed in fermented Miso Vinaigrette – $13.00
Sides
Side of Rice – $4.00
Grab 'n' Go
Banana – $2.00
Granny Smith Apple – $1.99
Chocolate Bar Croissant – $4.00
Butter Croissant – $3.75
Blueberry Muffin – $4.00
Double Chocolate Muffin – $4.00
Pineapple Upside -Down Cake – $6.00
Oatmeal Raisin Cookie – $3.69
Chocolate Chip Cookie – $4.00
Double Decadence Brownie – $3.50
Cinnamon Roll – $5.50
Whoopie Pie – $5.00
Lemon Pound Cake  -$4.00
Chia Granola Parfait – $7.00
Banh Mi – $13.00
Fresh Pineapple
Fruit Cup – $8.00
Fresh Watermelon
Fruit Cup – $8.00
Kashi Cereal  – $5.00
Froot Loops Cereal – $4.00
Corn Flakes Cereal – $4.00
Frozen Banana – $4.59
Kettle Brand Potato Chips Sea Salt and Vinegar  – $3.50
Kettle Brand Original Potato Chips – $3.50
Haagen – Dazs Ice Cream Cup – $3.150
Soft Frozen Strawberry Lemonade Cup  – $4.25
Powerade Lemon Lime – $5.00
Powerade Fruit Punch – $5.00
Desserts
Nestlé® Mickey's Ice Cream Bar
Vanilla Ice Cream coated in Chocolate – $4.49
Nestlé® Mickey's Ice Cream Sandwich – $5.00
Häagen-Dazs® Ice Cream Bar – $4.99
Outshine® Strawberry Fruit Bar – $4.49
Soft Frozen Lemonade Cup – $4.25
Assorted Beverages
Coca-Cola Freestyle
assorted Coca-Cola offerings – $5.00
DASANI® Bottled Water – $4.50
Lowfat Milk – $2.00
Nestlé® NESQUIK® Chocolate Milk – Small – $2.00
Nestlé® NESQUIK® Chocolate Milk – Large – $3.50
Coffee – Regular – $4.00
Coffee – Decaffeinated – $4.00
Simply® Orange – $5.00
Simply Lemonade® – $5.00
smartwater® – $4.50
vitaminwater® – $5.00
Monster™ Energy – $5.50
Monster™ Energy Zero Ultra – $5.50
Coffee Express
Espresso – Single
Regular or Decaffeinated – $3.00
Espresso – Double
Regular or Decaffeinated – $3.75
Caffe Americano
Single – $4.25
Double – $4.75
Caffe Latte
Single – $4.75
Double – $5.75
Cappuccino
Single – $4.75
Double – $5.25
Iced Latte – $5.75
Iced Cappuccino – $5.25
Coffee
Regular or Decaffeinated
Regular – $3.50
Large – $34.00
Cafe au Lait
Regular – $4.00
Large – $4.50
Hot Tea
Regular – $3.00
Large – $34.25
Hot Chocolate
Regular – $3.50
Large – $4.25
Flavor Shot
Vanilla, Hazelnut, or Sugar-free Vanilla – $.75
DOLE WHIP
Pineapple DOLE WHIP Soft-serve – $6.50
DOLE WHIP Float – $7.00
Tangaroa Terrace Menu – Kids' Lunch and Dinner
Menu Date: 11/2022
Disney Check Meals
Chicken or Salmon Bowl
served with Steamed Jasmine Rice, Broccoli,Teriyaki sauce, and Fruit with choice of Small Lowfat Milk or Small Dasani Water. Meets Disney Nutrition Guidelines for Complete Meals without substitutions – $10.00
Power Pack
Dannon Danimals Smoothie, Cuties Mandarin Orange, Sliced Apples and Whole-Grain "Fish" Crackers with choice of Small Lowfat Milk or Small Dasani Water. Meets Disney Nutrition Guidelines for Complete Meals without substitutions – $6.00
Kids' Meals
Kids' Cheeseburger
served with Sweet Potato Fries, Fruit and choice of Small Lowfat Milk or Small Dasani Water – $10.00
Kid's Chicken Tenders – served with Sweet Potato Fries, Fruit and choice of Small Lowfat Milk or Small Dasani Water – $10.00
                                                                                                     ** Allergy  Friendly Options Available**

                                                                         ** Tangaroa Terrace Menu and Prices are Subject to Change Without Notice **