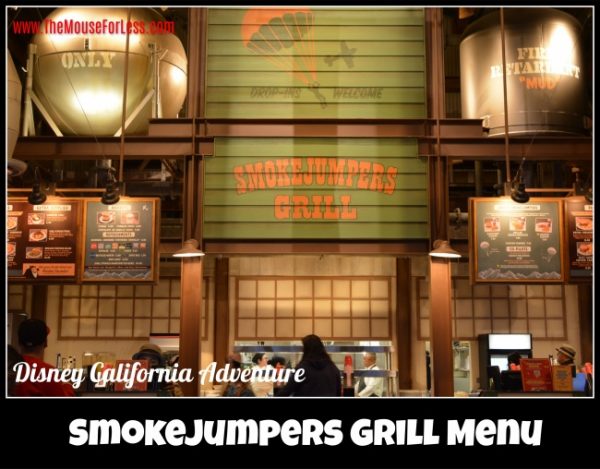 Great food IS rocket science at this comfort food restaurant that is built in an old rocket test building in Condor Flats. It's an aero-DINE-amic experience!  Smokejumpers Grill is located in Disney California Adventure theme park.  Find more Disneyland dining locations on our Disneyland Resorts menus page.
Restaurant Info: American Cuisine, Quick Service – $14.99 and under per person, Mobile Orders Available
Annual Passport Discounts: Signature Passport, Premium, Signature Plus Passport: 15%
Annual Passport Discounts: Deluxe, Southern California Select, Southern California Passport: 10%

Planning a Disneyland Vacation?
For a Free no-obligation quote, contact our sponsor
The Magic For Less Travel
. The Magic For Less Travel is an Authorized Disney Vacation Planner and has been helping guests plan magical vacations since 2002. Receive the best prices and free travel planning services. Their fee-free services will help you save time, money, and stress while planning a vacation designed around you and your needs!
Smokejumpers Grill Menu
 Menu Date: 11/2022
Pilot Classics
Chipotle Bacon BBQ Double Cheeseburger – Two Angus Beef Patties, Provolone, Bacon, Lettuce,Pickles, Onion Rings, and Chipotle BBQ Sauce, served with Crinkle- Cut Fries or Onion Rings – $15.49
Double Cheeseburger- Two Angus Beef patties  with Cheddar,  Lettuce, Tomato, Pickle and SJG Burger Sauce, served with choice of Crinkle-cut Fries or Onion Rings – $14.49
Spicy Chicken Sandwich – Hand- Breaded Chicken, Spicy Chipotle sauce, Lettuce and Pickle, Served with Crinkle- cut fries or Onion Rings – $13.49
Grilled Chicken Sandwich
B Chicken Breast, Smoked Provolone, Green Chile, Roasted Garlic Citrus Aioli, Lettuce and Tomato served with Crinkle Cut fries  or Onion Rings  – $12.99
Chicken Tenders 
Served with Choice of Waffle-cut Fries or Onion Rings – $11.99
Plant-Based
Impossible™ Burger
Grilled Plant-based Patty with Lettuce and Tomato on a Toasted Bun, served with Waffle-cut Fries – $14.49
Extra Supplies
Side of Waffle Fries – $4.49
Side of Onion Rings – $5.49
Mini Babybel® snack cheese – 3-pack – $3.49
Mickey Hat Bowl
served withCrinkle – Cut Fries – $16.19
Reusable Cutlery Set – $9.99
Kids' Disney Check Meal
Basecamp burger
Dannon® Danimals® smoothie, Baby Carrots and choice of Small Lowfat Milk or Small DASANI® Water – $7.99
Kids' Meals
Mac 'n Cheese
Dannon® Danimals® smoothie, Baby Carrots and choice of Small Lowfat Milk or Small DASANI® Water – $6.99
Chicken Tenders
Dannon® Danimals® smoothie, Baby Carrots and choice of Small Lowfat Milk or Small DASANI® Water – $7.99
Desserts
Vanilla or Chocolate Shake – $6.49
Beverages
Assorted Fountain Beverages
Regular – $4.59
Large – $5.29
Minute Maid® Juice Box
Apple Juice – $2.49
Dasani Bottled Water – $4.39
** Smokejumpers Grill Menu and Prices are Subject to Change Without Notice **