Disney California Adventure Resort | Pacific Wharf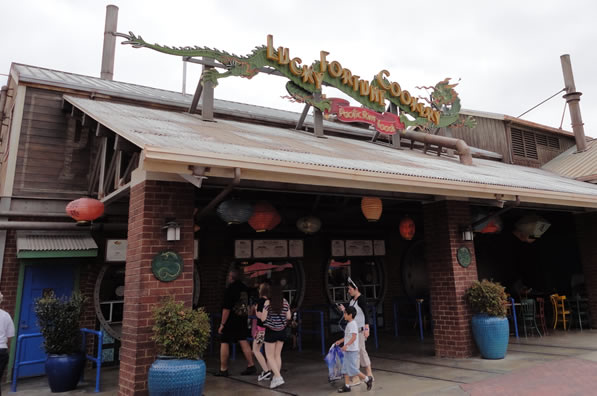 If you are looking for fast, healthy food choices, look no further than Lucky Fortune Cookery. The Lucky Fortune Cookery menu features delicious rice bowls prepared to order. Choose your protein (chicken, beef or tofu), then choose your sauce (Mandarin orange, Spicy Korean, Thai coconut curry, or Teriyaki). Your meal comes packaged in a take-out carton just waiting to find a spot to enjoy a meal at the beautiful Pacific Wharf.
Lucky Fortune Cookery Menu
Menu Date: 03/2016
Entrees
Asian Rice Bowl – Each bowl served with Steamed Rice, Seared Asian Vegetables and your choice of sauce: Mandarin Orange, Spicy Korean, Thai Coconut Curry, Teriyaki – $11.99
Step 1 – Choose Your favorite – Chicken, Beef, Tofu
Step 2 – Choose Your Sauce – Mandarin Orange, Spicy Korean, Thai Coconut Curry, Teriyaki
Sides
Edamame (lightly salted and served chilled) – $3.39
Fresh Mango Slices – $3.99
Beverages
Lucky Fortune Tea
Gold Peak Unsweetened Iced Tea with flavors of Red Passion Fruit and Mango topped with Passion Fruit-Mango Fruit Foam – $4.39
Souvenir Sipper
includes Soft Drink at time of purchase – $9.99
Assorted Fountain Beverages – $3.29 / $3.69
Dasani Bottled Water – $2.99
Minute Maid Juice Box – $1.99
Nestlé Nesquik Chocolate Milk – $2.99
Hot Cocoa – $2.99
Coffee – Regular or Decaffeinated – $2.99
Hot Tea – $2.99
Lowfat Milk – $1.99
Sapporo Beer – $7.25
Kids' Meals
Kids' Mickey Check Meal – Chicken and Brown Rice – $6.99
Served with GoGo squeeZ Applesauce, seasonal fruit and choice of small Lowfat Milk or small Dasani Bottled Water. Meets Disney Nutrition Guidelines for Complete Meals without substitutions.
Kids' menu items for children ages 9 and younger.
** Lucky Fortune Cookery Menu and Prices are Subject to Change Without Notice **