Disneyland Resort | Main Street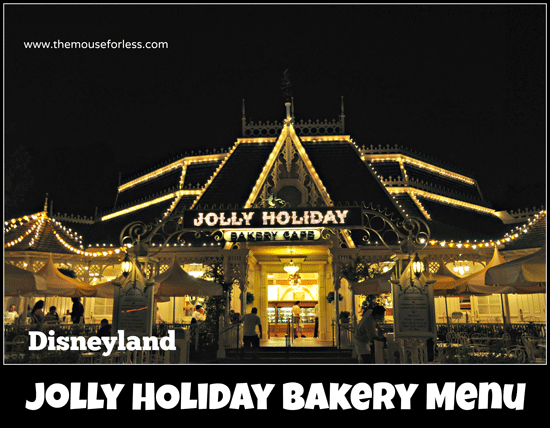 Lunch and Dinner Menu   Kids' Menu  All Day Menu  Reviews
Have a Jolly Holiday with Mickey Krispie Treats, chocolate croissants and other goodies at this Mary Poppins themed bakery that also serves scrumptious sandwiches, entrée-sized salads, soup, quiche and kid favorites.
Restaurant Info: American, Vegetarian, Lunch/Dinner, $ Under $15 Per Person
Annual Pass Discounts Available
Lunch/Dinner Menu
Menu Date: 10/2015
House Specialties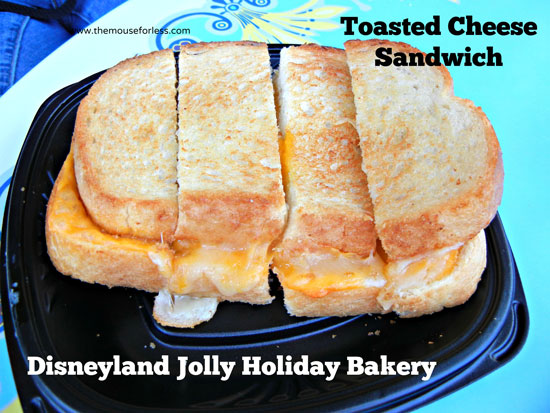 Jolly Holiday Combo
Toasted Cheese Sandwich with Tomato Basil Soup – $9.99
Sandwiches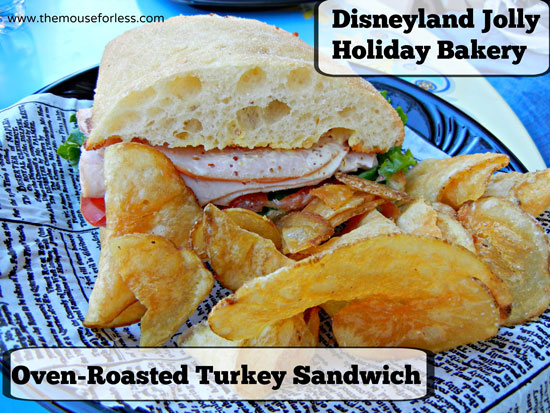 Caprese (Tomato & Mozzarella)
Tomatoes, Mozzarella, Basil, Lettuce and Basil Vinaigrette, served on a Toasted Focaccia Bread – $9.29
Oven-Roasted Turkey
Turkey, Tomatoes, Lettuce and Mustard Aioli, served on Toasted Ciabatta Bread – $9.79
Chicken Waldorf on Brioche
Apples, Walnuts, Celery and Craisins Dried Cranbrries – $9.59
Roast Beef and Cheddar
French Baguette, Roast Beef, Arugula, Pickled Red Onion, Tomato, Manchego Cheese and Whole Grain Mustard Aiioli – $10.79
Chicken Waldorf
 Brioche Bun, Chicken Breast, Green Apple, Celery, Craisins, Dried Cranberries, and Mango Chutney- $9.59
Ham and Swiss
Ham, Swiss, Apple Chutney on  Sourdough  – $9.79
Salads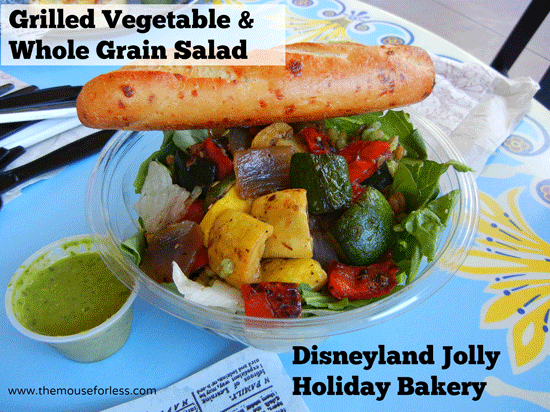 Jolly Holiday Salad
Blend of Lettuce, with Spiced Pecans, Feta, Red & Yellow Tomatoes and Craisins Dried Cranberries. Served with Raspberry Vinaigrette – $8.49
Mediterranean Chicken Salad
Lettuce Mix, Grilled Chicken, Cucumber, Kalamato Olives, Tomato, Red Bell Pepper, Pepperoncini, Feta Cheese, and Balsamic Vinaigrette – $9.99
Grilled Vegetable & Whole Grain Salad
Seasonal Vegetables, Mixed Greens, Barley, Spelt and Basil Vinaigrette – $8.99
Featured Soups
Assorted Soups – $5.79
Kid's Menu
Served with Sliced Apples and Choice of Small Low-Fat Milk Juice Box or Small Dasani Water. Soda Available on Request
Macaroni & Cheese – $6.49
Mickey Check Meal
Kid's Turkey Sandwich – $6.49
All Day Menu
Assorted Pastries, Muffins and Cookies. Selections changes daily. Following are a sample of the offerings.
Apple Cranberry Muffin – $2.99
Banana Nut Muffin – $2.99
Banana~Nut Loaf – $2.79
Blueberry Muffin – $3.49
Chocolate Cappuccino Muffin – $2.99
Chocolate Chocolate Chip Muffin – $3.49
Seasonal Loaf – $2.79
Seasonal Muffin – $3.49
Cookies
"Mickey" Cookie – $3.99
Holiday "Mickey" Cookie – $3.99
Sugar Cookie – $3.49
Rainbow Cookie – $3.99
Chocolate Chip Cookie – $3.49
Assorted Desserts
60th Anniversary Cupcake – Lemon Cupcake, White Chocolate Crunchy Pearls, Strawberry Filling, White Chocolate Champagne Mousse, and Silver coated White Chocolate pearls – $5.99
Banana & Salted Caramel Cupcake – $5.19
Biscotti – $1.99
Brownie – $3.49
Butter Croissant – $3.49
Chocolate Croissant – $3.69
Chocolate Mousse Brownie – $3.29
Flourless Chocolate Cake – $5.39
Seasonal Tart – $5.29
Matterhorn Macaroon – $1.99
"Mickey" Crispy Treat – $3.99
Mickey-Shaped Chocolate Tart – $5.19
Pecan Bar – $4.19
Raspberry Rose Mickey Macaron – $5.49
Seasonal Bundt Cake  – $5.19
Seasonal Cupcake – $5.99
Seasonal Tart – $5.29
Seasonal  Whoopie Pie – $3.59
Seasonal Mickey Macaron – $4.99
Seasonal Cheesecake -$5.39
Seasonal Creme Burlee – $5.99
Seasonal  Chocolate Eclair – $3.99
Seasonal Eclair – $3.99
S' mores Bar – $3.99
Signature Cinnamon Roll – $5.49
The Crown Jewel Hot Dog – Pretzel Bun, Hot Dog, topped with Pastrami, Swiss Cheese, Pickled Red Onions and Pickled Cabbage, topped with Burger Sauce – $7.69
Beverages
Espresso Beverages
Single or Double Espresso, regular or decaf – $2.49/$2.99
Cappuccino – $3.69/$4.19
Cafe Latte – $3.69/$4.19
Cafe Mocha – $3.79/$4.39
Blended Mocha – $4.19/$4.59
Pumpkin Spice Latte – $4.19/$4.59
Other Beverages
— Add a flavor shot .59: Almond, Caramel, Cinnamon, Hazelnut, Vanilla
Coffee (regular or decaf) – $2.99
Hot Cocoa – $2.99
Hot Tea – $2.99
Frozen Pomegranate Silver Sparkler –  Frozen odwalla Pomegranate Limeade Topped with Citrus Fruit Foam and Silver Sparklers  $5.39
Very Berry Diamond  Tea –  Gold Unsweetened  Tea with Flavors Acai and Wild Raspberry  -$3.59
Travel Mug – $6.99
Coke, diet Coke, Coke Zero, Sprite, Lite Lemonade, Fanta Orange, Iced Tea – $3.29/$3.69
Water – $2.99
Apple or Orange Juice – $2.69
Chocolate or Strawberry Milk – $2.99
Milk – $1.99
** Menu and Prices are Subject to Change Without Notice **