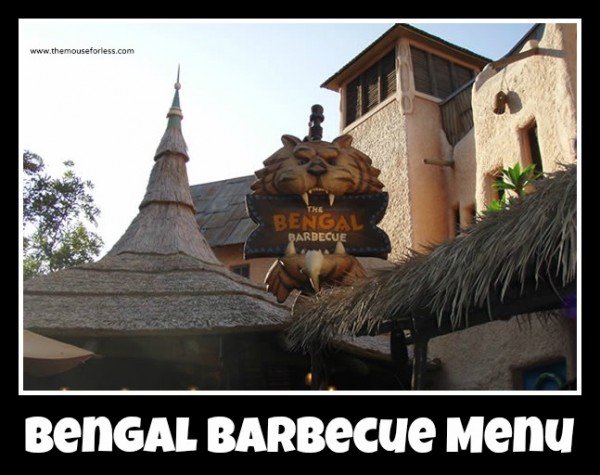 Taste the most savory skewers of beef, chicken, veggies and bacon-wrapped asparagus anywhere around at Bengal Barbecue; a favorite snack location for regular Disneyland visitors.
Bengal Barbecue is located in Disneyland theme park.  Find more Disneyland dining locations on our Disneyland Resorts menus page.
Restaurant Info: American, Vegetarian,Lunch/Dinner, $ – Under $14.99 per person, Mobile Orders Available
Magic Key Holder Discounts are available
Disney Vacation Club Discounts are available

Planning a Disneyland Vacation?
For a Free no-obligation quote, contact our sponsor
The Magic For Less Travel
. The Magic For Less Travel is an Authorized Disney Vacation Planner and has been helping guests plan magical vacations since 2002. Receive the best prices and free travel planning services. Their fee-free services will help you save time, money, and stress while planning a vacation designed around you and your needs!
Bengal Barbecue Menu
Menu Date: 10/2022
Seasonal Offerings
Halloween Travel Mug
includes choice of Fountain Beverage, Coffee or Hot Cocoa at time of purchase – $11.49

Jungle Skewers
Bengal Rice Plater – $18.49
choice of two regular Skewers served on a bed of Jasmine Rice with a side of Citrus-Miso Slaw. Choice of Hot and Spicy Banyan Beef Skewer, Polynesian Sauce Chieftain Chicken Skewer, Outback Vegetable Skewer, Sweet Zulu Bengal Beef Skewer, Pork Belly Skewer, or Bacon-wrapped Asparagus Safari Skewer
Banyan Beef Skewer – $6.99
Hot and Spicy Beef Skewer
Chieftain Chicken Skewer – $6.49
Chicken Skewer in a Polynesian Sauce
Outback Vegetable Skewer – $5.99
skewered fresh Vegetables
Bengal Beef Skewer – $6.99
Beef Skewer in a sweet Zulu Sauce
Safari Skewer – $6.49
Bacon-wrapped Asparagus
Pork Belly Skewer – $7.99
Grilled Pork Belly with Hoisin Sauce, Pickled Carrots and Daikon topped with Cilantro
Plant-Based
Hummus Trio – $6.49
trio of House-made Seasonal Hummus served with fresh Vegetables
Extra Provisions
Tiger Tail Breadstick – $4.49
Tiger Tail-shaped Breadstick baked with Garlic, Herbs and Sharp Cheddar Cheese
Pineapple Spear – $3.49
Dill Pickle – $3.99
Spicy Dill Pickle – $3.99
Reusable Cutlery Set – $9.99
Thirst-Aid
Assorted Fountain Drinks – assorted Coca-Cola® offerings – Regular $4.59; Large $5.29
Nestle Nesquick Chocolate Milk – $3.99
Minute Maid 
Apple Juice or Fruit Punch – $2.49
Dasani Bottled Water – $4.39
Monster Energy – $5.59
Lowfat Milk – $2.49
Coffee – Regular $3.79
Hot Tea – $3.79
Travel Mug
includes choice of Beverage at time of purchase – $11.49
** Bengal Barbecue Menu and Prices are Subject to Change Without Notice **