Show your appreciation by handing out The Mouse For Less Cast Member Appreciation Certificates to deserving cast members.   Add a little magic to the days of the cast members who are always adding magic to our days, let them know how much we appreciate it!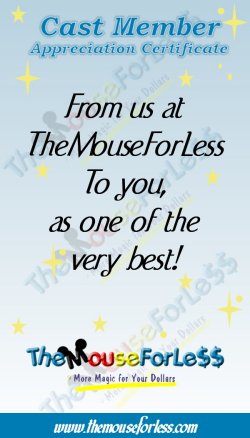 Click on the thumbnails to download a certificate (certificates will be displayed larger than actual printed size). Do not print from the website or the certificates will take up a full page. For the images to print correctly as a business card size, save the large JPF file to the hard drive and IMPORT or PLACE as clipart into the program of your choice such as WORD or PUBLISHER. Do this only if you don't want to download the larger PDF file below. We recommend that you download the PDF as a first choice, and then the single individual images second, only if you have a slow connection and don't want to wait for the PDF file.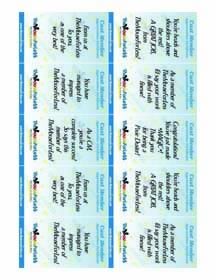 Download the certificates in a pdf format
Place the picture in Word or a similar program to print it. The certificates should be printed on thicker card quality paper.
Download the certificates as Word document
We would like to give special thanks to Carol Vandiver who designed our Cast Member Appreciation Certificates and Barbara Flynn who wrote the verses.