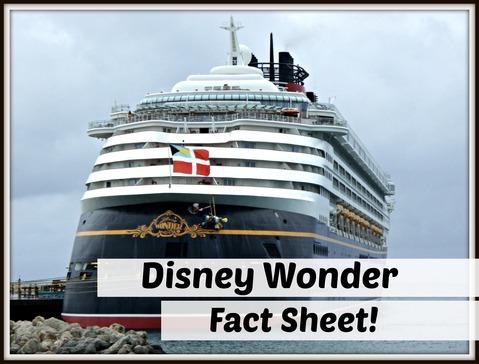 The Disney Wonder is the second ship in the Disney Cruise Line fleet.  Along with its sister ship, the Disney Magic, the Disney Wonder was specially constructed with families in mind, combining sleek style with a splash of fun.
Disney Wonder Ship Facts
Birthplace Fincantieri – Marghera, Italy
Maiden Voyage August 15, 1999
Home Port Los Angeles, California
Ship's Registry Bahamas
Tonnage 83,000 gross tons
Length 964 feet
Beam 106 feet
Draft 25.3 feet
Height 171.5 feet
Speed 21.5 knots cruising speed (maximum 24 knots)
Crew 950
Passenger Decks 11
Capacity 2,713 passengers
Staterooms 877
256 Inside Staterooms (29%)
621 Outside Staterooms (71%)

259 ocean view
362 verandah (includes 22 suites)

Planning a Disney Cruise Vacation?
For a Free no-obligation quote, contact our sponsor
The Magic For Less Travel
. Receive the best prices, free concierge travel planning & a shipboard credit of up to 5% of your cruise price when you book any new Disney Cruise Line vacation with The Magic For Less Travel
Main Public Areas
Atrium Lobby – Deck 3 (atrium spans three decks)
Walt Disney Theatre (977 capacity; live original productions) – Deck 4
Buena Vista Theatre (278 capacity; motion pictures) – Deck 5
Preludes theatre concessions – Deck 4
Shutters (Capturing Memories) photo gallery – Deck 4
Guest Services – Deck 3
Port Adventures – Deck 3
Family Areas
Studio Sea – Deck 4
Wide World of Sports deck – Deck 10
Goofy's Pool family pool – Deck 9
Mickey's Pool children's pool – Deck 9
Mickey's Splash Zone water-play area – Deck 9
Quarter Masters Arcade – Deck 9
Radar Trap retail shop – Deck 3
Treasure Ketch, Mickey's Mates retail shops – Deck 4
Youth Areas
Flounder's Reef Nursery – Deck 5
Disney's Oceaneer Club – Deck 5
Disney's Oceaneer Lab – Deck 5
Vibe teen club – Deck 11
Edge tween club – Deck 2
Adult Areas
Route 66 – Deck 3

Diversions
WaveBands
Cadillac Lounge
Vista Spa & Salon – Deck 9
Quiet Cove Pool – Deck 9
Outlook Café – Deck 10
Cove Café – Deck 9
Signals – Deck 9
Promenade Lounge – Deck 3
Dining
Parrot Cay main dining (471 capacity) – Deck 3
Animator's Palate main dining (471 capacity) – Deck 4
Triton's main dining (471 capacity) – Deck 3
Palo adult-exclusive fine dining (120 capacity) – Deck 10
Beach Blanket Buffet casual dining – Deck 9
Pluto's Dog House, Pinocchio's Pizzeria, Goofy's Galley quick service – Deck 9
Fun Facts
The Disney ships are painted in Mickey Mouse-inspired colors – black hull, white superstructure, yellow trim and two giant red funnels, each with the Disney Cruise Line Mickey Mouse logo.
Disney Cruise Line was the first cruise line to have yellow lifeboats, instead of the traditional regulation orange. Disney was granted special permission from the U.S. Coast Guard to paint the lifeboats yellow, to keep with the special color theming of the ship.
Disney ships are the only cruise ships to have four captains – the ship's captain, Captain Mickey, Captain Hook and Captain Jack Sparrow.
Offer free soft drinks any time of day or night, with a free 24/7 beverage station offering sodas, coffee, tea and water.
In a cruise industry first, most staterooms on Disney ships feature a split "bath-and-a-half" design, providing families the added convenience of a sink and tub/shower in one room and a sink and toilet in a separate room.
A leader in family entertainment, Disney is the only cruise line to first-run feature films, including films in 3-D, with movies premiering at sea on the same day that they are released on land.
Don't worry about getting a chill! The swimming pools on Disney ships are heated when the water temperature drops below 75 degrees.
Measuring 964 feet in length, the Disney Wonder is longer than Main Street U.S.A at the Magic Kingdom in Walt Disney World.
The interior on the Disney Wonder is in the art nouveau style, which features organic influences and curved patterns.
Every Disney Cruise Line ship has an atrium lobby statue celebrating a classic Disney character. Ariel sits pretty as the feature in the lobby of the Disney Wonder.
Disney Cruise Line was the first cruise line to have an animated character as the Godmother of a ship. Tinkerbell is the Godmother of the Disney Wonder.
For pricing and information contact The Magic For Less Travel
DCL-21-2129900 Disney Magic Disney Wonder Deck Plans