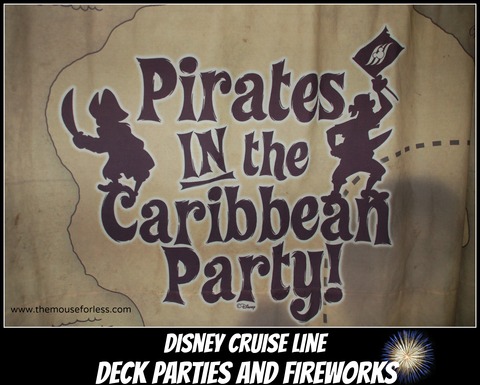 Each ship in the Disney Cruise Line fleet has at least one party during its voyage. What a great way to increase the excitement of an already anticipated cruise! Whether it's the Sail-Away Celebration, a night with the pirates, or time with Pixar Pals, there is a lot of fun for all!
Firework displays are something that Disney does well, whether it be on land or at sea, and Disney Cruise Lines' fireworks are the first in the world to be offered by a cruise line at sea.
Sail-Away Celebration
Looking forward to Embarkation Day? There's something else to be excited about, too — The Sail-Away Celebration! This party ushers in the start of the Disney cruise vacation. Join the Disney cruise Crew Members and Disney characters for a dance party that is filled with fun music and interactive dance numbers. This party comes complete with roving cameras that project your image on the jumbo television screen, confetti and streamers rocketing through the sky, and "When You Wish Upon a Star" playing on the ship's blow horn.  (All Disney Cruise Line Ships)
Pirates IN the Caribbean
Pirate Night starts at dinner in the Main Dining restaurants as the servers wear pirate garb and greet guests with an "Ahoy Matey!" or "Arrrr!" After dinner, head over to Decks 9 and 10 for entertainment starring your favorite Disney characters decked out in their finest pirate garb. Watch out for the skull-and-crossbones projections because they signal the arrival of Captain Hook, Mr. Smee, and their gang of pirates. Wait to see Mickey and his friends save the day! This party ends with a spectacular fireworks finale. Fireworks weather permitting and not offered on Alaskan cruises.  (Disney Magic, Disney Wonder)
Mickey's Pirates IN the Caribbean
Become a member of Mickey's Pirate Crew. Mickey's Pirates IN the Caribbean is a interactive family-friendly show featuring pirate-themed musical numbers starring Disney characters. During this party, watch the skies explode with color as Buccaneer Blast!, the largest fireworks show aboard a cruise ship, comes to life.  Fireworks dependent upon weather. (Disney Dream, Disney Fantasy)
Club Pirate
After Buccaneer Blast!, see Captain Jack Sparrow as he starts Club Pirate, a high-tech dance party on the upper decks of the ship. Dance at this family-friendly party complete with stunning visuals and special effects. (Disney Dream, Disney Fantasy)
Pixar Pals Party
The Pixar Pals Party is available only on Disney Wonder (Alaska Sailings) and takes the place of Pirate Night. Enjoy a dinner with a "Toy Story" theme and party with familiar characters from some of your favorite Disney Pixar films. There will be an opportunity to get autographs and dance and sing with characters like Buzz and Woody.
All parties and fireworks on select cruises and subject to change.