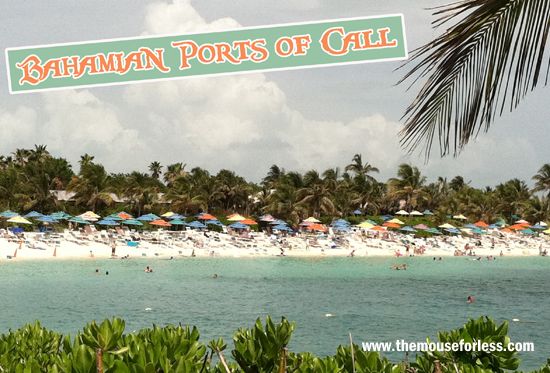 Disney Cruise Line Bahamian cruises visit tropical ports with beautiful beaches and sparkling water. Disney also adds in the option of memorable shore excursions to make an unforgettable adventure. Looking for a private island? Disney has one, and most of the Disney Cruise Line Bahamian cruises stop there.
Castaway Cay
Enjoy the white sand beaches on Castaway Cay, Disney's private island in the Bahamas! Of the island's 1,000 acres, only 55 acres have been developed for guest use. There are beautiful beaches with areas reserved for kids, teens, families, and adults-only. Each person can find his own place to have fun and relax. The cruise ship docks right at the island, allowing guests to walk off the ship. Port adventures abound, and the Key to the World card can be used for purchases on the island.  Click here to see a map of Castaway Cay.
Key West, Florida
Key West lies near the end of the chain of islands known as the Florida Keys, and is the southern-most city in the continental United States. This city, with its rich history and ravishing natural beauty, is probably the best known small town in United States. It has an average annual temperature of 77 degrees and rarely varies more than 10 degrees in either direction. It has never seen frost or snow and averages only 39 inches of rain per year. You'll have plenty of time to walk in the footsteps of Thomas Edison, Lou Gehrig, Harry Truman and Tennesses Williams. The streets are filled with sidewalk cafes, open-air bars, legendary pubs and world-class restaurants. Only in Key West would the sun shine brightest when it sets. Each day's setting sun is celebrated and sometimes even applauded at Mallory Dock, where artisans, musicians, and street performers pack the city pier as the sunsets shimmer over the Gulf of Mexico.
Nassau, Bahamas
Nassau is a city on New Providence Island in the Bahamas. Back in the 17th century, the area was controlled by pirates, including Blackbeard; however, today, Nassau is the capital city of the Bahamas. In Nassau, there are well-preserved colonial buildings (evidence of Nassau's former status as a British Colony), duty-free shopping, a straw market touted as one of the largest in the world, beautiful beaches, exciting land and sea shore excursions, and much more.
Port Canaveral, Florida
Port Canaveral is a home port for Disney Cruise Lines. Cape Canaveral is home to Kennedy Space Center and is just over an hour away from Walt Disney World. Cape Canaveral also has beaches to surf, deep sea fishing, and the Merritt Island National Wildlife Refuge (bald eagles, manatees, alligators, and more).