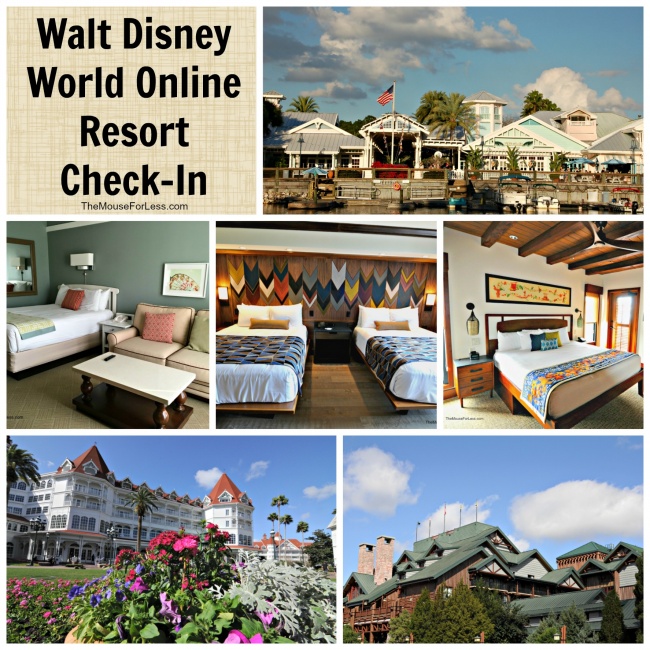 Online Resort Check-In
Online Resort Check-In  Room Ready Notification
How Does Disney's Online Resort Check-in Work?
Disney's Online Resort Check-In service is a convenient option that starts your check-in process online from home and may reduce registration time upon arrival at your Disney Resort hotel. Walt Disney World Resort guests 18 years and older may check in online using My Disney Experience up to 60 days prior to their arrival date. Online Check-in is available for all Walt Disney World-owned resorts and room types including Disney Vacation Club villas reserved by DVC members on points, campsites at Disney's Fort Wilderness Resort and Club Level rooms at all resorts. Online Resort Check-in is not available for those staying at the Swan and Dolphin hotels or at a Disney Springs hotels.

All Guests, no matter how their reservation was booked (i.e. directly through Disney or using a travel agency), must log on to My Disney Experience to complete the Online Resort Check-In process. Please note, travel agents will no longer able to complete the Online Check-In process on behalf of a client and each guests must sign into their Disney account if they wish to use the optional Online Resort Check-In. During the check-in process, Guests will be asked to log-in with their personal Disney.com account information. If you do not have a Disney.com account, you will be asked to register for a free account by visiting StartYourDisneyExperience.com.
After logging and selecting the My Reservations section, guests will need to provide the Walt Disney World resort confirmation number under which the reservation was made if the reservation is not already associated with the account. Additionally, the last name on the reservation, arrival date and name of the Resort hotel will also be required. Other information Disney may require includes the names of the people in your party, home address and phone number associated with the reservation. You can also select a favorite character for each person on the reservation.
Those who already have a Disney.com account with an associated reservation, can get to hotel check-in by using "Begin your Online Check-In now."
Once the reservation is located, Guests must specify their approximate arrival and departure times. Selecting "Not Sure" as your arrival or departure time defaults to 11:00 a.m. Guests may also request to be notified when their room is ready; just provide a mobile phone number and you will be notified in the event your room is not available upon your arrival.
You will also be asked to provide information for a credit card you wish to have attached to your MagicBand. Charges against this card will be incurred for room and incidental charges, such as food and merchandise, rental fees and other miscellaneous charges during your stay. The credit card you provide during online check-in will be associated with your MagicBand. Guests 10 years and older on your reservation will automatically be given charging privileges. To change charging privileges assigned to each member of your party, you will need to visit the front desk of your resort after your arrival.
You will also be asked to create a 4-digit personal identification number that you—and the other members of your party with charging privileges—will use to verify your identity when you make touch-to-pay purchases and use dining entitlements at Walt Disney World Resort.
Guests will also have the option to make two room requests from a list of options specific for your resort. Guests who have selected a room request will have the option to prioritize room ready upon arrival over room requests. If the Guest selects this option, it will appear as a non-guaranteed request.
After making room requests, guests will be presented with a confirmation screen. Guests should review this page to make sure that all details are correct. It's also probably a good idea to print the page and bring it along with you in case there are any discrepancies. You will also be required to accept the Online Resort Check-in Service Terms and Conditions. Once this is done, you will receive a confirmation email as well.
Upon arrival at your resort, a welcome folder will be waiting at the designated Online Check-in area of your resort. If guests did not receive their MagicBands delivered to their home, the MagicBands will be at the front desk as well. A photo ID must be presented to pick up your welcome packet and complete your check-in. Reservations made on Disneyworld.com or through the Disney Reservation Center, will receive email notification regarding check-in. Guests booking through a Travel Agent, will receive information via email or with final documents. Currently, Disneyland is not participating in this service.
Additional Resort Check-in Information
Although it is not guaranteed that you will get them, two requests from a list of options may be added to your reservation during the check-in process. Options can include choosing a building location such as "near the pool" or a particular building or view or a room location, such as "near an elevator" or "ground floor room," etc. Room requests will vary from resort to resort. In some cases you may also be presented with the option of making a Room Amenity request, such as requesting a Pack 'n Play for a infant. Just remember that everyone wants to be located close to the lobby or have a nice view. Prioritize your request and keep them to a minimum. If Disney has to decide, they may not pick the option most important to you.
Requests for later checkout must be made in person at the front desk of your resort.
Disney will not allow you to store more than one credit card at a time with your My Disney Experience profile. If you have one credit card saved to your profile prior to online check-in and you add a different card during online check-in, the new card will replace the saved card.
While you can modify some options selections made during on Online Check-in process, reservations themselves may not be changed or altered in any way using the online check-in service. To modify your reservation, call (407) 939-6244 or contact your travel agent.
Rooms and campsites are available at the standard check-in time of 4:00 p.m. Disney Deluxe Villas, 1:00 p.m. for The Campsites at Disney's Fort Wilderness Resort and 3:00 p.m. for the other Disney Resort hotels. While Disney specifies that using Online Check-in will not get your room ready any faster than the normal processes, we've been told that Disney has designated cast members that work on on these room assignments.
If you arrive early on check-in day (or if have flight much later than check-out hours), no problem. Just have Bell Services store your luggage until you need it and enjoy the parks for a few extra hours.
Online Check-in is available for Walt Disney World, Disney's Hilton Head Island Resort and Disney's Vero Beach Resort.
Additional questions may be answered by reviewing Disney's Online Resort Check-in FAQ.
Mobile Room Ready Notification Service

Check-in at Walt Disney World Resort hotels is typically 3:00 p.m. for most resorts, and 4:00 p.m. for Disney Vacation Club resorts. While rooms are sometimes ready early, often they are not. Many vacationers arriving early at Walt Disney World overcome this problem by checking bags with Bell Services at their resort and heading to the parks for the day.
Mobile Room Ready Notification Service allows guests who arrive prior to hotel check-in time the option of being alerted through their cell/mobile phone when their room becomes available. Room Ready Notification can be requested during the Online Check-in process or at the front desk of your Walt Disney World resort. When the room is ready, guests receive a text notifying that the room is ready and provides the room number, floor, theme and building. A second message will include a link to a resort map. Guests who receive room read notification through e-mail also receive the same information.
If the guest prefers, they can still check on the status of their room by checking with the front desk or calling the number provided at check-in.