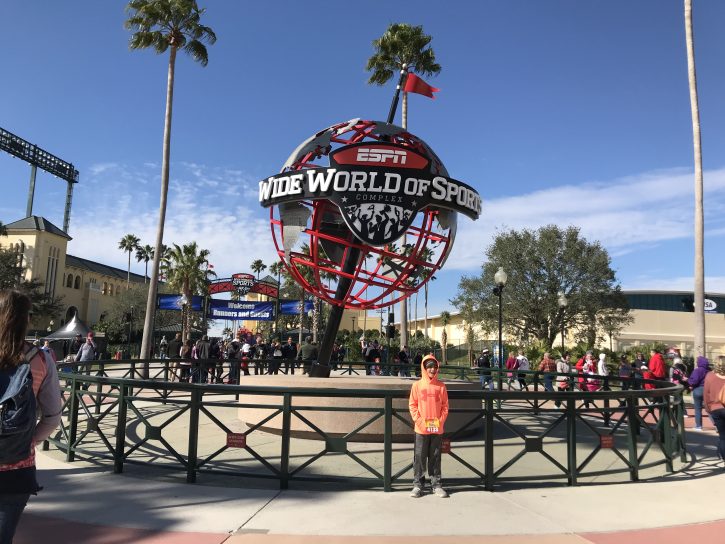 ESPN Wide World of Sports (WWoS) opened up in 1997 as the place for sports at Walt Disney World. Since then, it has been the central headquarters for runDisney events, and the place for thousands of athletes to come compete while visiting Walt Disney World. This is the place to play and watch sports with that special Disney Magic adding to the experience.
Facilities Transportation/Parking Events Other Information
Facilities
ESPN Wide World of Sports holds a lot of sporting events. It is a massive location with lots of locations to accommodate as many sports as possible for competitions, exhibitions, and games. In addition to all of the sports facilities there is a Welcome Center, Box Office, and the ESPN Wide World of Sports Grill.
AdventHealth Arena
AdventHealth Arena is a 94,000 sq. ft. flexible space can be configured into 4 separate event spaces in order to accommodate both large and small events and competitions. It can accommodate 8,000 spectators and features a concession location, meeting rooms, and a separate box office. The Arena is best suited for performance events like gymnastics, cheerleading, dance, martial arts, basketball, and robotics.
Athletic Center
Featuring 1,200 seats, the Athletic Center is a multi-sport venue equipped to support a variety of performance events and sports competitions from basketball tournaments to cheerleading competitions.
The Stadium
This venue features 9,500 stadium seats as well as 4 luxury boxes along with outdoor patios and decks and an outfield lawn for spectators. There are concessions along the concourse at the stadium.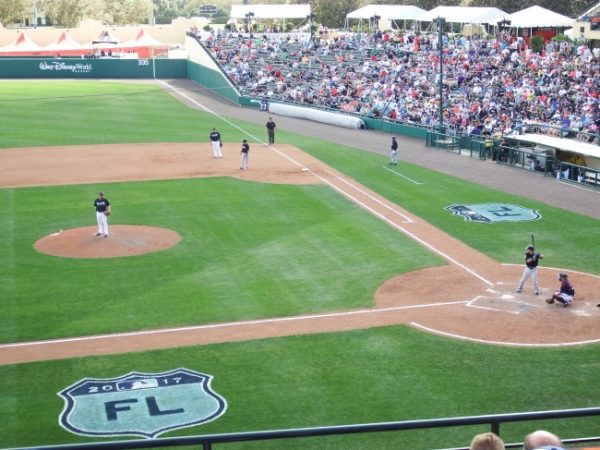 Baseball Quadraplex
Featuring 4 professional baseball fields along with a practice infield this is a massive baseball complex. The prefect place for games and tournaments. Two of the fields have lights so that play can continue into the night.
Marathon Sports Fields
Home to 17 sports fields that can be used for football, lacrosse, soccer, baseball, softball, or any other field sport. This is one massive sports location! The adaptability of these fields to accommodate so many sports as well as different age groups and competition levels is fantastic. Go Team!
State Farm Field House
This is a 5,000 seat, 70,000 sq. ft. venue. Home of televised ESPN Events Invitational. This location can accommodate sports events for gymnastics, volleyball, cheer, dance, basketball, and more.
Softball Diamondplex
Home to 6 fields with fences at 305 feet. This is the location for softball and youth baseball events held at Walt Disney World.
Track and Field Complex
Home to the AAU Club Championships, this is a state-of-the-art facility with the nicest track surfacing as well as great field equipment.
ESPN Wide World of Sports Grill
This is a quick service restaurants serving sandwiches, salads, and offers a full bar.
Transportation and Parking
During special events bus transportation to and from ESPN Wide World of Sports are offered from the resorts during runDisney race weekends. Parking can become overloaded during large events such as runDisney races or national cheer and dance competitions. Be prepared in case other transportation options must be made. Guests can also utilize the Minnie Van service through Lyft.
If you are driving to an event at ESPN Wide World of Sports general parking is complimentary, however premium parking is available on select event dates for a fee. There are normally parking attendants for large-scale events. On the busiest days the parking area may fill to capacity. Guests will then be directed to park in other locations, sometimes in the grass. At these times there may be quite a walk to the entrance. Handicap accessible parking is available. The address to the venue is below:
ESPN Wide World of Sports Complex
700 S. Victory Way
Kissimmee, FL 34747
Events
Ticketing varies based on event. Some events are pre-ticketed only, while for others tickets are sold at the onsite Box Office. Some Disney Annual Passholders have complimentary access to some events at ESPN Wide World of Sports, if you think an event you want to attend might be included be sure to check in advance. You don't want to miss a perk!
For a complete list of events at ESPN Wide World of Sports check their official website.
runDisney events are some of the largest at Walt Disney World. Offering fun runs as well as 5k, 10k, half marathon, and marathon races Disney races are massive and highly popular events. For more information on runDisney visit our page here.
If you are attending an event or competition for yourself, your child, or your team be sure to ask ahead about any special considerations you may have. Disney's guest services are generally extremely accommodating. They can be contacted online or by phone (407) 541-5600. Carefully read any rules or special requirements for your event. As with any venue, rules and requirements may change per event. Some sports governing bodies may have special or extremely strict requirements that cause changes in normal operating procedures.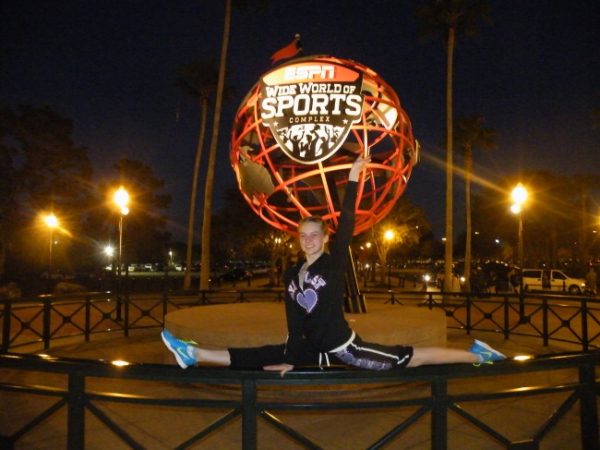 Other Information
Guests are subject to being searched at every event. Weapons (or anything resembling a weapon), glass containers, disruptive noisemakers, selfie sticks, and recreational equipment such as skates or skateboards are prohibited.
Folding chairs are only permitted at certain events.
Sports equipment storage and locker room facilities are available at some events, however there are no on-site laundry facilities. Laundry facilities are available at every Disney Resort hotel.
Strollers are permitted in most guest areas. The Visa Athletic Center and HP Fieldhouse do not allow strollers. Stroller parking is available outside of these venues. Strollers should not be larger than 36in x 52in
Wheelchairs are available for rent at the ESPN Clubhouse shop. Most venues are handicap accessible and offer accessible viewing locations.
Athletic Trainers and Physical Therapists will be on site for many events. These professionals are provided by Select Physical Therapy.
Safety and First Aid Equipment is available throughout the complex. AED machines are at several locations in case of emergency.