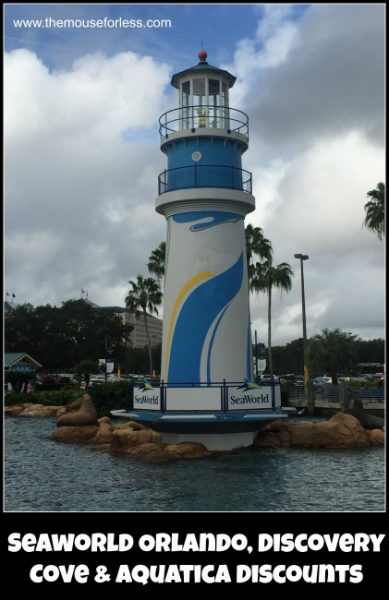 SeaWorld Discounts  Discovery Cove Discounts  Aquatica Discounts 
SeaWorld Orlando Discounts
Dining Discounts
ALL DAY DINING DEAL Receive a Wristband to enjoy All You Care To Eat and Drink All Day at participating restaurants. This deal includes 1 entrée, 1 side item OR dessert, and 1 regular size non-alcoholic beverage (fountain drink, iced tea or 20oz. bottled water) for every hour of that day.  Child's Price includes Kids Meal entrees only. Prices are per person and do not include sales tax. Refunds available anytime prior to the day of park visit.
Prices
Adults (ages 10 +) $34.99
Kids (3-9) $19.99
Participating Restaurants
Voyager's Smokehouse (does not include baby back ribs)
Seaport Pizza
The Spice Mill
Seafire Grill
Mango Joe's
Expedition Cafe
Captain Pete's Island Treats
SINGLE DAY TICKET +ALL DAY DINING DEAL Enjoy all the perks of the All Day Dining Deal included in this single day ticket package for an extra $35.
AAA Members can show their cards and receive a 10% discount off select in-park dining locations.
SeaWorld's Facebook Visit their deal page to see if any special food discount coupons have been posted for your visit.
Online Discounts
SINGLE PARK TICKET When you advance-purchase your single day ticket on SeaWorld's official website you can save $20. Print them from home and head straight for the front gate when you arrive at SeaWorld. Tickets are good for 1 year from purchase date.
Same Day $104.99
Advance Purchase $84.99
2-PARK TICKET Purchase a 2 park ticket and choose from SeaWorld Orlando, Aquatica Orlando, and Busch Gardens Tampa Bay, & Adventure Island (during open season). Included in this multi-park ticket, you are provided with shuttle service to and from Tampa Bay and Orlando. Reservations are not required, however strongly recommended due to high demand. The number to arrange a shuttle service is 1-800-221-1339. First park visit must be made within 1 year of purchase date, and the second visit should be within 6 months of the first. Save $30 when you buy online in advance.
Same Day $149.99
Advance Purchase $104.99
3-PARK TICKET Another great multi-park ticket with big savings online is the 3-park ticket. Save $30 and visit any 3 of the 4 parks included in the 2-park ticket. Shuttle service is also complimentary with this ticket. All requirements are the same as the 2-park ticket. The multi-park tickets do not include admission into events such as Hall-O-Scream.
Same Day $169.99
Advance Purchase $119.99
UNLIMITED VISITS + FREE PARKING Receive a $20 discount when you purchase your unlimited park ticket in advance, n SeaWorld's official website. This ticket is great for locals and families on long vacations. It includes free general parking and unlimited visits to SeaWorld Orlando, Aquatica Orlando, Busch Gardens Tampa Bay, & Adventure Island (during open season). Tickets are valid within 1 year of the purchase date for 14 consecutive days. Shuttle service is complimentary as well.
Same Day $219.99
Advance Purchase $189.99
COLLEGE STUDENTS with an International Student Identity Card (ISIC) membership can get 15% off an admission ticket to SeaWorld when purchasing through the ISIC website.
On-site Discounts
PUBLIX GROCERY STORES Some Florida Publix grocery stores carry discounted SeaWorld tickets and sometimes special deals on gift cards. If you're in Florida and decide to go to SeaWorld at the last minute, it might be worth checking out Publix before going to the park.
SEAWORLD'S HAPPY TAILS SeaWorld partners with local animal shelters and humane societies to encourage pet adoptions.  The program will provide pet lovers with two free single-day admissions to SeaWorld when they adopt a dog or cat from a participating animal shelter. This offer is good for a limited time. Visit the Happy Tails web site for a list of participating Orlando, Florida shelters. Tickets are valid for single-day admission to the park any time within one year of purchase. Tickets will be printed onsite at participating shelters so when you get to SeaWorld, you can just head straight for the front gate!
Military Discounts Active duty military receive free admission (including up to 3 guests) to SeaWorld Orlando once a year. Veterans get a 50% discount on a single day admission ticket for themselves and 3 guests.
AAA MEMBERS Show your valid AAA card at the gate of SeaWorld Orlando and receive $5 off for up to 6 guests.
Points & Rewards Programs
HILTON HONORS Cash in points for Entertainment Rewards that include SeaWorld Orlando. Single day SeaWorld Orlando tickets are 39,000 points for an adult/child ticket.
AMERICAN EXPRESS MEMBERSHIP REWARDS Points can be redeemed for SeaWorld tickets. One single day ticket is 10,300 points.
CANADIAN AIR MILES Members of their frequent flier program can redeem air miles for SeaWorld tickets.
Annual Pass Holder Discounts
FLORIDA RESIDENTS The annual pass for a Florida resident includes extra benefits you would not receive with any other annual passes. Reserved seating at select shows and restaurants. Unlimited admission to SeaWorld Orlando, SeaWorld San Diego, SeaWorld San Antonio, Busch Gardens Tampa Bay, Busch Gardens Williamsburg, Adventure Island Tampa Bay, Aquatica Orlando, Aquatica San Diego, Aquatica San Antonio, Water Country U.S.A., & Sesame Palace.
EZPAY Also only available to Florida residents, the EZpay option allows you to break up the annual pass prices into 12 low monthly payment. Valid Florida license (with current Florida resident address) must be shown at the time of purchase.
The Mouse For Less Tips

A new mobile website supports using your phone to purchase and use SeaWorld theme park tickets. Smartphone users, including iPhone and Android phones, can point their web browsers to seaworld.com to purchase One-day Tickets, Fun Cards, or Silver and Platinum Annual Pass. Once the purchase is complete, guests can use the parks' mobile websites to access the ticket and enter the turnstiles. The websites also will offer "upsells" of animal encounters, tours and dining packages, based on which ticket was purchased.

 Quick Queue at SeaWorld Orlando is a paid way to skip the lines for the park's most popular attractions, like Manta, Kraken, Journey To Atlantis, & Wild Arctic and more. The pass includes one complimentary ride on Skytower. The price varies by season. It's around $20 to $35 for unlimited Quick Queue.

Parking fee for SeaWorld is $25.00 per day for automobiles & motorcycles and $25.00 per day for RV's and campers. Preferred parking available starting at for $30.00. Florida Bronze Annual Pass Members receive 50% off general parking. Florida Silver Annual Pass Members receive complimentary general parking. Florida Gold and Platinum Annual Pass Members receive complimentary general parking and preferred parking (limited availability). Save money by purchasing your parking pass in advance.

For information on how to get to Seaworld from Walt Disney World without a car, click here.

Most Anheuser-Busch combination theme parks tickets that include SeaWorld and Busch Gardens are available on either park's web site. However, purchasing them on SeaWorld's web site yields small savings in the tax rate.

Most Anheuser-Busch combination theme parks tickets that include Busch Gardens and Seaworld, as well as the Orlando FlexTicket, offer free round trip shuttle service for the ride from Orlando to Busch Gardens in Tampa.

Seaworld's Platinum Pass gives a host of benefits like discounts on merchandise and tickets that you buy for friends, reserved seating for shows, and discounted admission to Discovery Cove. You get free, preferred parking, which is only steps away from the entrance. The merchandise discount is also good on the purchase of Quick Queue – a paid option that lets you use a shorter line. Plus, you get a second ride on the major roller coasters (Manta excluded). Just flash your pass, and you don't even have to leave your seat. The Platinum Pass has re-ride privileges at Busch Gardens Orlando, too (Cheetah Hunt excluded) and reserved seating at select Busch Gardens shows.
Discovery Cove Discounts & Packages
Admission Packages
RESORT DAY PACKAGE A resort day package without the dolphin swim experience starts at $149.99 per person depending on the day of your reservation. Included in this package, you will receive complimentary breakfast, lunch, snacks all day, and beverages all day. Enjoy free access to lockers, wetsuits, showers, sunscreen, and self-parking. If you're not doing the dolphin experience (not included in this package) check out the Explorers Aviary to feed exotic birds, lounge around in the Wind-Away River or Serenity Bay, or hang by the Grand Reef for some family beach time! Also for your resort day package guests are given free admission and unlimited access to SeaWorld Orlando and Aquatica Orlando for 14 consecutive days around the time of Discovery Cove reservation.
SIGNATURE DOLPHIN SWIM PACKAGE This package starts at $199.99 per guest. Children are of course welcome to swim with the dolphins however any child between the ages of 6 & 12 must be accompanied by someone 18 years of age or older who is also participating, and have a signed waiver by a parent or natural guardian. This package is not for children under the age of 6. As an all-inclusive package enjoy all the amenities and beach areas listed in the Resort Day Package including unlimited access to SeaWorld Orlando and Aquatica Orlando for 14 consecutive days around the time of your reservation.
TRAINOR FOR A DAY Join one of Discovery Cove's trainers for the whole day to learn about their extensive knowledge of the animals at the park and enjoy at 30-minute session swimming with the dolphins. With prices starting at $445.00 this package includes everything in the resort day package as well as an enhanced deep-water dolphin interaction, private photo session, behind the scenes tour, and a Discovery Cove gift bag.
**All prices are subject to change without notice before reservations are made and purchased.**
Discounts
Florida Residents For a limited time, Florida residents can save 20% on admission tickets.
AUTO SOUTH CLUB A small discount is usually available on Discovery Cove admission through Auto Club South AAA offices. This discount is only available for Auto Club South members and is not available through other regional offices.
2 & UNDER Guests 2 and under are free with the purchase of an adult admission ticket; this is great for a day at the Grand Reef and all other calmer activities
Online Purchase Day packages purchased online in advance and receive discounts on the prices mentioned above. Discounts on multi-park tickets are available online as well.
Resort Day Package – $119.99
Signature Dolphin Swim Package – $159.99
Trainor For a Day – $356.00
PHOTO PACKAGE Receive discounts on Discovery Photo Packages when you reserve one of Discovery Cove's special occasion packages.
Celebration Package ($179.00) – 20% off photo package of a $57.00 value
Elite Package ($459.00) – FREE photo package of a $229.00 value
VIP Package ($849.00) – FREE photo package of a $229.00 value
Complimentary Drink Package Enjoy a full bar and selection of cocktails and craft beers for the day. When you purchase this package online now until June 23, 2019.
The Mouse For Less Tips

Discovery Cove is an all-inclusive park that includes snacks and meals. If you've booked one of the day packages, skip breakfast on the way to the park. There will be places to grab something once you get there. Also, don't bother packing towels or shampoo as these items are provided in the shower area.

Discovery Cove's special occasion packages do not include admission to Discovery Cove, purchase of a Dolphin Swim package may be required. Call 407-513-4600 for more details.
Aquatica Discounts
Located across the street from SeaWorld Orlando, Aquatica features nearly 40 water slides, lagoons, and lazy rivers. You'll also find beach areas for relaxing and special animal exhibits, including dolphins, tropical fish, colorful macaws, and assorted small animals.
1 DAY GENERAL ADMISSION TICKET Purchase your Aquatica Orlando ticket for guests ages 3 + for $69.99 and receive unlimited access to everything in the park for the day, plus free parking. The ticket is valid 1 year from purchase date.
Online Discounts
Advance Purchase Discounts Guests can purchase their tickets at least 1 day in advance and enjoy big savings on different admission tickets. Multi-park tickets must be purchased at least 3 days in advance for a discount. Advance purchase discount prices are available for the following tickets online.
Weekday Tickets  – $46.99
Any Day Tickets – $54.99
2 Park Ticket – $104.99
3 Park tickets – $119.99
ULTIMATE VISITS  + PARKING Visit all four parks (Aquatica Orlando, SeaWorld Orlando, Busch Gardens Tampa Bay, & Adventure Island. Anytime for 14 consecutive days. There are two discount options for this ticket.
1 Day Advance Purchase – $199.99
3 Day Advance Purchase – $189.99

COLLEGE STUDENTS with an International Student Identity Card (ISIC) membership can get 15% off an admission ticket to Aquatica when purchasing through the ISIC website.
On-site Discounts

ACTIVE & RETIRED MILITARY Receive 50% off single day admission tickets including up to 3 guests.
AAA OR CAA CLUB MEMBERS Check with your local office for discounted prices on Aquatica tickets.