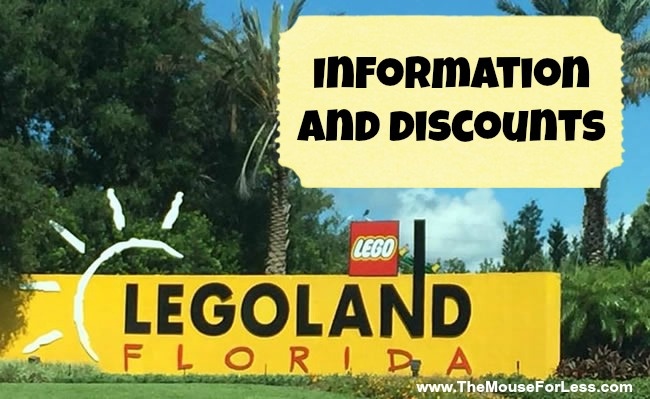 Legoland Florida is a 150-acre family theme park, which is located in Winter Haven. It is just 45 minutes from the Orlando theme parks or downtown Tampa. The family theme park offers interactive attractions, family rides, shows, restaurants, shopping, and beautiful landscape. Legoland, Florida is geared towards families with children ages 2 to 12. The park has collaborated with several hotels in Winter Haven and Orlando for a special Bed & Brick program. There are also two Lego themed hotels on the property, Legoland Florida Hotel and Legoland Beach Retreat if you want to immerse your family in the Lego experience completely. You can read more about the preferred Bed & Brick hotels on Legoland Florida's web site or contact The Magic for Less Travel for assistance in reserving.
Online Discounts  At The Gate Discounts  The Mouse For Less Tips
LEGOLAND Florida Discounts
There are several ways to save when purchasing your LEGOLAND Florida tickets. There are discounts on their official website, discount options at the admissions gate, and many packages and deals to choose from to get the most out of your visit! The following breaks down all discounts LEGOLAND and other participating Florida businesses can help you save.
Online Discounts
1 DAY SUPER SAVER With this 1-day admission ticket you can enjoy all the fun of LEGOLAND for a day, and when you purchase your ticket online you can save up to $15.00.
**Online Limited Time Offer – Now through December 25, 2019 guests can purchase a 1 day Legoland park ticket for just $59.99.
Online – $84.99 per person
At the Gate – $99.99 per person
2 DAY SUPER SAVER Save big with this 2-day ticket when you purchase on LEGOLAND's official website.
Online – $104.99 per person
At the Gate – $119.99 per person
1 Day Park + Water Park Super Saver This ticket grants you access to both the LEGOLAND park as well as their water park for 1 day. Save up to $15 when you purchase online.
Online – $109.99 per person
At the Gate – $124.99 per person
2 Day Park + Water Park Super Saver Enjoy 2 full days of fun in both parks when you buy online for discounted price.
Online – $129.99 per person
At the Gate – $144.99
At The Gate Discounts
ACTIVE DUTY MILITARY PERSONNEL Including any active personnel of the Army, Navy, Air Force, Marines, Coast Guard, National Guard, and Reservists are entitled to a free one-time single day admission to Legoland Florida and seasonally at the Legoland Water Park. Active duty military personnel should present their military ID to Legoland Florida's ticket window the day they plan to visit to redeem their free admission ticket.
Nonactive Duty/Family Members & Veterans Eligible for discounted tickets from the military base's Information, Tickets, & ravel offices that offer the 2nd day free. Check with your local office for pricing. Save 10% on 1 and 2-day tickets at the gate when you present valid military ID.
LEGOLAND Hotel Military Discounts Save up to 25% on hotel rooms (not including suites) with a valid military ID upon check-in. Rates start at $79!!
The Mouse For Less Tips
TheMouseForLess Tip: Staying in Orlando? Round-trip shuttle transportation is available from ICON Orlando 360 for $5, plus tax, per person (Adult/Child/Senior) for shuttle tickets. To book a seat for a child ages 0-2, a complimentary ticket must be purchased. Ages are verified on the date of travel before entering the bus. The shuttle leaves to return to Orlando at Park closing. To purchase shuttle transportation, visit Legoland's web site. For those driving from Orlando: Take I-4 West to Exit 55 (US Hwy 27 South). Travel south on Hwy 27. Turn right on St. Rd. 540 (Cypress Gardens Boulevard). Park is four miles on the left.
TheMouseForLess Tip: Legoland Florida is on the site of the old 'Cypress Gardens' in Winter Haven. The botanical gardens are quite beautiful, featuring more than 8,000 plants from more than 90 countries! Make sure that you allow adequate time during your visit to enjoy them.
TheMouseForLess Tip: Parking at Legoland is $19 + tax for cars, $20 for campers & RVs and $10 for motorcycles. Bus and bicycle parking is free. Preferred Parking is also available for $29. Also, re-entry into the parking lot is free with a valid parking stub during the same day of the visit. Accessible parking spaces are available near the park entrance with valid placard.
TheMouseForLess Tip: Annual passes are available online and at the park starting at $139.99.
TheMouseForLess Tip: Flexi Tickets are available for all of the super saver tickets and the park +water park tickets, which allows you to use your ticket whenever you want within a year of the purchase date.