Epcot | World Showcase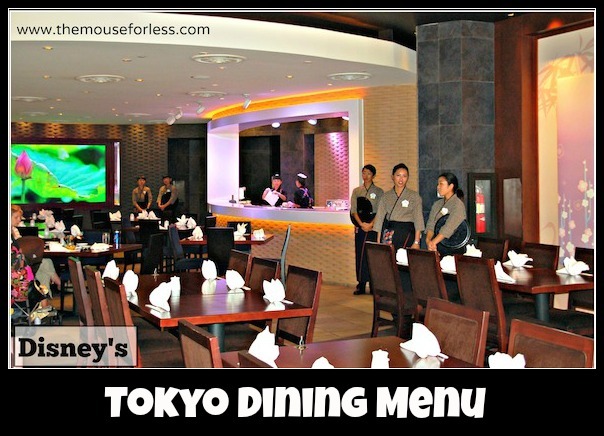 Enjoy the harmonious union of a traditional food culture dating back to the Edo period and the ingenuous spirit of modern Tokyo at Tokyo Dining.
Restaurant Info: Japanese, Lunch/Dinner, $$ – $15 to $34.99 per adult
Find out how you can save money on dining at Walt Disney World by using one of Disney's Dining Plans.
Tokyo Dining Lunch and Dinner Menu
Menu Date: 08/2018
Appetizers
Edamame– Young Soy Bean Pods served Chilled – $5.00
Cassava Flour and Panko-crusted Shrimp – Delicious combination of Lightly Floured and Japanese-breaded Shrimp with Shishito Pepper – $9.75
Spicy Tempura Calamari – Lightly Fried Calamari with Spicy Miso Sauce – $9.25
Soup & Salad
Vegetable Miso Soup – Sautéed Onion, Potato, and Daikon with Green Onion – $5.00
Asari Miso Clam Soup – with Green Onion – $7.00
Seafood Yuzo Shio Ramen – Ramen Noodles with Grilled Shrimp in Yuzu-Seafood Broth – $9.00
Tuna-Salmon-Poke Salad – Mixed Greens, Cucumber, and Tomato with Roasted Sesame Dressing – $9.25
Garden Salad – with Dressing – $6.95
Sashimi
Fresh Sashimi Sampler – Sliced Tuna, Salmon, Yellowtail, and Seabream – $16.00
Sushi Sampler – Two pieces of California Roll, Two pieces of Spicy Roll, and Three Pieces of Nigiri – $15.00
Salmon Ponzu – Thinly-sliced Salmon with Truffle Oil and served with Yuzu-Ponzu Sauce – $14.00
Sushi Roll
Spicy Crunchy Roll – Tuna and Salmon mix, topped with Tempura Crunch, Dynamite and Volcano drizzle – $12.00
California Roll – Crab Meat, Avocado, Cucumber, Smelt Roe, and Japanese Mayonnaise – $14.00
Volcano Roll – Grilled California Roll topped with Shrimp, Scallops, and Volcano Sauce – $18.00
Fire Cracker Roll – Tempura Shrimp Roll with Wakame Salad and Jalapeno finished with Eel Sauce, Shredded Red Pepper, and Sriracha drizzle – $16.00
Dragon Monster Roll – Avocado, Cucumber, Cream Cheese topped with Eel, Smelt Roe, Micro Green, Eel, and Dynamite Sauce – $18.00
Vegetable Roll – Cucumber, Kanpyo, Asparagus, Pickled Ginger, and Carrot topped with Avocado and Sesame Seeds – $12.00
Nigiri Sushi (One piece)
Shrimp  – $2.75
Tuna  – $3.00
Eel  – $3.00
Seabream – $3.50
Yellowtail – $3.50
Yakimono
Teriyaki Butter Grilled Chicken – Boneless Breast with Teriyaki Butter Emulsion and Seasonal Vegetables – $26.00
Miso-Yaki Salmon – Miso, Sake-Kasu Marinated with Seasonal Vegetables – $30.00
Miso-marinated Rack of Lamb – Grilled Lamb with a hint of Arima Sansho Pepper and Seasonal Vegetables – $30.00
Filet Mignon – Grilled Beef Tenderloin with Sweet-Fruity Plum Wine Reduction – $34.00
Agemono
Shrimp and Crab Tempura – Lightly Fried Seafood and Vegetables with flavored Sea Salts and Seasonal Vegetables – $30.00
Assorted Vegetable Tempura – Lightly Fried Seasonal Vegetables – $21.00
Lobster Tempura – Lobster and Vegetables with Cheese Fondue – $30.00
Chef's Creation Bento Box
Bento Box – Shrimp and Vegetable Tempura, New York Sirloin Steak with Garlic-Ginger Sauce, Chicken Teriyaki, Tuna and Salmon Poke Salad with Sesame-Ginger Dressing, Tuna Roll, Salmon Roll, Shrimp Nigiri Roll, and Vegetable Roll – $34.00
Rice & Noodle
Vegetable Naveyaki Udon – Udon Noodles served with Fried Tofu and Vegetables in KONBU-Dashi Broth – $20.00
Gomoku Deluxe Nabeyaki Udon – Udon Noodles with Shrimp Tempura, Grilled Chicken and Vegetables in BONITO-Dashi Broth – $24.00
Steamed White Rice  – $5.00
Brown Rice  – $5.00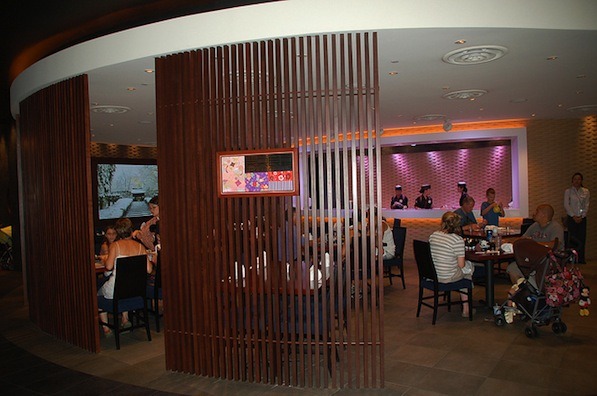 Kids' Entrées (For Guests Ages 9 and Under)
Chicken Tempura Nuggets – served with Soft Serve Ice Cream – $13.00
California Roll – served with Soft Serve Ice Cream – $13.00
Desserts
Green Tea Mousse Cake – Alternating layers of delicate Green Tea Sponge Cake with a matching Light Green Tea Mousse topped with a lush covering of fresh Whipped Cream and dusted with Green Tea  – $6.50
Ginger Mousse Cake – Layered Sponge Cake with Ginger Mousse filling a ribbon of rich Chocolate Icing to top it off  – $6.50
Mango Mousse Cake – Mango-flavored Sponge Cake with a smooth and flavorful Mango Mousse filling decorated with a Mango Glaze – $6.50
Soft Serve Ice Cream – Green Tea, Vanilla, or Swirl – $4.95
Beverages
Soft Drinks – Coca-cola, Sprite, Diet Coke, Sprite, Orange Soda, Lemonade – $2.95
Iced Green Tea – $2.95
Hot Green Tea – $2.95
Low Fat Milk – $2.95
Featured Cocktails
Sochi Squeeze – Your choice of – Fresh-squeezed Grapefruit, Lemon, or Orange Juice mixed with a cold glass of crisp Shochu on the Rocks – $12.00
Violet Silk Martini – Vodka shaken with Purple Pear and Lime Juice…A sophisticated taste for the palate – $12.00
Iced Blood Orange – Gin, Blood Orange Extract, and Sparkling Water slightly Bitter Sweet Sparkling Cocktail (Non-Alcoholic version available) – $12.00
Nigori Mimosa – Unfiltered Nigori Sake, Orange Juice, Grenadine, and Sparkling Water – $10.00
Golden Grape – Plum Wine stirred with Apple Juice topped with a could of Merlot over – $10.00
Matcha Frappe – Rum and Sake Blend with Condensed Milk and Ice-rimmed inside with Green Tea Syrup – $10.00
Tokyo Sunset – Coconut Rum, Crème de Banana, Peach Schnapps, and Pineapple Juice – $10.00
Momo Whiskey Sour – Perfect Harmony of Whiskey, Peach Schnapps, and Sour – $10.00
Japanese Breeze – Coconut Rum poured over Ice with Tart Cranberry and Pineapple Juices – $10.00
Calpico Banana Fizz – Shochu, Japanese Calpico, and Banana Syrup topped with Sparkling Water – $10.00
Mojito – Mix of Rum, Sake, Syrup, fresh Limes, and Mint – Classic, Japanese Shiso, Blood Orange, Green Tea, Blackberry, Coconut – $10.00
Pina Colada – Blended with Rum, Sake, Coconut Crème, and Pineapple Juice – Classic, Strawberry, Violet Pear, Chocolate, Midori Melon, Blue Coconut – $10.00
A full selection of Sake, Wine, Beer, and Spirits is also available.
** Tokyo Dining Menu and Prices are Subject to Change Without Notice **