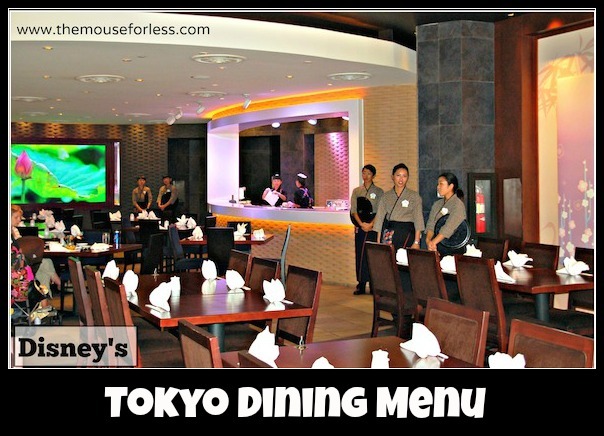 Enjoy the harmonious union of a traditional food culture dating back to the Edo period and the ingenious spirit of modern Tokyo at Tokyo Dining.
Tokyo Dining is located in Disney's Epcot theme park.  Find more Walt Disney World dining locations on our Walt Disney World Resort menus page.
Restaurant Info: Japanese, Lunch/Dinner, $$ – $15 to $34.99 per adult
Find out how you can save money on dining at Walt Disney World by using one of Disney's Dining Plans.

Planning a Walt Disney World Vacation?
For a Free no-obligation quote, contact our sponsor
The Magic For Less Travel
. The Magic For Less Travel is an Authorized Disney Vacation Planner and has been helping guests plan magical vacations since 2002. Receive the best prices and free travel planning services. Their fee-free services will help you save time, money, and stress while planning a vacation designed around you and your needs!
Tokyo Dining Lunch and Dinner Menu
Menu Date: 08/2021
Otsumami
Edamame
Young Soy Bean Pods served chilled unless requested – $6.00
Garden Salad
Mixed Greens with Edamame and Ginger Peach Dressing – $6.00
Crab Salad
3pc Crab Legs, 2pc Crab Claws, Mixed Greens and Yuzu Gari Dressing – $30.00
Miso Soup
Tofu, Wakame, Asian mushrooms, and Green Onion in Bonito Miso broth – $6.00
Wagyu Wrap *
Wagyu Striploin, Uni, Black Tobiko, Rice, Nori, Yuzu Peel drizzled with Sashimi Soy Sauce – $31.00
Kamo Roast
Sliced Duck Breast, Asian mushrooms, Arima Sansho drizzled with duck sauce – $22.00
Nigiri Sushi (two pieces)
Yellowtail * – $7.00
Tuna * – $6.00
Salmon * – $6.00
Shrimp * – $6.00
Unagi – $8.00
Bluefin Tuna * – $8.00
Sushi Rolls
Spicy Crunchy Roll *
Tuna and Salmon Mix topped with Volcano Sauce and Tempura crunch – $14.00
California Roll *
Krab Meat, Avocado, Cucumber, Smelt Roe, and Mayonnaise – $14.00
Shrimp Tempura Roll
8 pieces inside out roll with Kampyo – $16.00
Vegetable Roll
Cucumber, Asparagus, Carrots, Gari Ginger, and Avocado – $12.00
Hako Rainbow *
Layered Tuna and Salmon, Tobiko, Avocado, Shiso rice, Soy paper, Eel and Volcano sauce – $18.00
Unagi Avocado Roll
Barbequed Eel with Avocado, Nori, topped with Eel sauce – $16.00
Shashimi
Fresh Sashimi Sampler *
Tuna, Salmon, and Yellowtail – $24.00
Bluefin Tuna (five pieces) *
Hailed as the finest rare high-end sashimi, known for it's distinctive medium-full flavor and meaty texture – $20.00
Seared Salmon *
Thinly sliced and flame, served with Ponzu sauce, fried Garlic chips, Green Onions with seaweed salad – $18.00
Donburi
Unagi Don
Barbequed Eel over rice with green onion and Eel sauce – $28.00
Salmon Ikura Don *
Sushi grade Salmon Ikura over rice – $24.00
Mini Chirashi *
Tuna, Uni, Ikura with grated Wasabi and Yuzu peel served in a masu cup – $37.00
Tempura
Assorted Tempura (Shrimp, Assorted Vegetables)
3pc Shrimp, Onion, Asparagus, and Red Bell Peppers – $17.00
Tempura/Sushi Roll Combo (Shrimp, Vegetable Tempura and California Roll) *
3pc Shrimp, Onion, Asparagus, and Red Bell Peppers – $25.00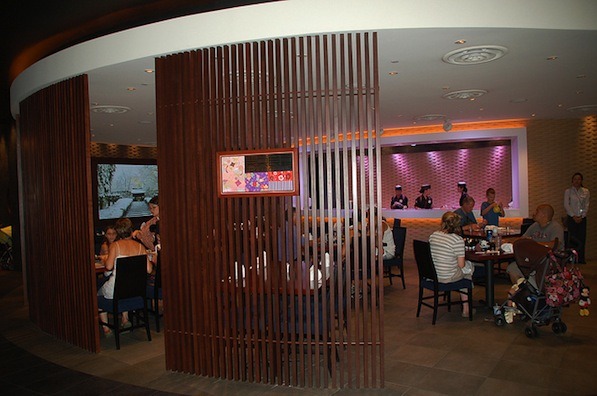 Kids' Entrées (For Guests Ages 9 and Under)
California Roll *
Krab meat, avocado, cucumber, smelt roe and mayonnaise. Served with French fries and Ice Cream or Fresh Fruit – $16.00
Shrimp Tempura
2pc Shrimp, Onion, Asparagus and Red Pepper. Served with French fries and Ice Cream or Fresh Fruit – $18.00
Beverages
Assorted Coca-Cola Fountain Beverages
Lemonade
Iced or Hot Green Tea
Sake
Shoune Junmai Daiginjyo – Japan (8-oz serving) – Carafe – $32.00
Dassai 45 Junmai Daiginjyo – Japan (8-oz serving) – Carafe – $39.00
Jun Tenzan Junmai – Japan (8-oz serving) – Carafe – $36.00
Yatsushika Tokubetsu Junmai – Japan (8-oz serving) – Carafe – $25.00
Karatamba Honjyozo – Japan (8-oz serving) – Carafe – $23.00
Hana Awaka Sparkling – California (250 mL Bottle) – Bottle – $20.00
Sho Chiku Bai Unfiltered Nigori – California (375 mL Bottle) – Bottle – $19.00
Ozeki Sake Junmai Hot or Cold – California (8-oz serving) – Carafe – $13.00
Wine
Hakutsuru Plum Wine, Kobe, Japan – Bottle $39.00, Glass $11.00
Villa Maria Sauvignon Blanc, Marlborough, New Zealand – Bottle $39.00, Glass $11.00
Kris Pinot Grigio, Trentino-Alto Adige, Italy – Bottle $39.00, Glass $11.00
Lincourt Steel Chardonnay, Central Coast, California – Bottle $39.00, Glass $11.00
Rainstorm Pinot Noir, Willamette Valley, Oregon – Bottle $43.00, Glass $13.00
Angeline Cabernet Sauvignon, Sonoma, California – Bottle $50.00, Glass $14.00
Mumm Napa Prestige Brut, Napa Valley, California – Bottle $55.00, Glass $14.00
Liquor Premium
Haku Vodka – $13.00
Roku Gin – $13.00
Legent Bourbon – $15.00
Japanese Whiskey
Kaiyo – Single – $25.00
Kaiyo – Double – $35.00
Toki – Single – $15.00
Toki – Double – $23.00
Beer
ShoUne Junmai Daiginjo – Japan (8-oz serving) – $32.00
Dassai 45 Junmai Daiginjo – Japan (8-oz serving) – $39.00
Jun Tenzan Junmai – Japan (8-oz serving) – $36.00
Yatsushika Tokubetsu Junmai – Japan (8-oz serving) – $25.00
Karatamba Honjozo – Japan (8-oz serving) – $23.00
Hana Awaka Sparkling – California (250 mL Bottle) – $20.00
Sho Chiku Bai Unfiltered Nigori – California (375 mL Bottle) – $19.00
Ozeki Hot Sake Junmai – California (8-oz Carafe) – $13.00
Featured Cocktails
Tokyo Sunset
coconut rum, crème de banana, peach schnapps, pineapple juice – $13.00
Momo Whiskey Sour
perfect harmony of whiskey, peach schnapps, sour mix – $12.00
Violet Silk Martini
vodka shaken with purple pear and lime juice – $12.00
Iced Blood Orange
gin with a hint of blood orange and sparkling water – $12.00
Nigori Mimosa
unfiltered nigori sake, orange juice, grenadine, sparkling water – $12.00
Japanese Breeze
coconut rum over ice with tart cranberry and pineapple juices – $12.00
Mojito
rum, sake, simple syrup, fresh limes and mint – available in classic, blood orange, blackberry – $12.00
Piña Colada
rum, sake, cream of coconut, and pineapple juice – available in classic, strawberry, violet pear – $12.00
Shochu Squeeze
freshly squeezed juice mixed with a glass of crisp shochu on the rocks – available in grapefruit, orange, lemon – $12.00
** Tokyo Dining Menu and Prices are Subject to Change Without Notice **