Disney Springs | Marketplace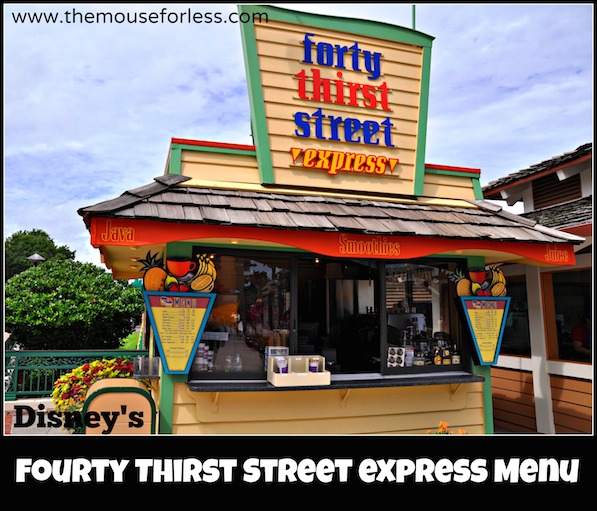 Freshen your day in a frosty way with a sunny blend of fruit and fun in Disney Springs Marketplace. Slide by Forty Thirst Street Express for tropical smoothies of all kinds! Adults can even enjoy a selection of alcoholic beverages—including coffee with Baileys, Kahlua or Jameson.
Restaurant Info: American, Snack A la carte, $ – $14.99 and under per adult
Find out how you can save money on dining at Walt Disney World by using one of Disney's Dining Plans.
Forty Thirst Street Express Menu
Menu Date: 04/2016
Smoothies
Tropical Sunset – Orange Juice, Strawberries, Bananas, Yogurt and Honey – $5.99
Purple Piñata – Apple Juice, Strawberries, Raspberries, Blueberries, Yogurt and Honey – $5.99
Flyin Hawaiian – Orange Guava Juice, Pineapples, Coconut Cream and Yogurt – $5.99
Banana Split – Pineapple Juice, Strawberries, Bananas, Chocolate Yogurt and Honey – $5.99
Mango Tango – Orange Guava Juice, Pineapples, Mango, Papaya, Coconut Cream, Yogurt and Honey – $5.99
Flamingo Frost – Pineapple Juice, Strawberries, Bananas, Yogurt and Honey – $5.99
Razzy Jazzy – Cranberry Juice, Strawberries, Raspberries, Yogurt and Honey – $5.99
Frozen Sun Drop – Orange Juice, Pineapples, Bananas, Yogurt and Honey – $5.99
Frozen Sun Drop – Orange Juice, Pineapples, Bananas, Yogurt and Honey – $5.99
Beverages
Orange Juice – $2.75

Apple Juice – $2.75

Pineapple Juice – $2.75

Orange Guava Juice – $2.75

Cranberry Juice – $2.75

Alcoholic Beverages
Featuring Joffery's Fresh Brewed Coffee
Coffee with Baileys – $8.49
Coffee with Kahlua – $8.49
Coffee with Jameson – $8.49
Tea Breeze – Freshly Brewed Iced Tea with Frozen Lemon topped with Vodka- $8.49

= Snack on the Disney Dining Plan
** Menu and Prices are Subject to Change Without Notice **