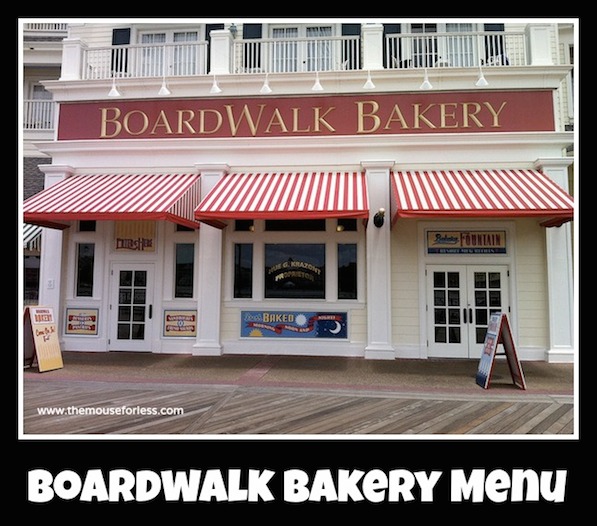 Be enticed by the aroma of freshly baked treats as you stroll on down the BoardWalk. Sample the sweet delicacies at this convenient waterfront bakery. Life is sweet at Boardwalk Bakery!
Boardwalk Bakery is located at Disney's Boardwalk Inn Resort.  Find more Walt Disney World dining locations on our Walt Disney World menus page.
Restaurant Info: American, Breakfast/Lunch/Dinner/Snack, $ – $14.99 and under per adult
Find out how you can save money on dining at Walt Disney World by using one of Disney's Dining Plans.
Breakfast Menu  Lunch and Dinner Menu

Planning a Walt Disney World Vacation?
For a Free no-obligation quote, contact our sponsor
The Magic For Less Travel
. The Magic For Less Travel is an Authorized Disney Vacation Planner and has been helping guests plan magical vacations since 2002. Receive the best prices and free travel planning services. Their fee-free services will help you save time, money, and stress while planning a vacation designed around you and your needs!
Boardwalk Bakery Breakfast Menu
Menu Date: 10/2019
Hot Selections
Everything Everything Sandwich – Everything Bagel, Cage-free Egg and Tillamook Cheddar served with Apple Slices – $7.99
Butter Butter Sandwich – Brioche Bread, Shaved Ham, Scrambled Eggs and Buttery Fontina Cheese Spread served with Apple Slices – $8.99
Ooey Gooey Sandwich – Cage-free Egg, Cheddar, Mozzarella, Capicola, Bacon and Oven-dried Tomato on an Artisan Roll served with Apple Slices – $10.99
Side of Bacon – $2.99
Breakfast Pastries
Croissant – $3.49
Jersey Crumb Cake – $3.79
Chocolate Chip Muffin – $3.29
Blueberry Muffin – $3.29
Desserts
Mickey Tart – $4.79
Key Lime Tart – $4.79
Oreo Cupcake – $5.99
Specialty Cupcake – $5.99
Strawberry Cupcake – $5.99
Parfait – $5.79
Beverages
Minute Maid® Cranberry Apple Juice – $3.99
Assorted Fountain Beverages – $4.19
Coffee – regular or decaf – $3.29
Hot Tea – $3.29
Resort Refillable Souvenir Mug – enjoy refills of Foutain Drinks, Coffee and Tea at any Resort Self-service Beverage Location – $19.99
Dasani® Bottled Water – small – $2.50
Dasani® Bottled Water – $3.50
Simply Orange® Orange Juice – $4.99
Minute Maid® Apple Juice – $3.99
Dasani® Sparkling Water – $4.19
POWERade® – $4.69
Nestlé Nesquik® Chocolate Milk – $3.79
Whole Milk – $3.79
Cappuccino – $3.99
Latte – $3.99
Espresso – $2.49
Cold Brew Coffee – $3.79
Cold Brew Coffee with Premium Flavored Syrup – With Choice of Premium Flavored Syrup: Vanilla, Caramel, Hazelnut or Seasonal – $4.29
Hot Cocoa – $3.29
Boardwalk Bakery Lunch and Dinner Menu
Menu Date: 10/2019
Sandwiches
Seaside Sandwich – Lobster, Shrimp, Romaine Lettuce, Tomatoes and Bacon on a Fresh-baked Hoagie Roll served with Chips – $16.49
Grilled Cheese – served with Tomato Soup – $9.99
The Big and Beefy Sandwich – Focaccia Bread, Roast Beef, Caramelized Fennel and Onions and a Whole Grain Creamy Mustard Sauce served with Chips – $10.49
"The Veggie" Sandwich with Chips  –Sea Salt Roasted Squash, Balsamic-grilled Portobello Mushroom, Red Onions, Arugula and Savory Pepper Hummus – $9.99
Ham and Swiss Sandwich on Marble Rye – served with Chips – $10.49
Gobbler Sandwich – Sliced Turkey, Stuffing, Cranberry Mayonnaise and Gravy served on House-made Ciabatta Bread served with Chips – $9.99
Salads
Herb-grilled Chicken and Apple Mixed Greens Salad – Field Greens, Dried Cranberries, Goat Cheese and Pomegranate Vinaigrette – $11.79
Caesar Salad with Chicken – with Kale, Romaine, Sea Salt Herb Croutons, and Parmesan – $11.79
Kids' Meals

Turkey Sandwich – served n Goldfish Bread served with Carrot Sticks and Applesauce – $6.99

Meets Disney Nutrition Guidelines for Complete Meals without substitutions.
Ham and Cheese Sandwich – served with carrot sticks and applesauce – $6.99
Desserts
Mickey Tart – $4.79
Key Lime Tart – $4.79
Oreo Cupcake – $5.99
Specialty Cupcake – $5.99
Strawberry Cupcake – $5.99
Parfait – $5.79
Beverages
Minute Maid® Cranberry Apple Juice – $3.99
Assorted Fountain Beverages – $4.19
Coffee – regular or decaf – $3.29
Hot Tea – $3.29
Resort Refillable Souvenir Mug – enjoy refills of Foutain Drinks, Coffee and Tea at any Resort Self-service Beverage Location – $19.99
Dasani® Bottled Water – small – $2.50
Dasani® Bottled Water – $3.50
Simply Orange® Orange Juice – $4.99
Minute Maid® Apple Juice – $3.99
Dasani® Sparkling Water – $4.19
POWERade® – $4.69
Nestlé Nesquik® Chocolate Milk – $3.79
Whole Milk – $3.79
Cappuccino – $3.99
Latte – $3.99
Espresso – $2.49
Cold Brew Coffee – $3.79
Cold Brew Coffee with Premium Flavored Syrup – With Choice of Premium Flavored Syrup: Vanilla, Caramel, Hazelnut or Seasonal – $4.29
Hot Cocoa – $3.29
** Boardwalk Bakery Menu and Prices are Subject to Change Without Notice **