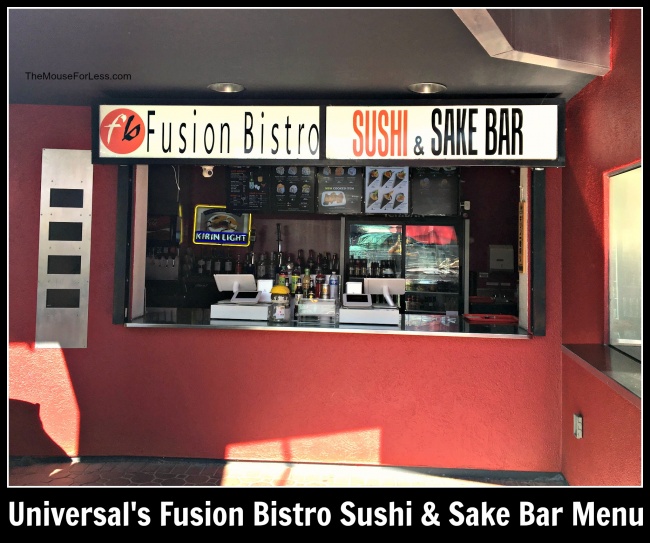 Fusion Bistro Sushi & Sake Bar features freshly-made sushi and other Japanese fusion dishes, paired with delightfully trendy sake and beers.
Fusion Bistro Sushi & Sake Bar is located in Universal Orlando's Citywalk.  Find more Universal Orlando dining locations on our Universal Orlando Resort menus page.
Hours of Operation
Sunday – Thursday: 11:00 am – midnight
Friday – Saturday: 11:00 am – 2:00 am

Planning a Universal Orlando Vacation?
For a Free no-obligation quote, contact our sponsor
The Magic For Less Travel
. Services are provided free of charge and their expert planning advice will help you make the most of your vacation time and money.
Fusion Bistro Sushi & Sake Bar Menu
Menu Date: 5/2017
Entrees
Dancing Eel
California, BBQ eel top – $8.99
Volcano
California roll, crab, spicy mayo – $7.99
Garden Max
Avocado, lettuce, carrot, asparagus, cucumber – $6.99
Shrimp Tempura
shrimp, cucumber, sesame, eel sauce – $7.99
Super Shrimp
shrimp tempura, cucumber, cream cheese, eel sauce, spicy mayonnaise, sesame – $9.99
Florida Baked
baked spicy tuna, salmon, mayonnaise, eel sauce, onions – $10.99
Crunchy Krab
Krab, cucumber, crunch, and mayonnaise – $7.99
California
Krab, avocado, cucumber – $5.99
Surf and Turf
shrimp, steak, cheese, cucumber, onions, and crunch – $10.99
Cucumber Roll – $4.99
Avocado Roll – $4.99
Nigiri and Sashimi
tuna, salmon, tilapia, escolar, shrimp, eel (two pieces of each) – $5.00
Tuna Conos
spicy tuna, avocado, spices – $5.99
Shrimp Party
shrimp cocktail, mayonnaise, masago – $5.99v
Fusion Temaki
Krab, salmon, avocado, mayonnaise – $5.99
Dynamite Crunch
Krab, cucumber, spicy mayonnaise, crunch – $5.99
Double Shrimp
Shrimp cocktail, fried shrimp, mayonnaise – $5.99
Salmon Brasil
Salmon, cream cheese – $5.99
Spicy Tuna
Tuna – cucumber, chili – $6.99
Crunchy Tuna
tuna, cucumber, crunchy – $7.99
Red Dragon
Spicy tuna, jalapeno, masago, avocado, ponzu – $11.99
Rainbow
California roll, tuna, salmon, tilapia, escolar, avocado – $9.99
Tokyo Sunrise
California roll, salmon, volcano topping – $9.99
Philadelphia
Salmon, cucumber, cream cheese $6.99
Wings
Rotisserie chicken, tangy sweet chili – $6.49
Volcano Bento Box
with Miso soup – $11.99
Sides
Ginger, Wasabi, or other Sauces – $0.50
Gyoza – fried chicken dumplings – $4.99
Miso Soup – Japanese soup and tofu – $2.99
Rice Bowl – $2.25
Edamame – steamed soybeans – $3.99
Ginger Salad – greens with ginger dressing – $3.25
Seaweed Salad – Seaweed with sesame – $3.75
Gyozo Combo – 6 chicken dumplings with rice – $7.99
Chicken Sticks – 3 marinated chicken sticks with sauce – $7.99
Spicy Tuna Salad – Seaweed, avocado, spicy tuna, masago – $7.99
Make it a Bento – Make any roll into a Bento box combo with salad, seaweed, miso, rice, and cake – $4.99
Beverages
Hot Chocolate – $2.00
Fountain Drinks – $2.00
Bottle Beverages – $2.75
Orange Juice – $2.50
Red Bull – $4.00
Hot Green Tea – $2.00
Beer, Wine, and Cocktails also offered
** Fusion Bistro Menu and Prices are Subject to Change Without Notice **