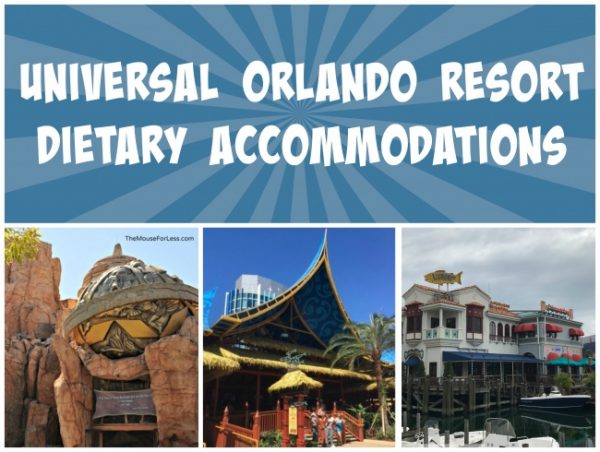 The staff of Universal Orlando Resort want you to know you are in good hands when it comes to every aspect of your stay. Whether you are staying in a resort or just dining in for the day at one of their parks feel free to notify the kitchen ahead of time of any special dietary accommodations you may have.
Kosher Meals Food Allergies Bringing Food Tips
Kosher Meals
There are a number of restaurants in Universal Orlando Resort to choose from with a kosher menu. Each kosher menu gives you the choice of salmon, chicken, or Salisbury steak. A 72 hour notice is required for  meal preparation so be sure to plan your days accordingly. To arrange a kosher meal call 407-224-4233.
Restaurants with Kosher meals
Food Allergies
Food allergies can be a hassle especially when traveling and constantly eating out. Every restaurant at Universal Orlando Resort Hotels and the Universal Orlando Resort Theme Parks make it simple. Guests are encouraged to speak with with a restaurant manager or chef to notify of a food allergy within the party. Let them know what the allergy or intolerance is and the culinary staff will make every effort to prevent that allergen from coming in contact with any part of that Guest's meal.
The staff in the kitchen will make every effort to keep your food away from any specified allergy prone item(s). However please remember that the kitchens do not have separate prep rooms for allergy causing foods.
Curious about what restaurants offer what? Acquaint yourself with the available options ahead of time with our list of Universal Orlando Resort menus.
Bringing Food
If you need your own food from home due to any allergies or health reasons you are welcome to bring in your own food with the following precautions.
Notify the Security Team Member who does bag checks of the reason for outside food.
No glass whatsoever.
Food should be stored in a soft sided-cooler.
Mouse For Less Tips
Pre plan your meals the best you can to give you time to call to notify of an allergen or intolerance.
Browse any online menus to see which restaurants offer something best suited for you and your party.
For any other dietary accommodations questions or concerns call 407-224-3463 to speak to a guest services team member.