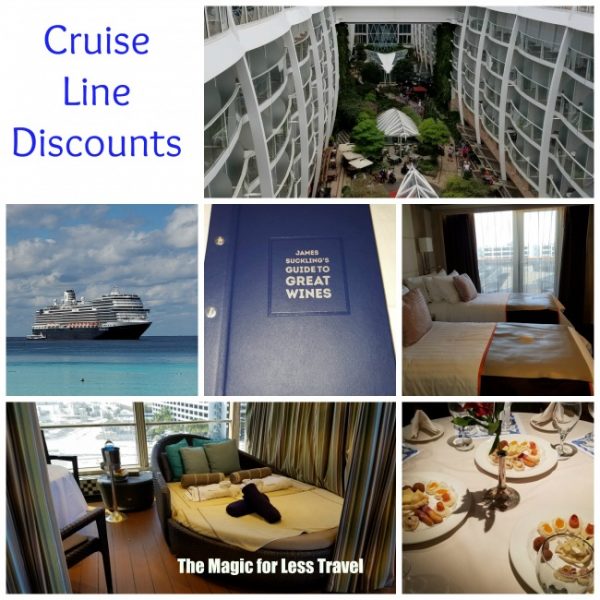 Get current cruise discounts and promotions from Royal Caribbean International Cruise Line, Carnival Cruise Line and more.  Why spend more when you can spend less and have more fun!  This page is brought to you with the help of our travel partner The Magic For Less Travel.
Royal Caribbean Cruise Line Carnival Cruise Line Princess Cruise Line Norwegian Cruise Line Holland America Cruise Line Disney Cruise Line Discounts
Cruise Discounts and Promotions for Royal Caribbean International Cruise Line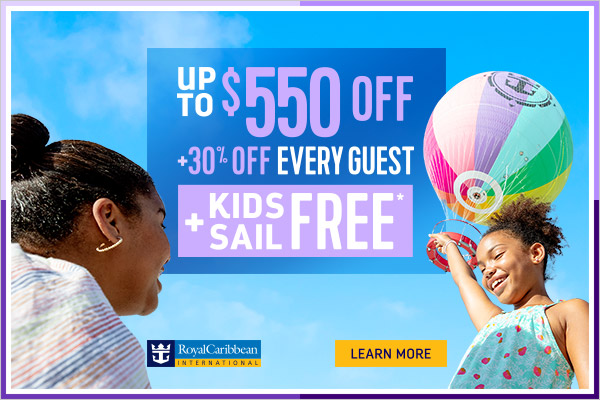 Put an epic adventure on your calendars! You can discover Old World wonders in the Mediterranean, ancient jungle ruins in Mexico, or unparalleled beach relaxation at Perfect Day at CocoCay. And when you book right now, you'll score these incredibly awesome deals.
SAVE Up to $550 off sailings departing August 15, 2022 or after.
BRING THE WHOLE CREW
You'll save 30% off every guest.
KIDS SAIL FREE*
Children get to experience the highlights of the high seas free of charge on all sailings 3 nights or longer, departing between August 2, 2022 – May 25, 2023.
EVEN MORE LOVE Redeem Future Cruise Credits and receive another bonus of $100 in onboard credit.
---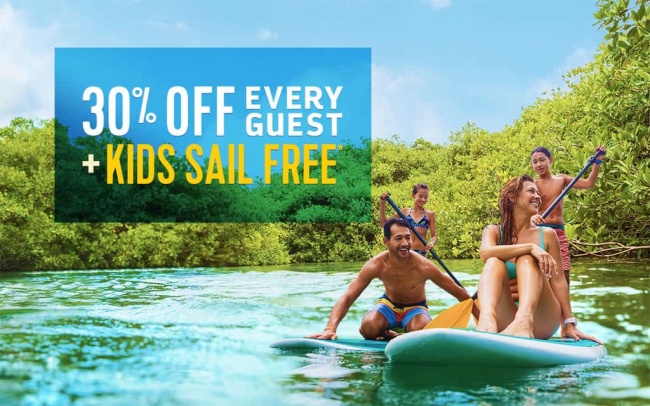 Royal Caribbean Cruise Line's July Special
Take your vacation dreams and turn them up a notch with an incredibly epic adventure. Go snorkeling through colorful coral reefs off the coast of Cozumel, take in Old World architecture and charm on a walking tour through Rome, or unwind with some much-needed beach time in The Bahamas. Wherever your travels take you,
MAXIMIZE YOUR SUMMER FUN
BIG SAVINGS
Up to $550 off sailings departing July 9, 2022 or after.
BRING THE WHOLE CREW
They'll save 30% off every guest.
KIDS SAIL FREE*
Children get to experience the highlights of the high seas free of charge.
EVEN MORE LOVE
Redeem a Future Cruise Credit and receive a bonus of $100 in onboard credit.

---
Cruise Discounts and Promotions for Carnival Cruise Line

Ship Cleaning Standards for your peace of mind
Ship Cleaning Standards
In addition to our existing rigorous daily cleaning regimen and standards, we have established additional sanitation/disinfection/cleaning measures:
More frequent sanitizing of tables, chairs, menus and other surfaces in restaurants and bars before use.
More frequent open deck sanitation of sun loungers, outdoor furniture, mini-golf, sports equipment, handrails, etc.
Additional sanitizing of frequently hand-touched surfaces in all public areas and lounges, all restaurants, lobbies, elevators, handrails, public phones, counters, public displays, medical centers, gangways, casino chips, games, slot machines, fitness machines, children's toys, and security screening equipment, among others.
Wherever possible, staff is serving guests at food stations, including the Lido buffet and ice cream machines. Where not possible due to layout restrictions or other locations such as condiment set-ups and salsa bars, dedicated personnel are posted to monitor these stations and service and ensure they are cleaned and sanitized in a timely manner. In any self-service areas that remain, serving utensils are replaced on a more frequent basis.
Stateroom surfaces and fixtures are thoroughly cleaned up to twice daily with particular attention to bathrooms and surfaces frequently touched. All guest corridors including handrails and stateroom door handles are frequently sanitized. During instances that guests display flu-like symptoms, the stateroom will receive additional deep cleaning.
Hand-washing sinks and/or hand sanitizing applications are available at the entrances to all dining rooms and the Lido buffet. A roster of guest communications detailing proper hand-washing techniques are visible throughout the ships and reiterated by staff and officers onboard.
Additional hand sanitizers/dispensers have been placed in highly trafficked locations where there may not be hand-wash sinks available.
The temperature in our washers and dryers has been increased for enhanced disinfection of laundered goods, including bedding, tablecloths, towels, napkins, etc.
At night, a deep cleaning and disinfection process is conducted utilizing electro-static applications through specialized machines in highly-trafficked public areas (including all restaurants, the fitness center, spa, lido deck areas, promenade, casino, medical center, public restrooms, lounges, bars, lobbies, elevators, atrium, youth activity centers, arcade and all crew public areas).
Our onboard Medical Centers are staffed to handle a wide variety of staff and crew medical situations. Any guest or crew member who exhibits symptoms of influenza or upper respiratory infection with fever is strongly encouraged to visit the medical center for a complimentary medical consultation.
Carnival Deals Are Here!
It is always the best time of the year to plan, book and save your next cruise!  Carnival's amazing deals go quickly and many are already gone. Check with your travel counselor now for your best time to cruise and don't let any more of these fun-cations ship off into the sunset without you!
Join Carnival's VIFP (Very Important Fun Person) Club for more savings!
Sign up here and register to win $500!
---
Cruise Discounts and Promotions for Princess Cruise Line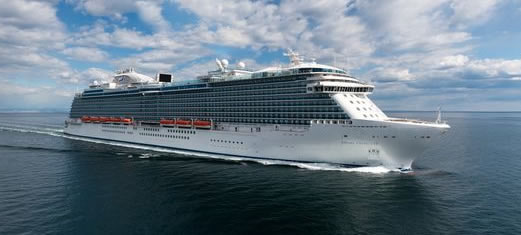 Princess Plus Cruise Deal
Best Value. All Destinations. All Staterooms.
This cruise deal is our best value – over $95 of value per day – and we're so excited to share it with all of you.
+ Premier Beverage Package† with tips: Enjoy everything from cocktails, beer and wine to specialty coffees, smoothies and bottled water.
+ Unlimited Wi-Fi‡‡: With our best internet package, you can video chat and text with family back home, stream your favorite shows and check email (but only if you want to).
+ Full gratuities‡ paid to our crew on your behalf: Don't worry – we make sure the crew who takes care of you is taken care of too.
Princess Savers
Princess Savers are the only low fare option available to all guests.   Get the best fare with Princess Savers

---
Cruise Discounts and Promotions for Norwegian Cruise Line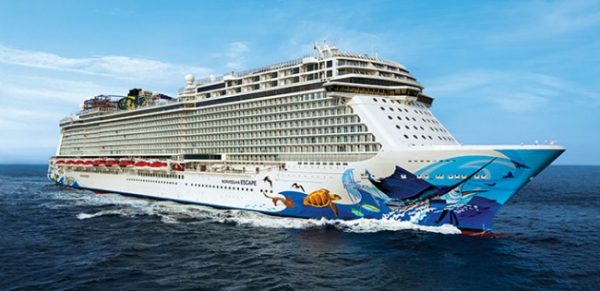 Norwegian Cruise Line's Peace of Mind Policy
Cancel Up to 48 Hours Prior -For all cruises through November 30, cancel up to 48 hours prior to your holiday start date.
100% Future Cruise Credit -Enjoy the flexibility to use your 100% Future Cruise Credit for sailings through December 2022.
Book Risk-Free -For all cruises December 1 and beyond, you can cancel up to 4 months before your sailing and receive a full refund under our regular cancellation policy.
ALL-NEW AIR FILTRATION – Installation of medical-grade air-filters, H13 HEPA, that remove 99.95% of airborne pathogens across our entire fleet to ensure the air you breathe is clean.
ENHANCED SCREENING PROTOCOLS – All guests will undergo an enhanced pre-embarkation health screening, and those considered at risk will undergo additional screening. Additionally, all crew will undergo extensive screening prior to embarkation and constant monitoring throughout the voyage. Touchless temperature checks and continuous monitoring of guests and crew throughout the voyage will help identify potential health issues, offering an additional layer of prevention and protection.
INCREASED SANITATION MEASURES – All ships are thoroughly cleaned and disinfected prior to every voyage in accordance with company protocols, which are developed in partnership with CDC's Vessel Sanitation Programme. Embarkation terminals will be sanitized continuously, and, where possible, fogged before and after each embarkation and debarkation. Further, all staterooms, suites and public areas will be cleaned, sanitized and disinfected at an increased frequency, and including the use of Electrostatic Spray Technology.
RESPONSIBLE SOCIAL DISTANCING – To provide even more space for responsible social distancing, guest capacity on board will be reduced. Staggered embarkation and online check-in will be implemented for proper social distancing. In addition, we are committed to reducing capacity in all public areas throughout the voyage.
ENHANCED MEDICAL RESOURCES – Onboard medical centres will be fully equipped with the latest testing kits and medical supplies. We are also increasing our medical team fleetwide. Additionally, each ship has dedicated isolation accommodations should the need arise.
EXTENDED SHIP TO SHORE SAFETY – We're partnering with our local destinations and tour operators to ensure our industry-leading health and sanitation protocols extend to the shoreside experience. We will only visit safe, open ports of call which may cause changes to your itinerary. Keeping our guests up-to-date with the latest confirmed changes impacting their itineraries is a top priority.
Balcony Bonus Sale on Norwegian Cruise Line
Step out to sunshine and sea breezes during our Balcony Bonus Sale. Book your next holiday with Norwegian and get a Balcony stateroom for the price of an Oceanview – available on all cruises in 2021 and beyond. Plus, get 5 Free at Sea Offers including Free Open Bar, Free Speciality Dining, Free Excursions, Free WiFi and Free Kids. But act fast, this deal ends soon!
HALF OFF SECOND GUEST CRUISE FARES
For a limited time only, you can save 50% on the second guest in your stateroom on over 250 cruises! Simply book any non-'x' category to qualify (IX, OX, BX and MX categories are ineligible). And with one guest paying half price, why not level up to a Balcony stateroom and take in all the views?
Don't miss this deal – lock it in today with 50% Off Deposits per person!
Sail Away with Norwegian's Best Cruise Fares
Book your next holiday with Norwegian's Sail Away steals – now including Free Excursions! Just look for "Sail Away" under Stateroom Options when you book – these are the Best Fares for Inside, Oceanview, Balcony, Club Balcony Suite and Mini-Suite categories, inclusive of a $50 per tour Shore Excursion credit

---
Cruise Discounts and Promotions for Holland America Cruise Line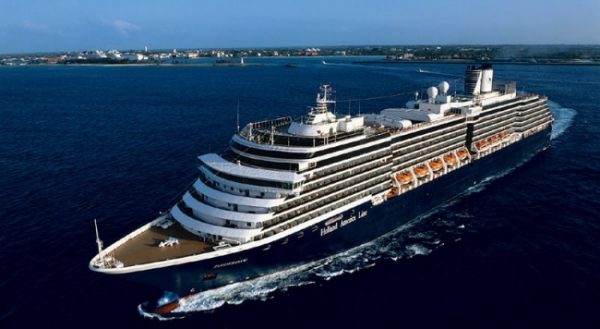 Book Your Cruise with Confidence
Book your cruise with confidence because you can cancel with our guarantee: Holland America Line values your well-being and appreciates your loyalty. To give you peace of mind and keep you confident in the transformative power of travel, we have enacted new short-term cancellation policies for cruise bookings that sail through December 31, 2021.   For new and existing bookings only made by August 31, 2020, for Holland America Line cruises sailing on or before December 31, 2021, consumers can cancel up to 30 days before the Eligible Cruise's departure and the consumer will receive a Future Cruise Credit ("FCC") equal to the non-refundable amount paid to Holland America Line.
Holland America Cruise Line Offers
Ask your travel counselor for the latest Holland America Cruise Line Offer today!

---