January 17, 2020 – February 9, 2020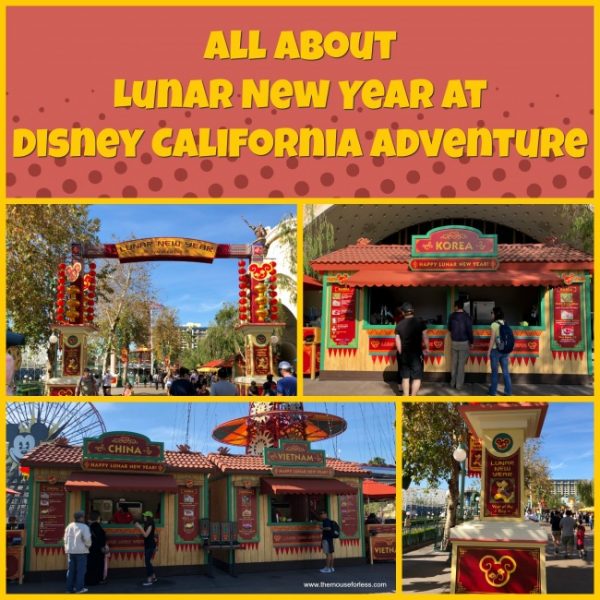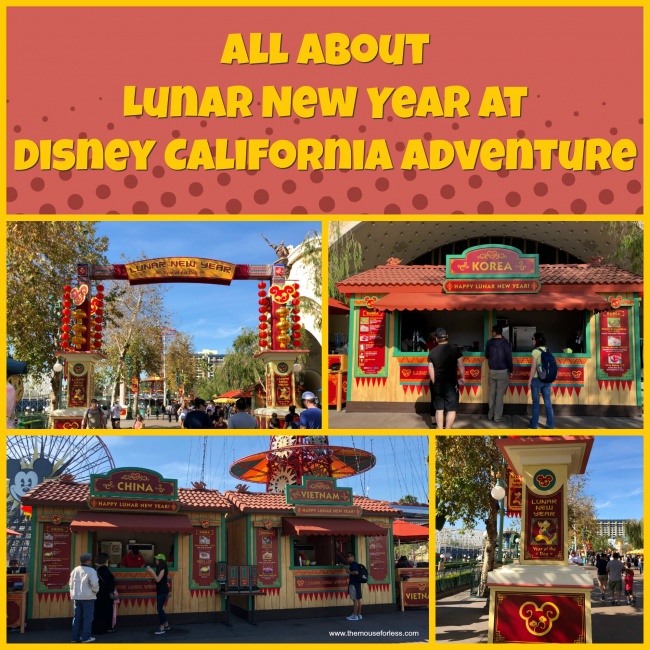 Lunar New Year
Celebrate the Year of the Mouse during the time-honored traditions that commemorate the start of the Lunar New Year with grand festivities at Disney California Adventure from January 17 through February 9.
The Lunar New Year Celebration is the perfect opportunity to explore culturally inspired food, music and entertainment. During the event, Guests of all ages will enjoy an impressive array of musicians and performances. Plus, be on the lookout for Disney Characters dressed in traditional garb, ready to take part in the fun! Guests will also be able to stroll beneath strings of ornamental lanterns, pay a visit to the Lucky Wishing Wall and explore the art of local artisans. In addition, take time to shop for Lunar New Year themed apparel, souvenirs and gifts to remember your experience.
Hurry Home Mulan's Procession Marketplace Kiosk Menus Entertainment Additional Fun
Hurry Home – Lunar New Year Celebration
Guests are invited to gather for a nighttime water show that celebrates family and friendship at Paradise Bay. This heartwarming tale is shown via mist screen and features Mulan, Mushu and their friend, a little lantern. During the show, Guests will be able to experience a little lantern's quest to reunite with family during their annual gathering to celebrate good fortune for the upcoming year! The story is told with 2 distinctive styles of animation that fill the screen, while sky-high fountains and dazzling light effects dance along to tell the tale. A moving musical score―originally created for the opening ceremony of Shanghai Disney Resort by award-winning composer Tan Dun―accompanies this show.
Mulan's Lunar New Year Procession
Make way for a magical parade honoring the Lunar New Year. Beloved Characters Mulan and Mushu will welcome Guests as they clap along as triumphant music from Mulan fills the air and a sea of performers flow gracefully through the streets.
Lunar New Year Marketplace Kiosks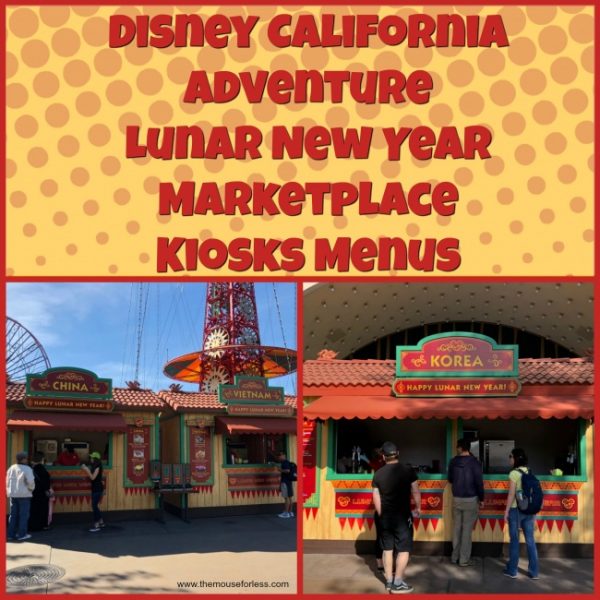 Longevity Noodle Co.
Chicken Meatballs and Lo Mein Noodles with Cabbage Salad and Apple-Ginger Sauce
Vegetable Egg Roll and Chilled Sesame Garlic Noodles with Cilantro-Cashew Sauce and Toasted Peanuts
Black Sesame Mochi Donut
Vietnamese Cold Brew with Coconut Milk
Tsingtao (bottled alcoholic beverage)
Lucky 8 Lantern
Shrimp Fried Rice with Garlic Bacon Edamame
Smoked Beef Bulgogi Shortrib on Rice Cake
Manadarin Orange and Green Tea Tart
Peach Sojito (alcoholic beverage)
Hitachino Nest Beer (bottled alcoholic beverage)
Prosperity Bao & Buns
Char Siu Pork Bao – Chinese BBQ Pork with Pickled Red Onions and Jalapeño
Mickey Chinese Hot Dog Bun
Lychee-Grapefruit Gin Spritzer (alcoholic beverage)
Kloud Original Gravity Lager (canned alcoholic beverage)
Red Dragon Spice Traders
Firecracker Three Cup Chicken Wings
Shrimp & Ginger Dumplings with Soy Reduction and Sriracha Mayo
Purple Yam Macaron with Crème Fraîche
Honey-Lime Green Tea
Honey-Lime Green Tea with Bourbon (alcoholic beverage)
Bottle Logic Hanamacahi (draft alcoholic beverage)
Paradise Garden Grill
Korean Grilled Chicken
Plant-Based Orange Tempeh
Pork Belly Bahn Mi
Whole Deep-Fried Tilapia with Chili Lime Vinaigrette and Steamed Rice
Mango Mousse
Almond Milk Iced Tea
Orange Blossom Cocktail (alcoholic beverage)
Tiger Beer
Kloud Beer
Lucky Fortune Cookery
Bao Bun with Seasonal Fruit
Outdoor Vending Carts
Almond Cookies
Bulgogi Chicken
Lamplight Lounge
Pork Belly Egg Rolls – Fried crispy egg rolls stuffed with tender pork belly and served with spicy mango glaze, pickled carrots, leaf lettuce, fresh cucumber, and pork rinds
Lunar Cocktail – Japanese vodka, Yuzu liquor, strawberry puree, and sparkling sake
2020 Lunar New Year Sip and Savor Pass
Embark on a culinary adventure with the Sip and Savor Pass, which consists of a commemorative credential and 6 coupons redeemable for food and beverage offerings (excluding alcohol) at these select Lunar New Year Marketplace locations:
Longevity Noodle Co.
Lucky 8 Lantern
Prosperity Bao & Buns
Red Dragon Spice Traders
Paradise Garden Grill
Festival Food and Beverage Cart
Each Sip and Savor Pass is $42, including tax. Annual Passholder discount is available and AP holders will also receive a special Passholder lanyard as well as buttons (at participating marketplaces upon coupon redemption).
The Sip and Savor Pass is available for sale at Elias & Co., Kingswell Camera Shop, Festival Gifts (in Paradise Gardens Park), the Sip and Savor Cart and each Lunar New Year Marketplace.
Entertainment
Guests will be able to enjoy live, daily performances with authentic musicians including:
The Gugu Drum Group from Shanghai, China – a high-energy troupe of drummers, storytellers and athletes who perform authentic movements and ancient percussive rhythms to bring timeless Chinese proverbs, fables and fairy tales to life at Paradise Park.
Vietnamese artist Dat Nguyen – plays traditional and original compositions on classical guitar, lute, flute and melodica at Paradise Garden Bandstand.
Korean musician Luna Lee – plays the gayageum, an ancient Korean string instrument at Paradise Garden Bandstand.
Additional local performers including Korean drummers, Vietnamese hat dancers, Vietnamese flower dancers, and Korean fan dancers perform daily.
Additional Lunar New Year Fun
An area for guests to try their hand at arts and crafts with local artisans including Chinese calligraphy, paper lantern making and complimentary face painting.
A Lucky Wishing Wall, where guests may add their own wishes for a wonderful future
Beautiful Lunar New Year décor, including ornamental lanterns and banners wishing guests a Happy Lunar New Year in English, Chinese, Korean and Vietnamese
New Lunar New Year merchandise inspired by different cultures of East Asia is available.