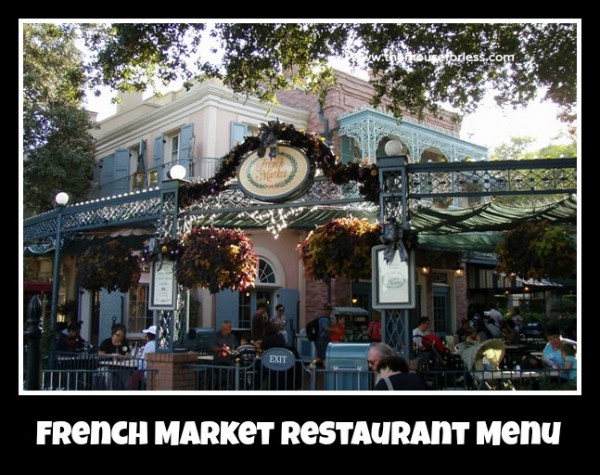 French Market will close on February 17, 2023 to make way for an updated restaurant concept – Tiana's Palace. More information can be found here. 
This delightful dining experience features favorites from the American South, including Plantation Citrus Chicken, Roast Beef Royale, Salmon Creole, and jambalaya.  French Market features a children's menu featuring beloved classics like citrus chicken breast and macaroni and cheese.
French Market Restaurant is located in the Disneyland theme park.  Find more Disneyland dining locations on our Disneyland Resorts menus page.
Restaurant Info: Cajun-Creole, Lunch/Dinner, $ – $14.99 or less per Adult
Annual Passport Discounts: Signature Passport, Premium, Signature Plus Passport: 15%
Annual Passport Discounts: Deluxe, Southern California Select, Southern California Passport: 10%

Planning a Disneyland Vacation?
For a Free no-obligation quote, contact our sponsor
The Magic For Less Travel
. The Magic For Less Travel is an Authorized Disney Vacation Planner and has been helping guests plan magical vacations since 2002. Receive the best prices and free travel planning services. Their fee-free services will help you save time, money, and stress while planning a vacation designed around you and your needs!
French Market Menu
Menu Date: 08/2022
Soup
Soup in a Sourghdough Bread Bowl
fresh-baked Sourdough Bread , Vanilla-Pineapple Compote, with choice of Slow-roasted Louisiana Beef Stew or Creamy Corn Chowder – $11.49
Signature Po' Boy
Louisiana-style Buttered Shrimp Po' Boy
Lettuce, Tomatoes and Citrus-Caper Mayonnaise served on a Rustic Roll with Seasoned Chips – $14.49
Slow-roasted Beef
Fried Onions and Creamy Horseradish Sauce served on a Rustic Roll with Au Jus and Seasoned Chips – $14.49
Entrées
Cajun-style Chicken Caesar Salad
Romaine Lettuce, Parmesan Cheese, and House-made Croutons with a traditional Caesar Dressing – $11.99
Jambalaya
Creole-style Seafood, Chicken and Andouille Sausage Stew over Rice – $14.99
Vegetable Jambalaya
Creole-style Vegetable Stew over Rice – $12.99
Herb-roasted Chicken 
Mashed Potatoes and Gravy, served with Chef's Choice of Vegetables – $16.49
Sides
Fruit Plate – $5.99
Side of Mashed Potatoes – $2.99
Side of Seasonal Vegetables – $2.99
Side of Rice – $2.99
Desserts
Pirate P-arrr-fait
Vanilla Rum-flavored Baba, Vanilla-Pineapple Compote, Rum-flavored Mousse, and assorted Decorations – $7.99
Gluten/Wheat Allergy Friendly
Jambalaya
Creole-style Seafood, Chicken and Andouille Sausage Stew over Rice
Herb-roasted Chicken
Mashed Potatoes served with Chef's Choice of Vegetables
Cajun-style Chicken Caesar Salad
Romaine Lettuce, and Parmesan Cheese with a traditional Caesar Dressing
Disney Check Meal – Chicken Breast with Rice
served with Applesauce, a Cuties® Mandarin and choice of Small Lowfat Milk or Small DASANI® Water. Meets Disney Nutrition Guidelines  for Complete Meals without substitutions
Egg Allergy Friendly
Jambalaya 
Creole-style Seafood, Chicken and Andouille Sausage Stew over Rice
Herb-roasted Chicken
Mashed Potatoes and Gravy, served with Chef's Choice of Vegetables
Soup in Sourdough Bread Bowl
fresh baked Sourdough Bread Bowl with choice of Clam Chowder or Creamy Corn Chowder
Disney Check Meal – Chicken Breast with Rice
served with Applesauce, a Cuties® Mandarin and choice of Small Lowfat Milk or Small DASANI® Water. Meets Disney Nutrition Guidelines for Complete Meals without substitutions
Milk Allergy Friendly
Jambalaya 
Creole-style seafood, Chicken and Andouille Sausage Stew served over Rice
Herb-roasted Chicken
served with Rice and Seasonal Vegetable
Disney Check Meal – Chicken Breast with Rice
served with Applesauce, Cuties® Mandarin and choice of Small DASANI® Water. Meets Disney Nutrition Guidelines for Complete Meals without substitutions
Disney Check Meal – Pasta with Marinara Sauce
served with Applesauce, Cuties® Mandarin and choice of Small Lowfat Milk or DASANI® Water. Meets Disney Nutrition Guidelines for Complete Meals without subtistutions
Soy Allergy Friendly
Jambalaya 
Creole-style seafood, Chicken and Andouille Sausage Stew served over Rice
Herb-roasted Chicken
served with Rice and Seasonal Vegetable
Disney Check Meal – Chicken Breast with Rice
served with Applesauce, Cuties® Mandarin and choice of Small Lowfat Milk or Small DASANI® Water. Meets Disney Nutrition Guidelines for Complete Meals without substitutions
Disney Check Meal – Pasta with Marinara Sauce
served with Applesauce, Cuties® Mandarin and choice of Small Lowfat Milk or DASANI® Water. Meets Disney Nutrition Guidelines for Complete Meals without substitutions
Beverages
Assorted Fountain Beverages
Regular – $4.29
Large – $4.99
New Orleans Mint Julep
refreshing Mint drink with a hint of Lime flavor – $4.99
Minute Maid Juice Box – $1.99
Coffee – $3.49
Coffee – Decaffeinated – $3.49
Hot Tea – $3.49
Hot Cocoa – $3.49
Chocolate Milk – $1.99
Lowfat Milk – $1.99
Dasani Bottled Water – $3.99
Travel Mug
(includes Coffee or Hot Cocoa at time of purchase and excludes Specialty Drinks) – $10.29
French Market Kids' Menu
Menu Date: 08/2022
Kid's Meal
Macaroni and Cheese
served with GoGo squeeZ® Applesauce, seasonal Fruit, and choice of small Lowfat Milk or small Dasani® Water. – $7.49
Kid's Disney Check Meals
Pasta with Marinara Sauce 
served with GoGo squeeZ® Applesauce, Seasonal Fruit, and choice of small Lowfat Milk or small Dasani® Water. Meets Disney Nutrition Guidelines for Complete Meals without substitutions – $7.49
Chicken Breast with Rice 
served with GoGo squeeZ® Applesauce, Seasonal Fruit, and choice of small Lowfat Milk or small Dasani® Water. Meets Disney Nutrition Guidelines for Complete Meals without substitutions – $7.99
Toddler Meal
For Kids Ages 3 and under
Yummy Cheesy Macaroni
with GoGo squeeZ® Applesauce and small Lowfat Milk – $4.99
** French Market Menu and Prices are Subject to Change Without Notice **