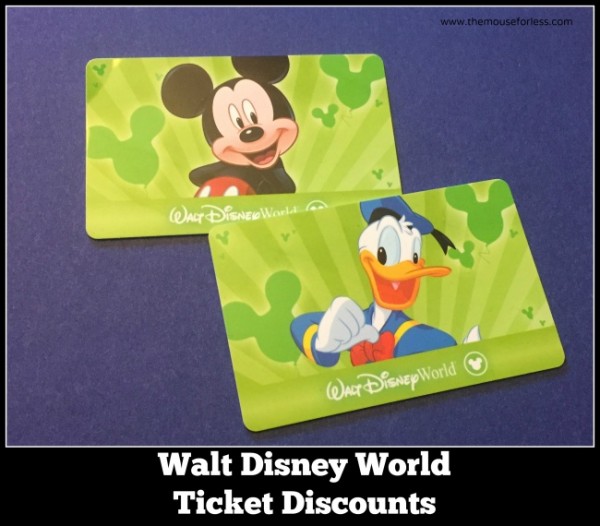 Occasionally Disney will offer special deals on it tickets as part of a Disney vacation package. When available, you can find them listed on our Walt Disney World Discount page.
Advance Purchase Discount Before Buying Tickets in Advance Last Minute Time Share Tours Travel, Rewards & Discount Programs Military Occupational Y.E.S. Program Florida Resident DVC Other Discounts
Advance Purchase Discount
New for 2017, Disney introduced a $20 savings on a 3-Day or longer Magic your Way Ticket when purchased on Disneyworld.com or at 407-W-DISNEY as compared to the price for the same ticket at the theme park ticket windows, Guest Relations and Sports Welcome Center.
Before Buying Tickets in Advance
The first thing you should know is that all multi-day Walt Disney World Tickets are nontransferable and must be used by the same person on any and all days. The person who uses the ticket for the very first time must use the ticket for its entirety. Walt Disney World uses biometric measurements to identify the owner of the ticket and prevent ticket fraud. Furthermore, in Florida, it's illegal to sell partly-used multi-day attraction tickets, but that doesn't stop scammers from selling them. It's a good practice to avoid tickets sold on eBay, Craigslist, etc. whether they or used or not. Never buy partially used tickets from any of the various used-ticket brokers operating in the Orlando and Kissimmee area or from any source! You just don't know what you are getting and even if you manage to get past Disney's fraud protection, you have no guarantee that there are any days left on the tickets you purchase.
Also that many Walt Disney World discounted packages require that tickets are included for each person traveling on the reservation.  That means if you purchased stand-alone tickets in advance you may also be required to purchase tickets with your package in order to take advantage of the best Walt Disney World discount. Even if you are able to get tickets with a discount, the amount of money you would save with discounted packages is usually much greater.  Instead of purchasing your stand-alone ticket in advance, you may want to wait and see if a discounted package that includes tickets is available for your travel dates. Visit our Walt Disney World discount page to see all the current Walt Disney World discounts.
Walt Disney World Ticket Brokers and Vendors
Beyond buying only the ticket options needed, discounted Walt Disney World admission tickets are offered by a number of ticket brokers and vendors online. Ticket brokers buy their passes in bulk from Disney and then pass the savings on. In some cases ticket broker prices are better than ticket prices bought directly through Disney online or at the Gate. Only use online ticket vendors with stellar reputations when purchasing any attraction tickets. When shopping for prices, just be sure to compare prices equivocally across the board. Check whether tax and/or shipping are included in the price before assuming one price is better than another. Disney and many other vendors don't include them in the prices shown online. Most ticket vendors that carry tickets for Walt Disney World also have tickets for Orlando's other popular attractions.
Last Minute Walt Disney World Ticket Discounts
If you are in the Orlando vicinity and haven't purchased tickets yet, discount tickets for Walt Disney World are available at select Wal-Mart stores that have a ticket center. Phone orders are not accepted. Tickets must be purchased in person at the store. All ticket types may not be available.
The following Wal-Mart stores near Walt Disney World (among others) participate in the sale of discounted Walt Disney World tickets:
Wal-Mart Supercenter 0817
4444 West Vine Street
Kissimmee, FL 34741
Phone: (407) 397-7000
Wal-Mart Supercenter 5420
3250 Vineland Road
Kissimmee, FL 32746
Phone: (407) 397-1125
Timeshare Tours
A method for getting free single-day tickets is to tour Orlando timeshares. This is not a method we are fond of, and typically only benefits guests who are interested one-day attraction tickets.
Travel, Rewards and Discount Programs
Check the web sites of any Travel or Discount Clubs to which you belong for attraction discounts and offers. AAA and CAA offices usually carry select Walt Disney World multi-day tickets members can purchase at a discount, but the tickets available can vary by location. And don't overlook Rewards programs. These can include hotel, airlines, banking, merchant and grocery store rewards programs. Hilton HHonors program allows members to trade in points for Walt Disney World passes. Giant Eagle's fuel perks program sells Disney gift cards and gives you a discount on gas for your purchase. Disney gift cards can be used to purchase theme park admission tickets and annual passes (The Disney gift card can not be used to purchase tickets online). Disney's Reward Visa Card's Reward Dollars can be redeemed for Walt Disney World Tickets.

Periodically, specific retail stores offer deals on Disney gift cards. This is particularly common around the holiday season. Disney gift cards can be used in at the parks to purchase or pay for tours, meals, recreational activities, park souvenirs, admission tickets for theme parks, Cirque du Soleil La Nouba tickets, hotel stays, and more (some restrictions may apply). For park locations that do not accept the Disney gift card (some non-Disney owned merchant shops and restaurants), you can simply make the charge to your room key and pay the entire or a portion of the total with your Disney gift card!
• Target frequently offers Disney gift cards at 5% off when you use the Target Red Card to make your purchase, which is better than the 1% or 2% back that Disney Visa Cardholders get.
Military Discounts
Active and retired military as well DOD employees can obtain discounted Walt Disney World tickets through their military base MWR offices and Shades of Green, located on Walt Disney World property. Shades of Green offers discounted Disney tickets, as well as other discounted area attraction tickets. A military identification card or Department of Defense identification card is required at the time of Purchase. The Shades of Green Attraction Ticket Sales Office is located on the lobby level of the resort and is open daily.
Occupational Discounts
Disney does not typically offer discounted tickets for any particular occupations.  Some companies occasionally offer discounts.  Check with your employee benefit office to see if you are eligible for any Corporate offers or discounts.
Discounts Through Disney's Youth Programs
Organized youth groups of ten or more qualify for discounted Walt Disney World tickets through Disney's Youth Program. To participate, you must live in the United States, Puerto Rico or Canada and be between the ages of 3 and 22. Two complimentary chaperone tickets are provided for each group that participates.
Disney Vacation Club Discounts
DVC members qualify for a number of Disney discounts including discounts on Walt Disney World Annual Passes. A new Annual Pass may be purchased for each member of the owner's immediate household, up to a total of eight (8) per year, at a discount. WDW Passes may be purchased by calling Member Services or by going to Guest Relations at the theme parks or Downtown Disney area.
Special Deals for Florida Residents
Florida Resident 3- and 4-day tickets offer a savings, plus extended time to use. Florida Resident 3- and 4-Day Tickets and Options expire 6 months after first use or 12/17/2017, whichever comes first. Block-out dates apply. Valid proof of Florida residency per adult is required for purchase and use. See our Walt Disney World Ticket page for prices and details.
For about half of the regular price, The Park Hopper or Park Hopper Plus options may be added to the 3- and 4-day Florida Resident Tickets. A Full-priced 1-day MYW base ticket is also available featuring a special Florida Resident discount to add the Park Hopper option. Valid proof of Florida residency per adult is required for purchase and use. See our Walt Disney World Ticket page for prices and details.
Florida Resident annual and premium annual passes are also available from Disney at a discount, as well as other annual passes with restrictions. See our Walt Disney World Ticket page for prices and details.
Auto Club South offers an additional discount on 3-Day and 4-Day Magic Your Way Florida Resident tickets and select Florida Resident annual and seasonal passes and renewals for AAA members. Discounted tickets and passes are available at local offices in Florida and online.
Other Great Disney and Disney Area Ticket Discounts
Visit Our Orlando Attraction Discounts Page for Ticket Savings on Universal Orlando, Seaworld Orlando, Busch Gardens Tampa, Kennedy Space Center, Orlando Dinner Shows and More.
Visit Our Disneyland Discounts Page for Savings on Tickets and Area Attractions.
Visit Our Universal Studios Discounts Page for Savings on Packages with Tickets.
Visit Our Current Code Page for Savings on Walt Disney World and Disneyland Packages with Tickets and Specials for Disney Cruise Line.