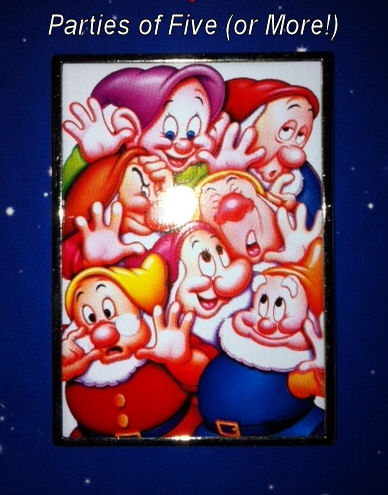 Traveling is often designed for parties of 2-4 people. But what happens when your family has more than four? Walt Disney World offers several options when traveling with larger groups that make your stay fun and won't leave anyone without a bed.
The first thing to consider is the room occupancy of each hotel. Most standard rooms accommodate four guests, plus a crib with a child under three years old. To see the exact guidelines for each hotel on Walt Disney World property, visit our Room Occupancy page. Here are some general guidelines:
Value resorts accommodate up to four people plus a crib. Four plus an infant might leave little walking space, but it is permissible.
Disney offers two options in the value category that can sleep up to six guests. Family suites are available at All-Star Music and Art of Animation, and not only feature a separate bedroom, but also two bathrooms and a kitchenette. These amenities can be very valuable for any family, but especially a larger one.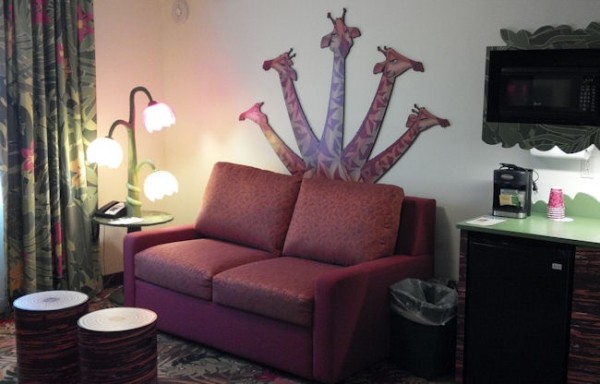 Living Room in the Lion King family suite at Art of Animation resort.
Some Moderate Resorts also accommodate five people plus a crib.  Rooms at Port Orleans Riverside and Disney's Caribbean Beach Resort have rooms that have two queen size beds and one bunk-size pull down bed.  This is not a full size mattress, but is big enough for a typical child under 10 years old. A larger teen or adult isn't likely to be comfortable in this configuration.
If you prefer a woodsier atmosphere, the cabins at Fort Wilderness sleep six guests. They feature a full kitchen as well as a bedroom with a double bed, bunk beds, and a Murphy bed. The cabins each have a charcoal grill and picnic table outside to help with some quick meals.


Interior of a cabin at Fort Wilderness
Disney Deluxe resorts (with the exception of Wilderness Lodge and Animal Kingdom Lodge) sleep five (plus a crib). The fifth person sleeps on a day bed. These rooms are typically larger and can handle five people easily. Wilderness Lodge and Animal Kingdom Lodge standard room accommodate four plus a crib.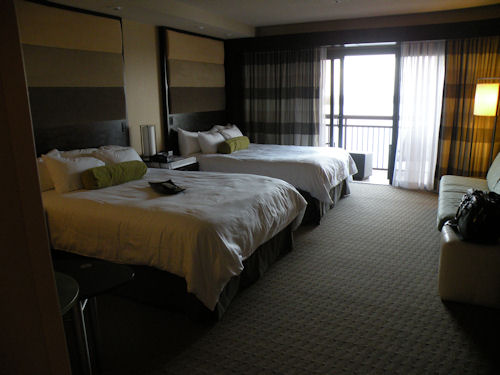 Standard room at the Contemporary Resort
Disney's Deluxe Villa Resorts  are also available and  come in studio, one- and two-bedroom options. There are even a few grand villas which feature three bedrooms. These options can be quite roomy and have a kitchenette or full kitchen.
Disney also have some suite accommodations available. Not all suites accommodate large parties, but some do. The best way to find out about suite availability is to contact your travel agent or Disney directly.
Finally,  guests can choose to book multiple rooms in the hotel of your choice. This will afford guests the chance to have a little more floor space, another bathroom, and a bit of privacy. Multiple rooms can be connecting or adjoining. Connecting rooms have an interior door connecting the rooms. Adjoining rooms are next to each other but do not have an interior connecting doorway. Parties with more children than adults will be given preference for connecting rooms but no room request is guaranteed. All rooms booked must have at least one adult on the reservation.
Beyond Disney property, there are other choices to accommodate larger parties, but we recommend staying on-site because Disney Resorts have a number of benefits.. Keep in mind that off site transportation may not run frequently and a rental car may be faster. But either way, everyone will need to be transported to and from the parks. Larger rental cars might mean that everyone in the party needs to stay in the parks for the same length of time.
The best choice for your family is out there. Take into consideration your family's needs for both sleeping arrangements as well as transportation to and from the parks, and you will find a solution to meet everyone's needs.