Top Ten Tips for Touring Walt Disney World in an ECV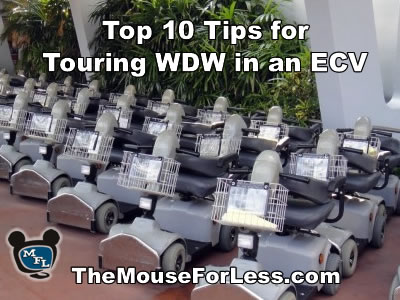 °o° While touring Walt Disney World in an ECV is fairly easy, there still are a few things to think about and plan for before making your trip and/or during your trip.  Here are the best of the best tips as shared by members of The Mouse For Less Group. °o°
Rainy Days. If it looks like it might rain, throw a poncho over the handle and seat of the ECV to keep it dry.  Also, take a towel with you to wipe the seat, so you don't have to sit on a wet seat in case it gets rained on.
Have Your Companion Help Clear a Path. If you are traveling with walking companions, have them walk in front of you to clear a path when it is crowded.
Practice Makes Perfect. If you are renting an ECV from an outside company and are having it dropped off at your resort, take time to practice at the resort before heading to the parks. If you are just renting from Walt Disney World, find an uncrowded corner of the park to practice some before entering the crowds rushing to their next ride.
Bus Transporation. The hardest thing to do while touring Walt Disney World in an ECV, that you can't practice ahead of time, is boarding a bus. Some buses have elevators, and you will need to make sure your ECV in is the center of the elevator. Most of the buses have ramps, and you may need to adjust your power going up the ramp. Do this carefully, or you may find your ECV out of control once on the flat bus.
Outside ECV Rental. Outside companies are cheaper than renting from the parks, and you have a variety of ECVs to choose from. Some of the companies that are Disney friendly include: Best Price Scooters and Strollers, Apple Scooter, ScooterBug, CARE Scooter Rentals, and Buena Vista Scooter Rentals. When renting from an outside company, you will also be able to use your ECV at the resort, unlike if you rented at the parks. In addition, you are guaranteed to have an ECV to use while you're at the Disney Theme Park.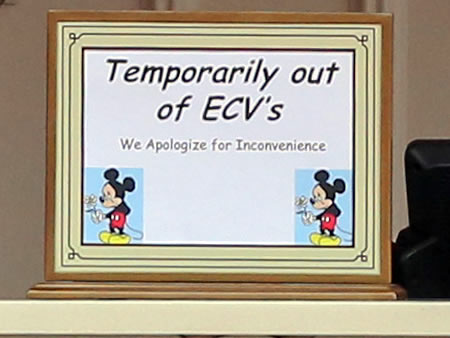 Rental ECV Delivery. You can rent from any ECV rental company, but only 5 companies are approved by Walt Disney World to leave your ECV with Bell Services at your resort. If your company is not on the approved list, you will have to make arrangements to meet the company to take delivery and to make the return at the end of your trip. Currently, the 5 approved companies are Apple Scooter, Buena Vista Scooter Rentals, CARE Medical Equipment, Best Price Mobility, and Scooterbug.
Insurance and Reservation Fees. When making comparisons for renting from outside companies, check to see if damage insurance and reservations fees are included in the final price.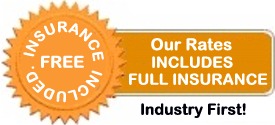 ECV Identification. In order to aid in finding your ECV in the crowd, tie something brightly colored on the seat or handle. One person even made seat covers from some fun Mickey print fleece. The seat cover helps the ECV stand out in the crowd and keeps the rider from sticking to the seat in hot weather.
Leave Time For Travel. If you ride Disney transportation, there is generally a limit of 2 ECVs per boat or bus at a time. If you choose to drive, disabled parking tends to fill up quickly.
Attraction Lines. At some attractions, you will be asked to wait in the Stand-by line (if you don't have a Lightning Lane reservation), and at other attractions, you will be directed to an alternate entrance. This depends on the setup of the line at each attraction, so make sure you ask the Cast Member at the line entrance where you should go.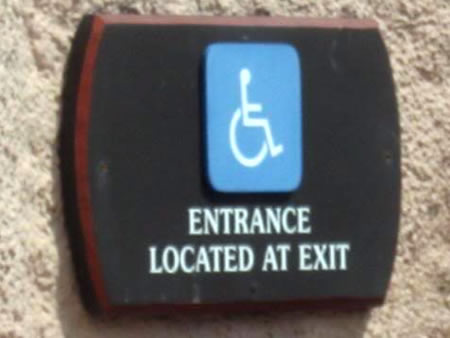 BONUS:  Now, for the most important tip of all!  No matter how people are maneuvering through Walt Disney World, they are likely excited and maybe a little distracted.  Whether a person is touring Walt Disney World in an ECV, pushing a wheelchair or stroller, or walking; watch out for each other.  Be courteous and help everyone have a wonderful day at the Walt Disney World theme parks.