Since the Millennium Celebration in October 1999, pin trading has become a fun and favorite part of a visit to Disney Parks. Pins are great souvenirs, and trading offers opportunity to interact with Cast Members and even other guests.
Who can pin trade?

Anyone! Pin collecting and trading is fun for all ages. Pins are small enough to carry through the parks. For example, they can be worn on a lanyard, a hat, a vest, or just about anything!
What should I trade?

Any type of Disney pin can be fun to collect and trade. There are so many types of pins to be had. Guests usually find it easiest to collect a specific character or type of pins. There are resort pins, ride pins, park pins, and more.
Are all pins tradable?

Unfortunately, no. You can collect any type of pin that you wish, but not all are tradable with Cast Members. Pins should have "Disney," "Disneyland Resort," or "Walt Disney World Resort" printed on the back. Pins are cloisonne, semi-cloisonne or hard enamel metal pins. In order to trade, pins should be in good condition. In addition, some pins that were originally part of a set are not tradable as a single pin.
There are also a few types of pins that Cast Members are not allowed to trade.  These include service pins, language pins, and name pins.   Here is a quick run down of Disney Pin Trading Etiquette that includes which pins are and are not acceptable.
Where do I get pins and how do I start?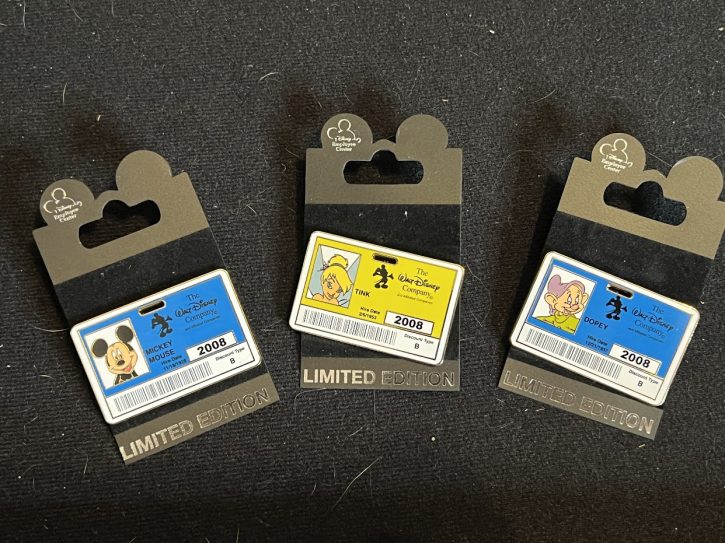 Pins are available and many retail locations throughout the parks, resorts, and Downtown Disney. Some guests like to start out with some pins before a trip. There are online sources, such as eBay, where pins are available. The Disney Store online has a good section on pins as well.  Sometimes guests purchase multiple pins before traveling and then work on trading at the parks.
There are also starter sets available. This will include a lanyard and several pins. Some starter sets even have duplicates — one to save, and one to trade.  This is a great way to get started with Disney Pin Trading.
What else do I need?

Nothing, really. While a lanyard isn't necessary, it is useful to have an easy way to display the collection. Pins can be put on anything, though. You can display your collection on your shirt, bag, hat, etc.
There are also locking backs available. Sometimes the pin backs can come off which will result in a lost pin. Locking backs help keep the pin in place. They are especially useful if the pin is in a spot that gets bumped often. This isn't necessary though, and is just a personal preference.
Do I have to trade?

No! Sometimes it's just fun to display your treasured pins.
If I want to trade, where do I start?

It's often easiest to start with Cast Members. They will have lanyards or some other way to display pins. Cast Members love to trade. Just ask to see their pins. If there isn't a pin that you would like to trade for, that's fine. Just thank them and continue on your way. Cast members will trade for any pin you like as long as they don't already have one one their lanyard (and the pin meets the other tradable criteria.)
If a Cast Member is wearing pins on a green lanyard, those pins may only be traded with children age 12 and under.
Some guests will also enjoy pin trading with other guests. If a you would like to trade with someone, just ask. Even if another guest does not want to trade, just looking at their collection can be fun.
To initiate a trade with another guest, say, "May I look at your pins? Would you like to trade?"
Is there a down side?

"Pin sharks" are serious collectors who are not honest.  A pin shark is someone who is a serious collector, and wouldn't mind furthering their own collection by taking advantage of someone who might not be aware of the value of their pins. Some limited edition pins are pins are high in value.  Unfortunately, there are people who would try and trade a pin of theirs worth very little value for a very valuable pin of someone else's. They may use high-pressure tactics; such as telling you that the pin they are going to trade is a very valuable pin. Don't worry, there aren't very many people out there like this, but they do exist. As long as you trade for pins you like, you should come away happy. If someone is pressuring you, just say "No, thank you" and walk away.
Can I only trade in the parks?

It's easy to find cast members with pins at the resorts.  However, there are special pin trading events that might be of interest as your pin collection grows.   Sometimes resorts and  Disney Cruise Line will offer Disney pin trading events.
I'm home. Now what do I do with the pins?
There are many great ideas for how to display your pins at home. Some people cover a cork board with fabric or paper and display the pins on it. Some people purchase (or make!) a display binder with pages for the pins.  Others use shadow boxes. The ideas are endless!
Don't forget to keep some pins ready for next time you decide to participate in Disney Pin Trading. Bring your lanyard and your trader pins back on your next trip. It's great fun to keep building your collection and meeting new people at the same time.