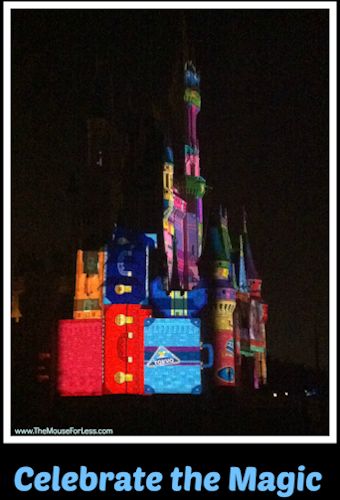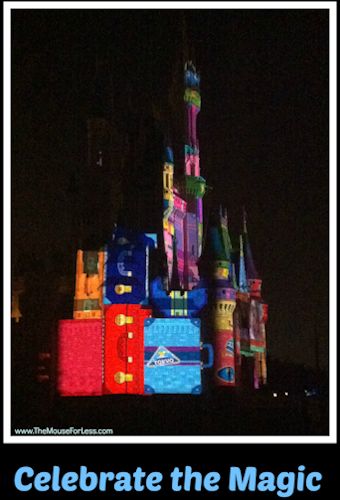 Celebrate the Magic ended its nightly showings at the Magic Kingdom on November 3, 2016. It has been replaced by the Once Upon a Time projection show.
Celebrate the Magic is a fantastic nighttime show at the Magic Kingdom that features projections of animated images on Cinderella Castle. In a nutshell, the show's focus is on Disney's long history of storytelling. "Celebrate the Magic" combines music and spectacular imagery, and special effects, while paying tribute to classic and contemporary Disney tales. Many of Disney's vast collection of movies are included in the show via one form or another.
The effects of this show are just incredible. Vignettes of images flurry in front of your eyes. Some visually stunning scenes include the Tangled scene showcasing the lanterns, Elsa belting out "Let It Go", a pirate fight featuring Captain Jack Sparrow, a Wreck-it Ralph montage, and Alice in Wonderland's tea party. Perhaps the most realistic is when it appears as though Buzz Lightyear's rocket ship really is blasting off. The show is also extremely full of heart. It's hard not to shed a tear or two while watching it. Simply put, throughout the show, the castle is transformed into a colorful canvas, in a wonderful kaleidoscope of fantasy and magic.
Another neat factor about this show is that it can be changed depending on season. In the past, there has been a summer segment, featuring Lilo and Stitch and Ariel from The Little Mermaid; a villains segment for Halloween, featuring famous Disney bad guys and gals; and a holiday segment featuring a gingerbread house and peppermint sticks.
The music is also key. First is the song created especially for the show, also titled "Celebrate the Magic." Mixed in between are versions of your favorite Disney songs, showcased in fun new ways.
The show typically occurs twice nightly, once before Wishes and once immediately after. It is approximately 10 minutes long and is a not-to-be-missed show.
For guests who truly want the best vantage point, make sure you view this show from the front of the castle on Main Street USA.