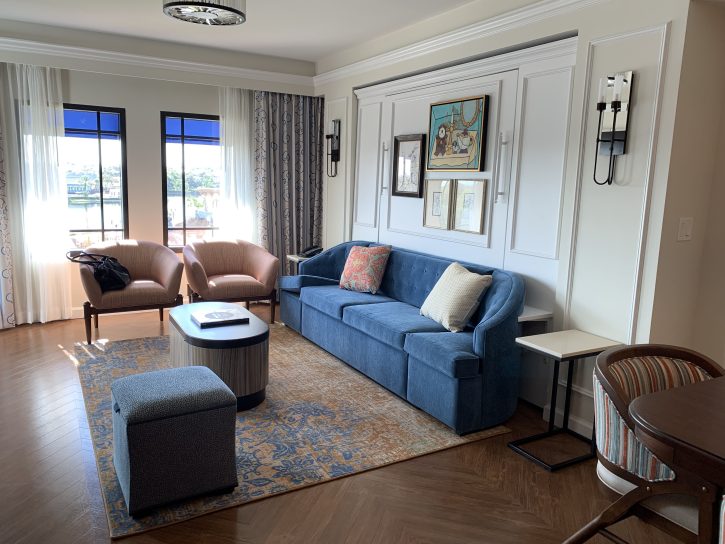 Making Disney Resort Room Requests
Making room requests for your Walt Disney World Resort is simple through Walt Disney World's MyDisneyExperience app or website!  After you have set up your account through MyDisneyExperience, follow these simple steps to make room requests for your upcoming Walt Disney World vacation.
Room Request Step One:
In order to make your reservations, you will first need to sign into your Disney account.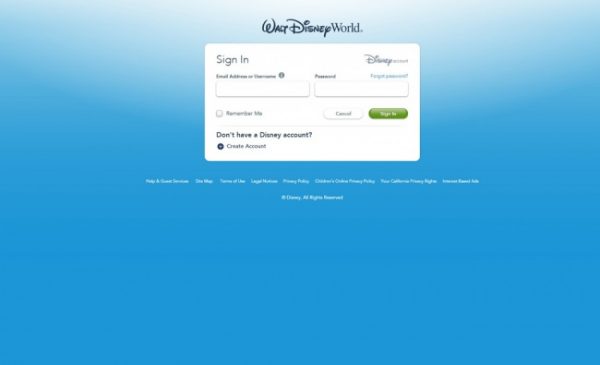 Room Request Step Two:
Click on MyDisneyExperience on the right hand side of the page.  The drop down options will appear and you need to click on "My Reservations and Tickets".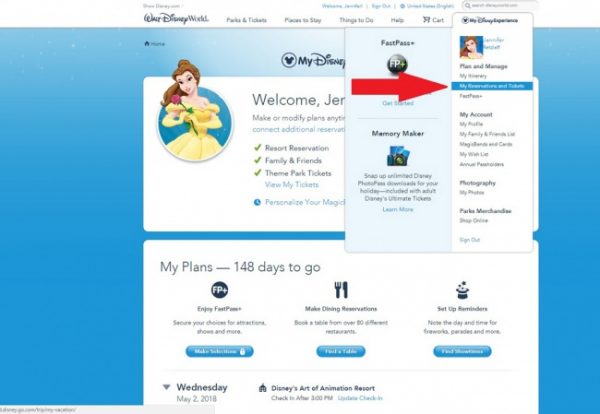 Room Request Step Three:
Once you have clicked "My Reservations and Tickets," your Walt Disney World reservations should come up.  If this isn't the case, you will need to stop and click on "Link Resort Reservation" where you can link your reservation easily using your confirmation number.
If you can see your reservation, you can then click on the blue button that says "check-in".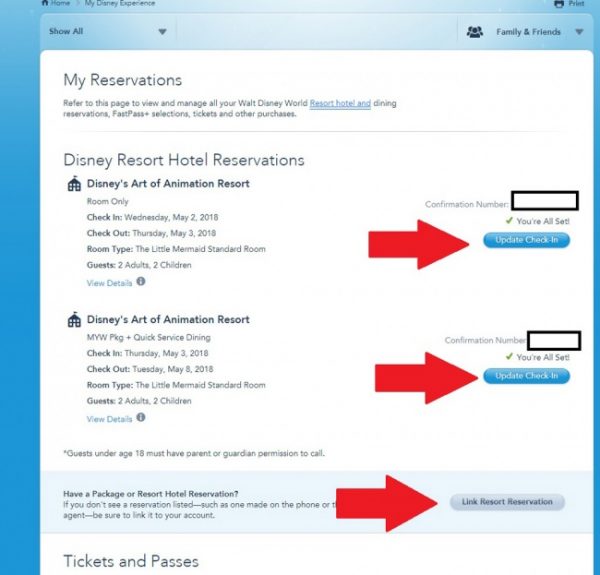 Room Request Step Four
This will pull up a page that gives you a list of details you can add for your vacation prior to arrival to help make your check-in faster.  Items such as hotel charges, pin for your MagicBand and more can all be added in this area.  In order to get to your room requests, you need to click on the "show details" on the ride side of the page.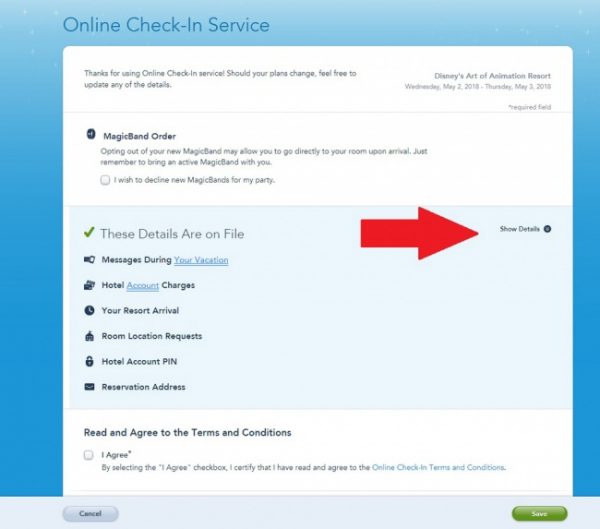 Room Request Step Five
Once you hit "more details" all of these boxes will expand.  This is where you will be able to add a credit card for charges, choose your pin for MagicBands, and insert a cell phone for room and dining alerts.  This is also where you can make room requests.  The fourth option down is "room location requests".  You will need to click on edit on the right side to open more options.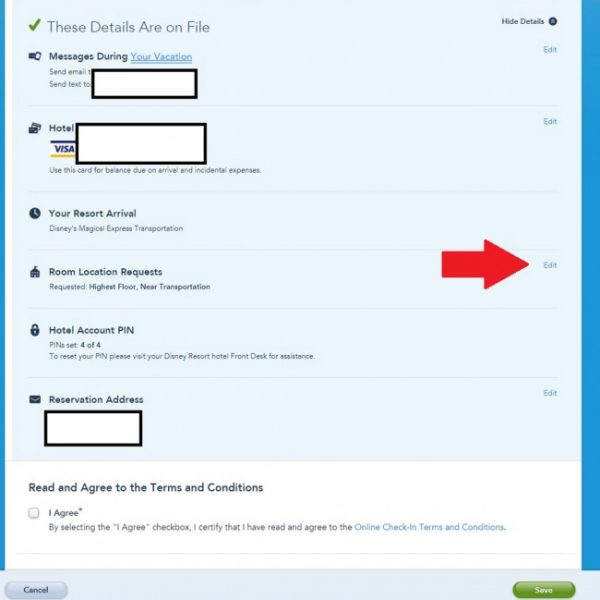 Room Request Steps Six and Seven
You will be able to make two room requests on this page.  There are numerous options when it comes to room requests at Walt Disney World Resorts.  The main ones are ground floor, highest floor, lake view, landscape view, near elevator, near transportation, or near stairs.  You will be able to choose two different requests.  Finally, right below these requests boxes is a small checkbox that states, "arriving early? Check here if having your room ready for early arrival is a higher priority than any of the requests you have selected".  This gives you another option when making your room requests depending on your arrival time.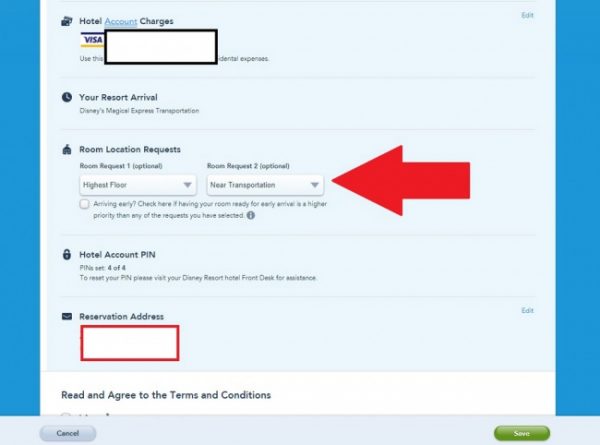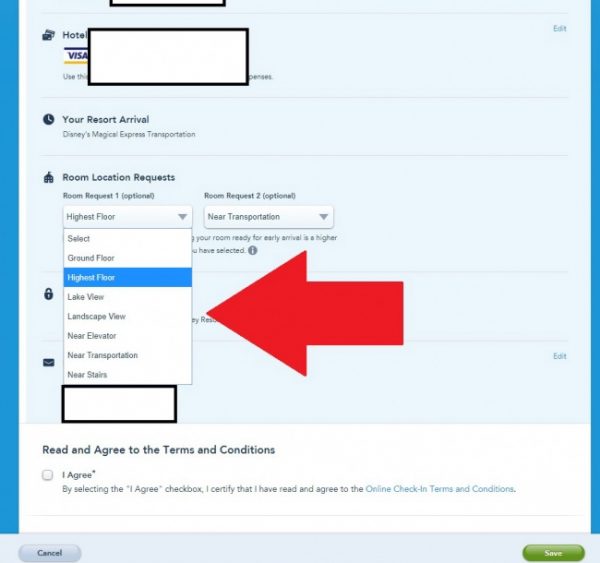 Room Request Final Step
Once you have made your selections, you will need to click the "I Agree" box and then click the green save button located at the bottom of the page.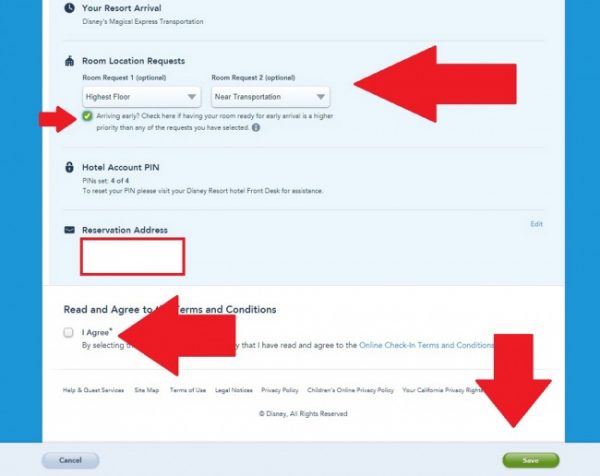 Room Request Complete
It might take a few minutes, but then you will be taken back to the My Reservations page.  This is where you can see your reservations.  Your check-in area will now state "You're All Set" however, if you need to make changes or go back to add credit card information, phone numbers etc. you can click on the "Update Check-in" button.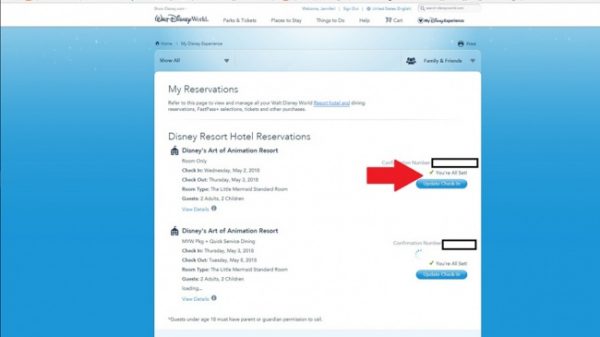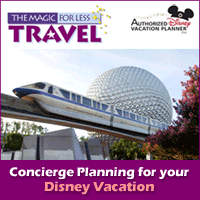 Looking for a discounted rate for your Disney Vacation? Let The Magic for Less Travel, an Authorized Disney Vacation Planner, work for you. Their concierge services are always provided free of charge, and The Magic for Less Travel will help you find the best published or unpublished discount for your vacation. Already have a vacation booked directly with Disney? Contact The Magic for Less Travel to see if they can help you find a lower rate.
GET A FREE QUOTE NOW!