Resort Restaurants | Disney's Yacht Club Resort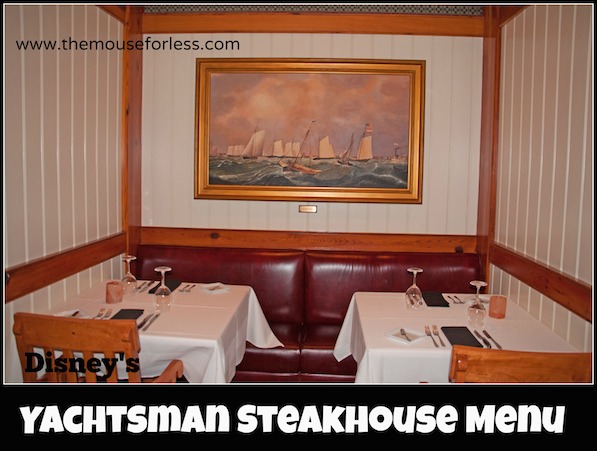 At Yachtsman Steakhouse, salute your inner steak lover at this crisp and gleaming restaurant that serves top-notch steaks and seafood.
Restaurant Info: Steakhouse, Dinner, $$$
Find out how you can save money on dining at Walt Disney World by using one of Disney's Dining Plans.
Yachtsman Steakhouse Dinner Menu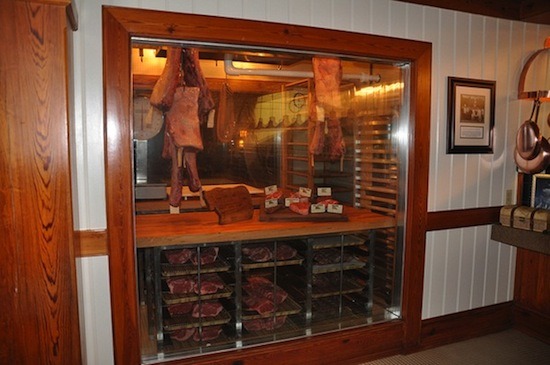 Menu Date: 02/2018
Soups & Salads
French Onion Soup – Sourdough Crouton, Gruyére Cheese, Rich Onion Broth – $12.00
Lobster Bisque – Maine Lobster, Crème Fraîche, Preserved Lemon, Fine Herbes – $14.00
Caesar Salad – Crisp Romaine, Parmigiano, Coppa Secca, and Focaccia Croutons – $12.00
The Waldorf Wedge Salad – Iceberg, Kale, Port Apples, Bacon, Candied Walnuts, Shropshire Cheese, Waldorf Vinaigrette – $14.00
The Land Salad – Land Greens, Burrata, Golden Beets, Winter Chutney, Lemon Curd Vinaigrette – $15.00
Yachtsman Seafood Platter for Two – oiled Maine Lobster, Baked Crab Cake, Oysters Rockefeller, Chilled Jumbo Shrimp, Braised Sliced Octopus, Snapper Ceviche, Mussels – $98.00
Appetizers
Assortment of Artisanal Cheeses – Assorted Bread and Seasonal Accoutrements – $18.00
Jumbo Shrimp Cocktail – Old Bay-Poached, Lemon, House-Made Cocktail Sauce – $19.00
Quick Fried Shrimp and Calamari – Sakura Sauce, Toasted Sesame, Radish, Jalapeño, Cilantro – $17.00
Charcuterie Board – Lomo de Bellota, Lamb Merguez, Chasseur, Mortadella – $18.00
Charcuterie Selection
Mortadella – One of Italy's oldest recipes. We cure this pork based sausage with delicate spices, creating a mildly pork flavor and saltiness with a soft texture. Lardons and pistachios throughout the farce compliment the richness of the sausage
Manglista Pork Jamon – The Mangalista pig produces more fat than modern breeds which produces a pleasant aroma and a butter flavor. It melts on the tongue. Dry-cured in Spain for three years, it's a rare combination of perfect breeding and masterful preparation
Turkey Rillettes – A confit of smoked turkey leg, preserved in duck fat. Rich and creamy in texture with a true smoke essence served with cranberry compote
Chasseur Pate – Also knows as the "Hunters Pâté", produced from suckling pig and accented with cherries, raisins, and apricots throughout. Cooked in a rustic fashion true to history. It is paired with grain mustard and served with our House-made bread and butter pickles
Lamb Merguez – This is a fresh sausage traditional in Northern African cuisine. It is made with Lamb trimmings and pork fat back and heavily spiced with cumin, chili, garlic, and fennel
Cheese
Lamb Chopper – Made from pasteurized sheep's milk, the cheese is aged for 3-6 months to produce a paste that is deep buttery in color with a smooth firm texture. Flavors are sweet and butters at initial stage of ripening, but develop an incredible sweetness of caramels and nutty undertones as it fully matures. This cheese is paired with golden raisin chutney
Cashel Blue – Cashel Blue is a semi-soft, creamy Irish farmhouse cheese, distinguished by its round, full-flavor and signature tang. Its buttery color is punctuated by characteristic blue veining. Lovingly crafted by the Grubb Family, Cashel Blue Cheese is made on the family farm with milk from grass-fed dairy cows that graze on some of Ireland's most lush and nutrient rich pastures. Served with poached pears
San Andreas – San Andreas is an artisanal sheep milk farmstead cheese from Bellwether Farms in Sonoma County, California. It is a great American version of the Italian Pecorino. The flavor is mooth, creamy, and mild with a refreshingly sour finish. It's a delicious table cheese served with candied hazelnuts
Red Hawk – A triple-cream, washed-rind, fully flavored cheese made from organic cow's milk. With tasting notes from cultured butter and hints of white mushroom. It is aged four weeks and washed with a brine solution that tints the rind a sunset red-orange. We serve this cheese with mushroom escabeche
Point Reyes Toma – Toma is a natural and made with cow milk, as well as being gluten-free and made with microbial (vegetarian) rennet. It is reminiscent of a young Asiago, this semi-firm cheese is creamy with buttery flavor with a grassy tang finishing notes. We serve this cheese with Honeycomb
100% Japanese Wagyu Beef
5-oz Wagyu Strip Steak – Miyazaki prefecture marble score A5 (100% Japanese Wagyu Beef) – $125.00
Signature Steaks – 21 Day Dry-Aged
32-oz Porterhouse for Two – Trio of Steakhouse Sides, Beef Fat Potatoes, Garlic Butter (21 Day Dry-aged) – $119.00
18-oz Kansas City Strip Steak – Malt Vinegar Fries, Black Garlic Aïoli, Chimichurri (21 Day Dry-Aged) – $59.00
Butcher's Cuts
6-oz Black Angus Filet Mignon – Mashed Potatoes and Cabernet Wine Sauce – $47.00
10-oz Black Angus Filet Mignon – Mashed Potatoes and Cabernet Wine Sauce – $54.00
12-oz Prime New York Strip Steak – Potato Gratin, Peppercorn Brandy Sauce – $49.00
16-oz Prime Rib-Eye Steak – Brioche, Bone Marrow, Point Reyes Blue Cheese Butter – $54.00
14-oz Roast Prime Rib of Beef – Sweet Potato Casserole, Horseradish Cream, Au Jus – $45.00
Entrèes
Elk Tenderloin – Blueberries, Parsnips, English Peas, Marbled Potatoes, Sumac – $47.00
Sea Bass – Fiddlehead Ferns, Chorizo, Littleneck Clams, Prince Edward Island Mussels – $46.00
1.5 lb Live Whole Maine Lobster – Whole Steamed or Thermidor-style, Risotto, Butter, Lemon – $63.00
Okinawan Purple Sweet Potato-filled Pasta – Parmigiano-Reggiano Foam, Umami Demi-glace, Chanterelles, Truffle – $31.00
Braised Beef Short Ribs – Polenta Cream, Feta Gremolata, Horseradish Potatoes, Cipollini Onions – $46.00
All-Natural Roasted Chicken – Potato Rösti, Artichokes, Root Spinach, Fava Beans, Chamomile Emulsion – $34.00
Sides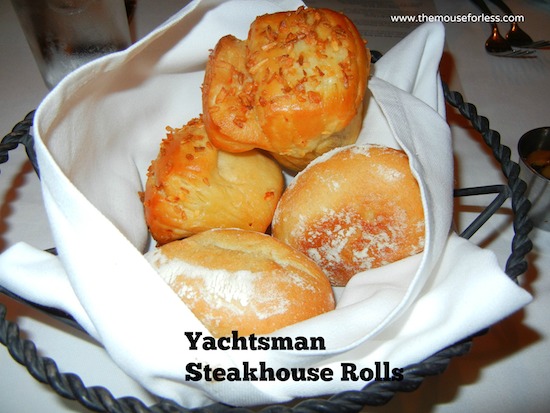 Carmelized Onions – 7 Onions, Madeira 10 Yr Malmsey, Butter – $9.00
Creamed Spinach – Parmigiano-Reggiano, Gruyère – $10.00
Sauteed Mushrooms – Garlic Butter, Sherry Wine Sauce – $9.00
Truffle Macaroni & Cheese – Orecchiette Pasta, Reypenaer – $12.00
Summer Vegetable Fricassee – Sweet Corn, Cauliflower, Fava Beans, fresh Herbs – $11.00
Yachtsman's Twice-baked Potato – Aged Gouda, Bacon, Chives, Sour Cream – $12.00
Complimentary Bread Service with meal: sourdough and onion rolls served with salted butter and a ramekin of roasted garlic.
Desserts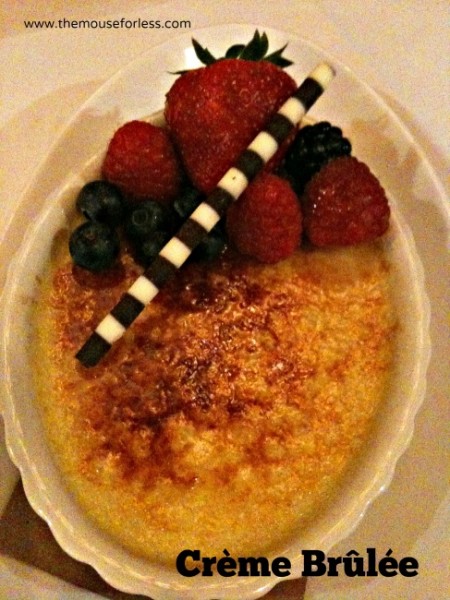 Crème Brûlée – Vanilla Custard and Seasonal Berries – $10.00
Seasonal Sorbet Trio – Coconut Tuile and Sparkling Wine – $10.00
The Yachtsman Sundae – Trio of Gelato and Amarena Cherries – $10.00
Lime Semifreddo – Meringue, Guava, Blackberry – $12.00
Chocolate-Peanut Cake – Pretzels, Salted Caramel Gelato, Liquid Ganache – $12.00
Carrot Cake (No Sugar Added)– Cheesecake Icing, Caramel Ice Cream, Walnuts – $12.00.00
Lemon-Blueberry – Cheesecake, Lemon Curd, Crumble – $10.00
Featured Wines
Cakebread Chardonnay, Napa Valley – $17.00
De Toren Z Red Blend, South Africa – $16.00
Turnbull Cabernet Sauvginon, Napa Valley – $17.00
Frog's Leap Zinfandel, Napa Valley – $15.00
Beaulieu Vineyards Reserve Tapestry Red Blend, Napa Valley – $18.00
Yachtsman Steakhouse Kids' Dinner Menu
For Kids Ages 9 and Under
Menu Date: 02/2018
Appetizers
Chicken Noodle Soup – $4.00
Mixed Green Salad – $5.00
Mickey Check Meals
Served with with choice of Small Lowfat Milk or Small Dasani Water

Grilled Chicken Breast – Grilled Chicken with Farro Wheat, Seasonal Vegetables, and Frozen Yogurt and Berry Push Pop – $15.00

Baked Fish of the Day – Baked Fish of the Day with Farro Wheat, Seasonal Vegetables, and Frozen Yogurt and Berry Push Pop – $17.00

Meets Disney Nutrition Guidelines for Complete Meals without substitutions.
Kids' Choice
Served with choice of Small Lowfat Milk, Small Dasani Water, or Small Minute Maid Apple Juice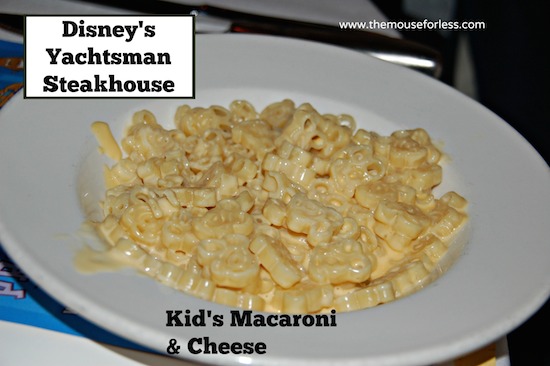 Macaroni & Cheese – $9.00
Orecchiette Pasta and Meatballs – with Marinara – $10.00
Oak-grilled Steak Skewer – with Mashed Potatoes and Seasonal Vegetables – $12.00
Grilled Chicken Breast – Grilled Chicken with Farro Wheat and Seasonal Vegetables – $10.00
Baked Fish of the Day – Baked Fish of the Day with Farro Wheat and Vegetables – $12.00
French Fries and Soft Drinks Available Upon Request.
Desserts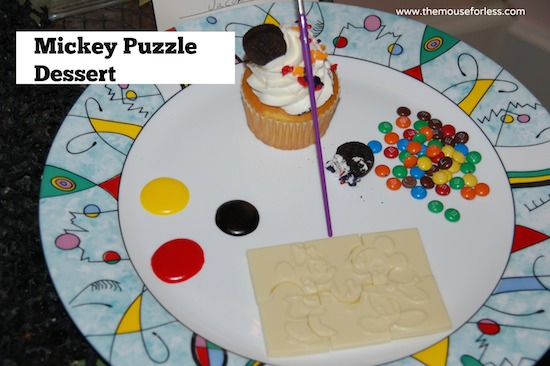 Mickey Puzzle – $9.00
Chocolate Pudding – $5.00
Frozen Yogurt and Berry Push Pop – $5.00
** Yachtsman Steakhouse Menu and Prices are Subject to Change Without Notice **