Disney Springs | West Side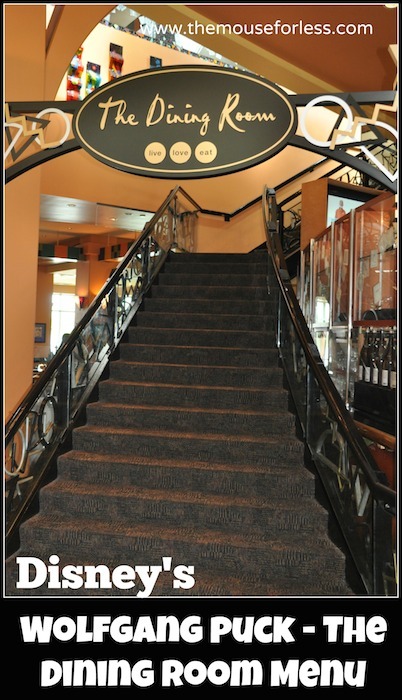 Dinner Menu   Kids' Menu   Reviews

Located above Wolfgang Puck Grand Cafe, The Dining Room offers elegant Signature Dining and features impressive views across Lake Buena Vista. Experience a fusion of Asian and Californian cuisine at Wolfgang Puck Dining Room,
Restaurant Info: American, Steakhouse, Sushi Cuisine; Dinner; A la carte; $$$ – $15 to $34.99 per adult
Find out how you can save money on dining at Walt Disney World by using one of Disney's Dining Plans.
Wolfgang Puck Dining Room Dinner Menu
Menu Date: 06/2017
Dinner from 5:30 p.m.
Appetizers
Tuna Tartare – chili aioli, pickled ginger, avocado, sweet soy glaze, crispy wontons – $20.00
Crab Cakes -basil aioli, marinated cherry tomatoes, fennel celery salad, chives – $18.00
Hamachi Sashimi – sesame-wasabi ponzu, sticky rice salad, avocado – $16.00
Sauteed Sea Scallops – pea puree, pea shoots, truffle vinaigrette – $18.00
Artisanal Cheese & Salumi for Two – Artisanal Cheese and Salumi for Two – $24.00
Soups and Salads
Black Bean Soup – avocado lime cream, pico de gallo, cilantro – $10.00
Baby Beet Salad – greek yogurt, pistachios, citrus, petite greens, sourdough crisps – $13.00
WP Chopped Salad – market vegetables, parmesan, balsamic vinaigrette  -$13.00
Entrées
Pan Roasted Half Chicken – yukon gold potato puree, market vegetables, rosemary jus – $29.00
New York Strip – stir fried broccolini, yuzu kosho butter – $49.00
Roasted Duck Breast – carrot-ginger puree, pickled peaches, swiss chard – $40.00
Florida Gulf Catch of the Day – saffron braised fennel, shrimp, fingerling potatoes, lobster-tomato broth – $37.00
Pan Seared Salmon – roasted mushrooms, pearl pasta, shaved asparagus & watercress salad, lemon vinaigrette – $34.00
Roasted Rack of Lamb – goat cheese gnocchi, english peas, pearl onions, rosemary lamb jus – $49.00
Crispy Pork Schnitzel – crispy pork loin, marinated cherry tomatoes, austrian potato salad, grain mustard sauce – $34.00
Tagliatelle Primevara – spring peas, rainbow carrots, roasted cherry tomatoes, pearl onion, pesto, lemon bread crumbs – $27.00
Sashimi Platter – 16 pieces of the chef's selection sashimi – $35.00
Nigiri Sushi Platter – 8 pieces of the chef's selection Nigiri Sushi – $26.00
Desserts
Old Fashioned Chocolate Cake – sour cream ganache, vanilla ice cream – $10.00
Salted Caramel Pudding – whipped cream, chocolate crumble – $10.00
Vanilla Créme Brulee – market berries, brown sugar shortbread – $10.00
Ice Cream – two scoops vanilla, salted caramel or chocolate – $5.00
Wolfgang's Apple Strudel – granny smith apples, plump raisins, salted caramel ice cream – $10.00
Cocktails
Coco Chanel – Malibu Rum, Chambord, pineapple – $9.00
Pinkberry Martini – Ketel One Citron, Peach Schnapps, splash of Cranberry – $11.00
White Chocolate Martini – Frangelico, Baileys, Smirnoff Raspberry Vodka, White Chocolate Godiva – $11.00
Wolfgang Puck Dining Room Kids'Dinner Menu
Menu Date: 06/2017
Entrees
Grilled Chicken Breast – steamed broccolini, crispy potatoes – $10.00
Grilled Salmon – steamed broccolini, crispy potatoes – $10.00
Crispy Chicken Fingers – French fries – $10.00
Cavatappi – with choice of tomato sauce or butter and cheese – $8.00
** Wolfgang Puck Dining Room Menu and Prices are Subject to Change Without Notice **
Save