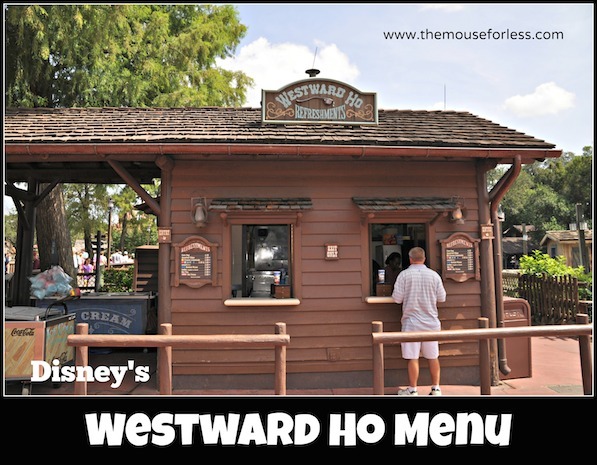 When traveling through Frontierland, be sure to stop at Westward Ho Refreshments, named for the 1956 Disney movie "Westward Ho the Wagons" starring Fess Parker.
Westward Ho Refreshments is located in Disney's Magic Kingdom theme park.  Find more Walt Disney World dining locations on our Walt Disney World Resort menus page.
Restaurant Info: American, Snack, $ – $14.99 and under per adult
Find out how you can save money on dining at Walt Disney World by using one of Disney's Dining Plans.
Breakfast Menu  Lunch/Dinner Menu

Planning a Walt Disney World Vacation?
For a Free no-obligation quote, contact our sponsor
The Magic For Less Travel
. The Magic For Less Travel is an Authorized Disney Vacation Planner and has been helping guests plan magical vacations since 2002. Receive the best prices and free travel planning services. Their fee-free services will help you save time, money, and stress while planning a vacation designed around you and your needs!
Westward Ho Breakfast Menu
Menu Date: 02/2023
Snacks
Breakfast Sandwich
Bacon, Egg and Cheddar served on a Multigrain Croissant – $6.99
Powdered Cinnamon-Sugar Donut Holes – $5.29
Wendell's Bear Claw
a Traditional Bear Claw dipped in Chocolate and sprinkled with Hazelnuts – $6.29
Beverages
Minute Maid Premium Frozen Lemonade Slushy – $5.29
Frozen Coca-Cola Slushy – $4.99
Assorted Fountain Beverages – $4.29
Joffrey's Coffee Cold Brew – $4.29
Premium Flavored Syrups – Caramel, Hazelnut, Vanilla or Seasonal Offering- $0.50
Dasani Bottled Water – $3.75
Joffrey's Freshly Brewed Coffee – Regular or Decaf – $3.49
Hot Tea – $3.49
Westward Ho Lunch and Dinner Menu
Menu Date: 02/2023
Entrées & Snacks
Wendell's Bear Claw
a Traditional Bear Claw dipped in Chocolate and sprinkled with Hazelnuts – $6.29
Candied Bacon Skewer
Brown Sugar-coated and served with Chips – $9.99
Jalapeño Poppers
Breaded Jalapeño Peppers stuffed with Nacho Cheese served with Ranch Dressing – $5.79
Corn Dog Nuggets – $10.49
Potato Chips – $2.99
Beverages
Minute Maid Premium Frozen Lemonade Slushy – $5.29
Frozen Coca-Cola Slushy – $4.99
Assorted Fountain Beverages – $4.29
Joffrey's Coffee Cold Brew – $4.29
Premium Flavored Syrups – Caramel, Hazelnut, Vanilla or Seasonal Offering- $0.50
Dasani Bottled Water – $3.75
Joffrey's Freshly Brewed Coffee – Regular or Decaf – $3.49
Hot Tea – $3.49
** Menu and Prices are Subject to Change Without Notice **